Ready-Mix Limited, Barbados
Delivering the best concrete solution
Business View Caribbean interviews Graham Proverbs, General Manager of Ready-Mix Limited, Barbados, for our focus on best construction companies in Barbados.
Ready-Mix Limited, Barbados, is 'pumped' to celebrate the company's 50th Anniversary in 2019, and looking towards new, more sustainable processing and construction methods to meet growing customer expectations and ever-evolving technologies of the industry. A niche supplier of concrete ready mix, concrete blocks, and Omnidec floors for the residential and commercial market, Ready-Mix provides the most efficient solution for concrete supply – making it the go-to choice for long-term customers and the preferred option for new clients.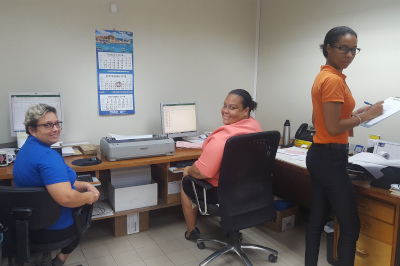 Business View Caribbean recently spoke with Graham Proverbs, General Manager of Ready-Mix Limited, Barbados, about his insights into the current state of the construction industry on the island and his company's strategy for success. Having been with Ready-Mix Limited for almost four decades, Proverbs has seen the company survive when times were lean and thrive when building was booming. The following is an edited transcript of that conversation.
BVC: Congratulations on the upcoming 50th Anniversary of Ready-Mix Limited. Could you give us an overview of the company's background?
Proverbs: "Ready-Mix started in 1969, followed by Ready Block in 1971. The parent company, Ready-Mix Holdings Limited, owns those two subsidiaries and a few smaller companies in the condominium rental business. That came about when we supplied materials to the companies building the condos – they supported us by giving us the work and we, in turn, supported them by buying condominiums that we rent out as an investment. They aren't big income earners, but they pay for themselves, so it doesn't cost us anything to have them.
"Basically, we're a manufacturing company of concrete, concrete blocks, and Omnidec. (Omnidec is a pre-cast slab that can be placed on top of walls as a base for pouring concrete. Using innovative technology, Ready Block Limited designs, builds, and installs Omnidec floors and roofs that are both functional and aesthetically appealing.) When we started, there was one other company doing concrete. When we added concrete blocks, they did as well. Since then, a lot of smaller concrete and block manufacturing companies 'came out of the woodwork,' as the building industry took off in Barbados and existing companies couldn't keep up with the demand."
BVC: Can you describe your operations; do you deal with residential and commercial builds?
Proverbs: "We're probably the largest block and concrete manufacturer on the island and we work with anybody who wants concrete – both commercial and residential. We have quite a few contractors who deal with us and us alone. They know that our quality is good; there are other suppliers out there whose quality is not as good as ours and they try to undermine us in price. But the contractors are pretty loyal to us. As they say, 'you scratch my back, I'll scratch yours.' In hard times, when people have difficulty paying their bills, we'll hold their credit for awhile until they can catch up. Thankfully, the people we've done that for have stayed with us all these years.
"Concrete is our major revenue producer. Omnidec is only used on specialized projects. Although, it does speed up the process by replacing the form work and you need a lot less propping. Instead of every two-and-a-half feet, you put the props every eight feet. That cuts down on costs for saving private individuals who don't own their own props, because they don't have to rent as many.
"We have 57 weekly and 15 monthly employees on the payroll. All production is done in our single location in St. Michael, where we have two concrete plants and two block manufacturing plants. If someone has an extremely large project that isn't very close, we put our portable plant onsite. That cuts down on the road time for trucks going from our plant to the construction site. We have 19 trucks in our fleet and four concrete pumps; three we use all the time, plus we keep the oldest pump as a backup. Last year, we imported a 47-meter pump, the largest on the island. It can pump up to 160 cubic meters an hour. That's a lot… and a lot of money, too!"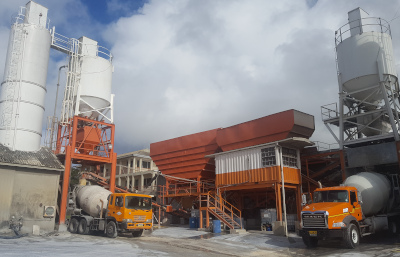 BVC: What is the biggest challenge for the construction sector on the island?
Proverbs: "Competition. Right now, there are a lot more people out there producing the products. Building has been slow here for the last three years because of the global downturn. We tend to rely on the European and American markets – people coming here to invest and so on. It's picking up now in many of those foreign countries, but it takes a while to trickle down here to Barbados.
"There is a lot of development going on here in the hospitality sector. We just cast the roof on the Crane Hotel. They also have a 36-unit housing project in a different location that will be ongoing over the next couple of years. Depending on how those sales go, they're looking to put multi-story timeshares there, as well – another three big timeshare buildings.
"St. Lawrence Castle has started construction, but we're still trying to get in there with our product. We'll get some work, but one of the contractors has their own concrete manufacturing plant, so we won't get that part of it. The Hyatt has been on the drawing board for awhile; hopefully, it will start at the end of 2018 or early next year. Then there is the Sandals Hotel chain. We're hoping one of the contractors that works with us will get the job to build that one, but the tenders haven't gone out yet. We've also done work at the Bridgetown Port; we supplied some of the piling, but that project has been put on hold.
"It's been a very dry year, not much rain, which makes it easier for the building contractors and certain manufacturers, but it's not good for everybody else, because we depend on the rainfall for our water supply in Barbados. We just don't want it to come in a hurricane. Thankfully, they tend to form at the east of Barbados and 99 percent of the time they shift and go north. Our main problem with storms is the roof blowing off houses that weren't properly built by licensed contractors. "
BVC: How does new technology affect Ready-Mix Limited?
Proverbs: "Our original concrete plant was run manually, where you pushed a lot of buttons to open and close gates, move materials, etc. Then, 10 years ago, we bought a second plant that came totally computerized. After running that for a while, we decided it worked wonderfully. There was less room for human error. So, we converted our new plant to be fully computerized, as well. Now, if you want a particular strength and quantity of cement, you just tap on a computer screen and say, 'Batch five meters of 3750 psi,' hit start and it does everything itself.
"All our trucks are also computerized. Fuel-wise it increases efficiency, but with our climate we tend to get a lot of computer wiring issues with the vehicles. And our road conditions are not the best – you get a lot of vibration, which leads to the wires breaking, eventually. The only way to deal with that is to pull out the wire harness and replace it. Something else with our trucks on these roads, the suspension is meant for big highways. It's not as smooth as a car or pick-up with a soft suspension that cushions it when you drop in a hole."

BVC: How do you see the construction industry evolving in Barbados?
Proverbs: "After 10 years of decline, we've just had a change of government in Barbados and, normally, when this particular party is in power, most people tend to have more faith in them and the construction industry tends to boom. So, we're hoping that this time around the same thing happens. Whenever they're in power, this government encourages foreign investors to spend money here, with people building massive houses worth 20 to 70 million dollars, each. That is a great help to us because we depend on foreign exchange, since we have to import most everything except limestone for our manufacturing.
"We're keeping our equipment and systems up to date so that we'll be able to continue providing the excellent quality of service and product that we're respected for now. Our competitors might give better pricing, but the quality of their product is not as good as ours, and we give much better service. That carries you a long way. And our name is well known – Ready-Mix is synonymous around the world with concrete.
"We've been in this business longer than anyone on the island, through good times and bad. We have watched homes and businesses we helped to build, succeed, and thrive, just as we have done – brick by brick and strength by strength. We'd like to take this opportunity to thank our loyal customers who have supported us over the years, and especially our Ready-Mix Limited team that works so hard to make it all possible, every day."
Check out this handpicked feature on Elegant Hotels – Barbados.
AT A GLANCE
WHO: Ready-Mix Limited, Barbados
WHAT: Niche supplier of concrete products for residential and commercial use
WHERE: St. Michael, Barbados
WEBSITE: www.readymixbarbados.com