Harney Motors Ltd.
Best in sales and service
Business View Caribbean interviews Harney Motors Managing Director, Ewart Harney and GM, Dyna Harney Barnes, for our focus on growth in Antigua and Barbuda.
Harney Motors Ltd. is a pioneer in the automotive industry in Antigua. Established in March 1970 by Mr. Ewart A. Harney, this indigenous company was founded as a service business and became the first importer of Japanese vehicles to Antigua and Barbuda, as the island's Authorized Toyota dealer. A well-deserved reputation for the best in quality, sales, and service has contributed to decades of success for Harney Motors, fuelled by Mr. Harney's lifelong passion for cars.
Ewart Harney recalls, "The business actually began in 1970 as an automotive repair shop and we obtained the Toyota franchise the same year. We got our first shipment of Toyota cars in December, and that's where the love affair started."
General Manager (and Ewart's daughter), Dyna Harney Barnes, clarifies, "He used the right words: 'love affair,' there, because the mindset of the business comes 100 percent from Mr. Harney's love and true passion for cars. This young, 23-year-old entrepreneur was exposed to Japanese cars when he studied mechanics in the U.K. and, upon his return in the 1970s, the oil crisis was taking place and the Antigua marketplace was primarily English and American 'gas guzzlers', so it was truly the right time for him to make his entry with these small Japanese cars."
Forty-eight years later, Harney Motors continues to enjoy a wonderful relationship with Toyota, as well as being a thriving multi-franchise firm. In 1985, Harney opened Ace Enterprises Ltd. and obtained the Mitsubishi franchise. In 1996, Harney Motors added KIA and Ford franchises, followed by Mazda in 1999.  Ssangyong, a Korean brand, was added in 2015 at Ace Enterprises Ltd. "Ace Enterprises is a separate entity," says Harney-Barnes. "It has its own showroom – we call it our sister company. In 2017, Ace Enterprises acquired the Chrysler Jeep line, and in February 2018, the Mercedes Benz dealership was obtained."
To round out the portfolio, Harney Motors carries the luxury Lexus line under the Toyota brand, and heavy-duty Toyota 'Hino' trucks, while Ace offers Fuso Trucks from Mitsubishi.  Harney notes, "The market here is not very large, so we have a lot of brands, but we try to keep the inventory quite lean and customers in this part of the world understand the situation. They like to customize. If you have something sitting here, there's a high probability they'll want it in another color with different specifications. We keep the most popular models, and a few high-end ones in stock, but if it's not a fast-moving item, we tend to wait for the customer to come in to 'build it' themselves."
Customer service is a huge part of the business – a family-friendly experience – so, once you buy a car, hopefully, you'll become a customer for life. All imported cars arrive by boat, roughly three to five months after the order is placed depending on the manufacturer's location – Japan, America, Korea, South Africa, India.  Harney Motors Ltd. will provide financing for customer traded-in vehicles, which the banks may not want to finance because of the age of the vehicle.  They only do limited financing for new cars, with the exception of fleet customers and certain companies that have a shorter repayment term. But it's not widespread. "We leave that to the banks," says Harney. "We have a very good relationship with the banks on the island, so we work closely with them to get a quick turnaround."
Harney Motors has been the go-to automotive supplier for Antiguan and Barbudian families for almost five decades. They also cater to small and large companies and have loyal fleet customers. The government of Antigua and Barbuda has been a major customer throughout the years; and expats appreciate that they can get first-class service right in the Caribbean.
Family businesses have the most remarkable legacies, and Harney Motors is a prime example. Harney-Barnes reflects, "Back in the day, Mr. Harney's love for drag racing gave us a lot of notoriety – this is where, as the daughter, a little boasting may come out, in that he's known as one of the best drivers in Antigua. He's a legend in the drag racing world. As a 23-year-old businessman, his love for cars extended into the racing world and a lot of our customers have come up loving Toyota and trusting Mr. Harney – his mechanical background, driving knowledge – knowing he's not going to bring anything unworthy to the Antiguan public."
Harney Motors Ltd. and Ace Enterprises Ltd, combined, have about 80 employees on the payroll. Low staff turnover is attributed to the family type culture that is nurtured amongst all staff at every level. Employees are empowered and encouraged to live up to their fullest potential, which is achieved through continuous staff training. The service department and all technicians are trained and certified by the various manufacturers. Employees travel to courses in Panama, Japan, Korea, or the United States, and there is continuous online training. If mechanics and sales representative are not up to date on training, it would make it difficult to claim back manufacturers' warranties. Investment in the latest information and diagnostic tools is also critical, so the business can advance along with ever-evolving technology.
Harney Motors takes pride in maintaining very good relationships with its manufacturers, as well as all of its customers and business partners to include the Government of Antigua and Barbuda, the banks, insurance companies, the transportation board, rental fleet customers, and small to large business affiliates. Twenty percent of company revenue comes from the service sector. After-sales service is a main driver of car sales. Harney-Barnes shares, "We've been streamlining our parts department utilizing CDK dealership software, and the fact that most manufacturers have huge warehouses in Miami, so the lead time to get parts here is significantly reduced. That has helped us become leaner in that regard, because we don't have to carry such heavy inventories."
Embracing innovation and environmental stewardship, Ewart Harney started Local Oil Limited to address safe disposal of waste oil. According to Harney, "We take used oil and re-refine it into virgin oil, which we blend with jet fuel and sell for use in diesel engines. A by-product that comes off is a small amount of asphalt – not enough to satisfy Antigua but at least it gets rid of the oil without dumping it in the ground. Reports of the fuel is that you get more miles to the gallon, so a lot of heavy-duty equipment and bus operators are using it because is makes the vehicles more fuel efficient."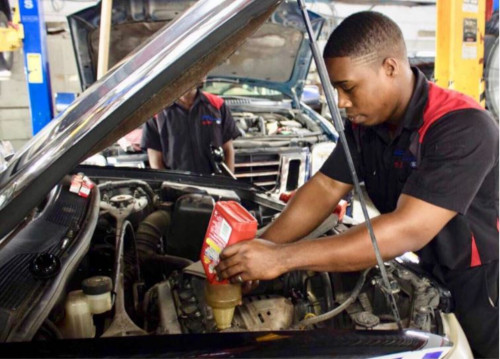 Harney-Barnes describes her father as "an innovator and a tinkerer" and recalls growing up in a very interesting household. "Mr. Harney gets a little humble about the fuel beginnings," she claims, "but it started on the kitchen stove in our family home, with him burning off the water from the old oil in a pressure cooker. After being chased out of the kitchen, literally, he invented his own refinery of sorts. And when the operations outgrew that, we sourced the correct equipment. That was 10 or 11 years ago, and since then we've been operating in its current location with the sophisticated equipment that has brought us to this position."
Harney Motors is in the midst of expanding the facility's service department in anticipation of a future with many more cars on the road. As for what lies ahead, Harney-Barnes says, "In keeping with our founding mindset, we try to stay ahead of the market, always bringing the best products and services to our customers, along with innovative tools to make vehicle ownership and maintenance more affordable and hassle-free. Simultaneously, we strive to run a well-oiled, efficient, and agile machine, thereby ensuring our longevity.
"With these initiatives, we aim to exceed our customers' expectations, obtain 100 percent customer delight, and show true gratitude for their business. We look forward to continuing our faithful service to the Antiguan and Barbudian public as one of its indigenous partners and the oldest car dealership on the island."
Check out this handpicked feature where the Antigua-Barbuda Ambassador says links to the US are long and strong.
AT A GLANCE
WHO: Harney Motors Ltd.
WHAT: Full-service car dealership
WHERE: St. John's, Antigua, West Indies
WEBSITE: www.harneymotorsltd.com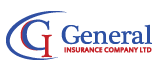 Sun General Insurance – General Insurance was formed October 22, 1987, with the purpose of acquiring and developing the general insurance portfolio in Barbados and the Eastern Caribbean. The company originally traded under the name CLICO International General Insurance Limited, until February 2012, when it was purchased by Sandridge Ltd. a company owned by businessman, Bernard Weatherhead and the name was changed to Sun General Insurance Inc. The company trades in Anguilla, Antigua, Barbados, Dominica, Grenada, St. Kitts & Nevis, St. Lucia, St. Vincent & The Grenadines.
Sun General Insurance offers one of the most comprehensive ranges of general insurance products to be found in the Eastern Caribbean.  Its package of over 48 different plans give consumers the most liberal options in protecting life & limb, property, and other assets. Its coverage extends beyond the personal into Employment and Transportation Insurance, thus making attractive packages available to both small and large consumers. – www.sungeneral.net