Edgewater Development Limited
Luxury developments in a 'little slice of paradise'
Kris Bergstrom, president, and co-founder of Edgewater Development Limited, a real estate company based in the Cayman Islands, describes the Cayman Islands as a slice of paradise. The three-island archipelago, located in the western Caribbean Sea, is a highly sought-after destination due to its favorable weather and tax laws.
These factors make it a prime destination for real estate investors, who get additional benefits like permanent residency status when they invest in the Caymanian real estate industry. However, for Kris and Debi Bergstrom, starting a real estate company in the Cayman Islands was the evolution of a hobby that began with the desire to build their own homes in the Cayman Islands.
"Our company began as a hobby to build our own homes," says Kris Bergstrom. "Soon, we started building for other clients. At the time, I was the one primarily involved because Debi was a vice president for a utility, and I was an airline captain, which meant I had a bit more time on my hands."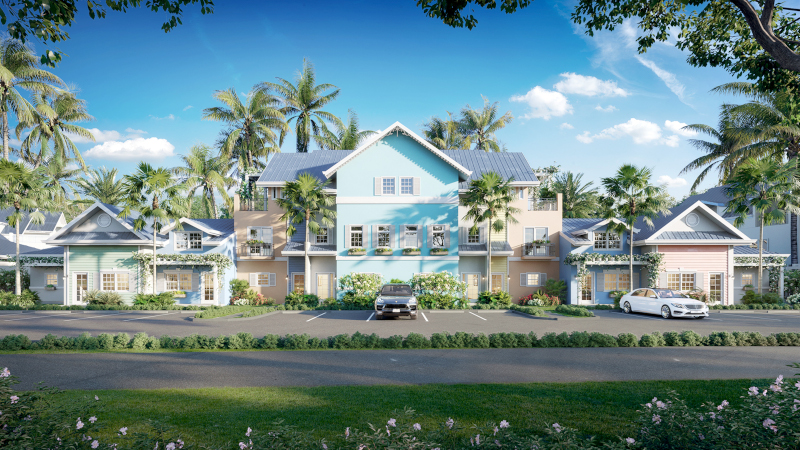 "A major hurricane on the island in 2004 was a turning point for the company because we had to grow fast to keep up with the work demand. One of us had to step in and run the business full-time because it was now a full-time business. So, my wife left her job and became the managing director, and it ran this way for several years while I continued working in the aviation industry."
As the company grew, Bergstrom continued working in the aviation industry, moving into management positions outside of flying, at one time working as the chief operating officer of the  national airline. However, the real estate itch rose again, and he decided to leave the management position to focus more on Edgewater, although he retained his position as an airline captain.
"I refocused on our business, and we added real estate sales," he shares. "Over the years, we've worked on building our portfolio in real estate, including owning rental units and doing the occasional spec home. However, my goal was to get more into development and build properties for sale."
This goal became a reality seven years ago when Edgewater Development built twelve upscale duplexes, each over three thousand square feet and with a private swimming pool for each side. Each of the duplexes sold for around a million dollars.
"They were very well received in the marketplace, especially because of the design and finishes," Bergstrom says.
After completing this project, Edgewater moved into developing one-bedroom apartments, completing a twenty-four-unit development.
Currently, the company is working on a new community development with a hundred and thirteen units, ranging from smaller one-bedroom to three-bedroom homes.
"The Meadows is a home-grown development that broke ground in March 2020 after acquiring the land in 2018," explains Bergstrom. "We did the concept, sales, and marketing and are currently putting the whole thing together. We have two investors, but Edgewater is overseeing the entire project from start to finish."
The Meadows project broke ground at the height of the pandemic, creating delays that compelled the company to push everything forward.
"You don't have worse timing than that," Bergstrom admits. "We didn't get anything done for the better part of ten months and finally started construction in September of 2021."
After the easing of lockdown restrictions, Edgewater is now in phase one of the development, having sold close to ninety-five percent of the units.
"We are putting in the final roofing and windows," Bergstrom says. "The rest of the infrastructure is already in place, like the pool, clubhouse, sewerage, and electrical lines and boxes."
"We're coming into the most exciting part – the finishing work where we start putting color, doors, fixtures, and other finishings on the buildings. We're hoping to start handing over units by the end of the second quarter of next year. We've conveyed this to our buyers, who have been extremely understanding. We originally had a completion date of January 2023, so despite losing ten months, we've made up some of that time and only slipped around six months."
The success of these two projects has provided the impetus for Edgewater to go for a third project, with Bergstrom arguing that using this momentum makes it easier to maintain the same team.
"With every new project, we must assemble a team, which can be challenging if you want to collaborate with the same people every time. Sometimes they'll have other projects making them unavailable. We plan to string together our projects so we have the same people for each project."
With this focus, Edgewater recently sent preview notifications for a new development to its former buyers and those who've shown interest. Bergstrom says the response has been overwhelmingly positive.
"We are currently closing in on 50% sold on phase two about two and a half weeks after sending the notifications. Sales are going extremely well, and we plan to break ground for phase two in January 2023, with a planned build-out of about 20 months."

Besides these projects, Edgewater also does general contracting work around Grand Cayman, including an extension of the Georgetown fire station, a new sports hall for the island's archdiocese, and a community center in Bordentown that will double as a hurricane and storm shelter.
"In addition to our general contracting arm, we also manage properties, including short and long-stay rentals."
With a full-service internal team, Edgewater can take on most real estate projects, from design to management. The company also uses this capacity for good, undertaking occasional community projects at no fee.
"We have done community projects where we assist with home and roofing repair and provide housing at no cost. Even though we do not yet have a continuous program, we are very involved in participating in the community and helping when we can."
With the COVID pandemic wreaking havoc on global supply chains, Edgewater found itself in a similar position to many other companies, having to innovate and adjust to offset these challenges.
"We've traditionally depended on the United States for all our materials," explains Bergstrom. "However, the pandemic and lockdown showed us that wasn't the smartest way forward."
"We've had to adapt and look to other markets for supply. We now purchase from the Asian, South American, and Caribbean markets. We've also had to become a little more creative in how we do our purchasing."
"I'll give you a good example."
"We were buying materials from Mexico and shipping them via the West Coast port of Encinitas. However, the port had a major backlog due to congestion at the Panama Canal. So, although as the crow flies, we're fairly close to Mexico, so we couldn't get our shipments out within a good time due to these factors. We even tried trucking through Texas and Louisiana to Florida to ship it out, but the cost was too prohibitive."
"We had to redesign and do away with the materials we were getting from Mexico to circumvent this issue."
Amid all these challenges, the passion the Bergstroms have for real estate continues to be Edgewater's driving force.
"The most rewarding thing about creating and building homes is the ability to turn a concept or dream into reality and see people move in and raise a family and enjoy that property," says Bergstrom.
"There's a profound sense of pride when we drive around our little island and see projects we've done over the years. When you are in the moment, you don't realize the scope of work you've accomplished until you are out on a boat with friends, and they ask you to show them examples of your work. You end up pointing out so many properties that it hits you just how much of an impact you are making."
"However, more than anything, our primary focus is creating happy spaces where people can raise a family and enjoy themselves. We want to create spaces people will love and feel comfortable in for many years to come."
AT A GLANCE
Edgewater Development Limited
What: A leading luxury developer based in the Caribbean
Where: Cayman Islands
Website: https://www.edgewater.ky