Flexpak Ltd.
Jamaica's Premier Packaging Company
Business View Caribbean interviews Nigel Hoyow, Managing Director of Flexpak Ltd., for our focus on Best Practices in Manufacturing in Jamaica
Flexpak Ltd. was originally established in Jamaica by Nigel Hoyow, based on his experiences in the field of packaging since the mid-1970s. In 1999, with the help of two partners, Hoyow's dream of building a company that would provide a total packaging experience to an island-wide customer base began to take shape. There were a few competitors in this field at the time, but Hoyow's plan was to produce greater volumes of packaging, so that Flexpak would have a more competitive pricing structure. The niche target was mainly bakeries, snack food manufacturers, and frozen juices – which to this day still make up a big part of the Flexpak revenue stream.
The early days were spent building up a customer base and soon the Flexpak reputation for producing quality packaging began to pay off. Hoyow admits, "It was never an easy road, but perseverance and technical know-how over the years played a big part in getting us to where we are today. The dream of a one-stop packaging shop is still being developed but it does take a long time in building. This dream took a nightmarish turn in 2013, when there was a massive fire engulfing our entire film extrusion department including our admin offices. We lost all nine of our film extruders… It was a huge setback. Since then, we have slowly recovered and we are determined to have even better services and equipment."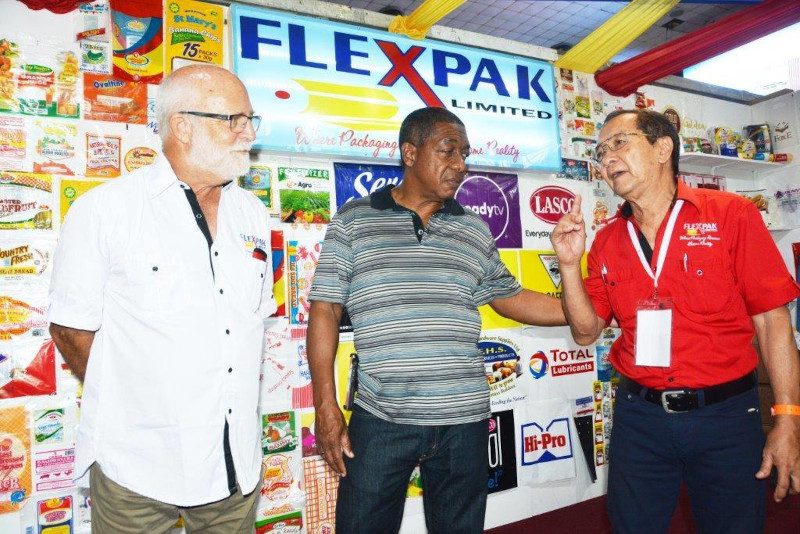 Fast forward nine years later, Flexpak is well on the way to greater things. They currently have a total of 65 employees, operating from a single manufacturing location in Spanish Town, St. Catherine, with admin, plant, and warehousing in different buildings. The facility is equipped with a daytime solar installation producing about 100 Kilowatts, but that solar array is soon to be upgraded, as it has outgrown its capacity due to the company's acquisition of new pieces of machinery.
Flexpak covers a local territory throughout Jamaica, as well as a small export market where goods are exported to Cayman, the U.S., Belize, and Guyana. They are hoping to improve on this, as the company continues to grow. "There is also some indirect exportation, as we produce packaging that quite a few manufacturers use for their exported products," Hoyow says. "New local industries are always developing along with a set of faithful customers that have stayed with us over the years. As our services improve with new offerings, more customers gravitate towards us, e.g. laminations and full color process printing."
The typical Flexpak client, whether large or small, is looking mainly for quality printing. The larger clients chose local because of logistical issues when ordering from overseas, and the Flexpak team is always just "down the road" from most of these customers. Hoyow explains, "So, once we can satisfy them with our ability to equal the quality of the imported product, we stand a good chance to be able to do business with that customer going forward."
Primary revenue drivers for the Flexpak operation are finished bags, pouches, and rolls using various substrates – whether multiple layers or monolayer films suitable for the required products e.g. polyethylene, polypropylene, PET, and polyamides (nylon) for vacuum packaging. There are a few local competitors, but they are not currently able to duplicate exactly what Flexpak does, especially in the area of full color process printing and multiple layer lamination –  both being done on wide web machines.
Hoyow acknowledges, "Because we are a major supplier of food packaging to many local manufacturers, we pride ourselves in having Good Manufacturing Practices (GMP) which forms the base of all Food Safety Management Systems, and we are looking towards a HACCP certification (Hazard Analysis and Critical Control Program). By prioritizing and controlling potential hazards in our production process, we are able to assure our customers with confidence that the processes we have in place meet the requirements of globally established best practices and ultimately safe packaging of a high quality." Added bonuses would include greater market opportunities, reducing waste and increased efficiency in the production process. Flexpak is also part of the worldwide Authorized Economic Operators (AEO) program, which is a Customs certification that the company achieved a few years ago. This helps to speed up clearing of raw materials from the wharf, based on accurate record-keeping and the security of goods, containers, and premises.
"We have many long-term customer relationships," Hoyow notes, "some even before Flexpak was "born" due to the fact of my personal contacts during the early days when I was in the distribution business. These include companies like the Jamaica Broilers Group, Island Dairies, and numerous bakeries and manufacturers island-wide that have stayed the course throughout the years. Many of these types of businesses decided for us what type of machinery we had to purchase to keep things on the right track and enabled us to grow."
The arrival of COVID-19 did somewhat change the way Flexpak operated due to Governmental restrictions imposed on certain sectors with curfews and lockdowns, especially in the Parish of St. Catherine, where the pandemic seemed to have started in Jamaica.
"Fortunately, because we are manufacturers of food packaging, we were allowed to continue working as an essential service," Hoyow says. "Despite the fact that we were severely challenged by local transportation for staff members, we managed to keep the plant running throughout this period. We did not have to lay off any staff, which we are particularly proud of. We already had safety and sanitization measures in place due to the fact that we were strictly following our GMP (Good Manufacturing Practices) program long before COVID."
Flexpak had also changed company working hours to take advantage of and make use of their daylight solar system, 7 days per week, and currently planning to upgrade this solar installation further to include a 24-hour system in the near future to further save on electricity usage.
Looking to the future, Hoyow reports, "We have plans to shortly introduce some new types of re-usable bags in the marketplace which would give our customers a local source of supply rather than having to import from far and wide. This would of course involve the purchase of more machinery to achieve this. We are also planning to introduce digital printing within the next five years or so, which would again involve a huge investment to achieve this state of the art printing. This will change the face of Flexography in Jamaica, as it has already done in many first world countries. The possibility of going Public is also in the making."
All said and done, Flexpak and its dedicated people have much to look forward to in the months and years ahead!
AT A GLANCE
Flexpak Ltd.
What: Manufacturers and laminators of printed polybags and assorted products
Where: Parish of St. Catherine, Jamaica
Website: www.flexpakltd.com