The Cayuga Collection
A symbiosis of luxury and sustainability
Business View Caribbean interviews Hans Pfister, CEO of The Cayuga Collection, as part of our series on Sustainable Caribbean resorts
Welcome to The Cayuga Collection – an elite group of five-star, sustainable luxury hotels in Costa Rica and Panama. Tucked away in the most enchanting locations, these unique destinations are committed to protect and preserve the communities and ecosystems that surround them. Journey to one or all of The Cayuga Collection properties and discover the unmatched beauty and extraordinary experiences that await.
The Cayuga Collection's hospitality management portfolio includes seven stunning properties: Isla Palenque Resort, Gulf Of Chiriqui in Panama, and Arenas Del Mar Resort, Manuel Antonio; Hotel Aguas Claras, Puerto Viejo; Pasha Beachfront Estate, Santa Teresa; Kurà Hotel, Uvita; Senda Monteverde Hotel, Monteverde; and Hotel Grano De Oro, San José – all in Costa Rica
Hans Pfister, President & Co-founder of The Cayuga Collection, explains, "My partner, Andrea Bonilla, and I have had the same focus since beginning the company in 1999. We manage small, sustainable luxury hotels in fairly remote places. We really try to find that symbiosis of luxury and sustainability. In Dec. 2021, we opened our first property that's not a hotel – it's a large, 10-bedroom, very luxurious house that we're managing. That's something new that we're doing. People love staying in houses, so we're doing a bit of a test there to see how that plays out for us. It rents at a rate of about $10,000 to $15,000 US per night… right on the beach. So it's very special."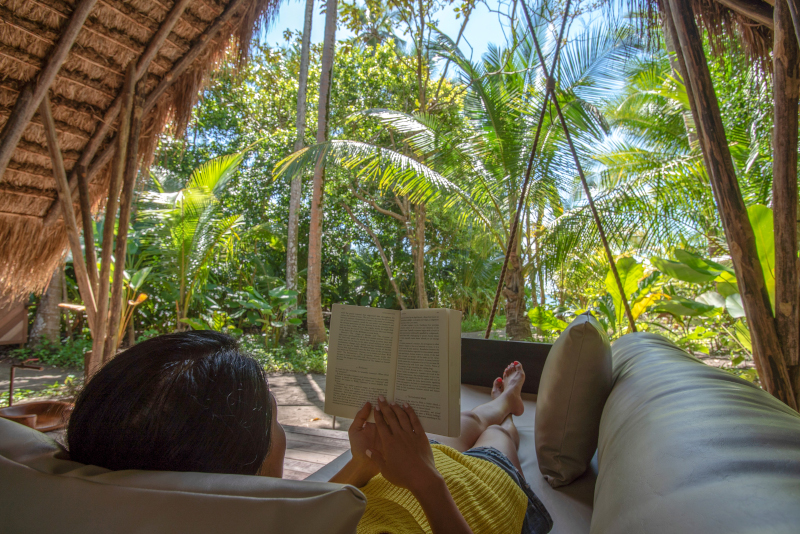 There was a period in 2020, when The Cayuga Collection had no clients. They were closed due to the COVID-19 pandemic. But when they initially reopened, guests came from the local Costa Rica and Panama market. When the airports opened again, people were coming mostly from the U.S. and just until recently, Europeans and Canadians were starting to return. "Over the years, we've developed a bit of a reputation," says Pfister. "The great majority are looking for the location, the offerings, the activities, how nice are the rooms, what is the view, etc. Then, once they stay with us, we try to 'wow' them and inspire them with our sustainability efforts. We're not preaching but we're inviting them to get to know the things that make The Cayuga Collection hotels sustainable."
The invitation includes a complimentary back-of-the-house tour of all the hotels, where guests are guided through the kitchen, the laundry, the maintenance area, the employee eating area. They see the recycling efforts, the treatment plant, all the things you normally don't see in a hotel. According to Pfister, "People are really impressed at how much goes into being a sustainable hotel and then they turn from satisfied customers to raving fans. That's been the experience over the past year."
While there is repeat business, it's not on a regular basis. Pfister reasons that is because when you go to Costa Rica or to Panama you want to see the rainforest, have the wildlife experience or the activities, and then the next year you might want to go to Morocco or Chile or Patagonia – it's more like a bucket list. He notes, "But we do have a lot of people who come to one of our properties, say in Costa Rica, and then they realize we have one in Panama, so maybe a couple years later they come to that. Or when we open a new property, we write to our database of clients to let them know – many of them are following us. We have a loyalty program called Cayuga Afficionados that is growing and people are really starting to come back."
One of the big advantages when you're staying at a Cayuga Collection property is that you're almost always outdoors. The only exception is when you're in your room. All the amenities are outside – the restaurants, the reception, it's all air flowing through. The smallest hotel  is eight rooms, the largest is 37 but really spread out and next to the ocean. So it never feels like you're too close to other people. Pfister admits, "That has really made a difference, especially in 2021. Our low season is typically from May to December, and this past year we had the best low season in our history. Just because people were looking for that kind of experience. And we're now looking at the best high season ever (unless that changes due to Omicron, which may present another bump in the road) but for us it's really important just to be there and to be ready."
After the first few months of shutdown during the pandemic, the Cayuga Collection hotels were opened back up as soon as possible. Pfister says they kept their staff and kept the properties in tiptop shape – an investment that has really been paying off. He adds, "Hopefully that will continue as people find out that we're really there for them. We realize how important it is for mental health, right now, for people to go on vacation and let go. That's what we're offering."
The average length of stay varies. At the mountain property in Monteverde, it's two to three nights, while on an island property, where it's a bit harder to get to, that goes up to six or seven nights. When guests come to Costa Rica or Panama, they usually want to see different parts of the country – the mountains, the beaches, maybe another part of the coast, a volcano – so that's why the average stay is three to four nights because people combine visits to several properties.
The staff numbers are back up to almost 400 employees, right now. But as Pfister admits, "Unfortunately, we did have to let go almost 50% of our staff when we were closed. A lot of them we've hired back and the other 50% we put on a reduced schedule and salary but we continued to invest in them. From day one we started training and development, kept everybody busy maintaining the hotel so it looked new. Some employees who were struggling financially actually lived at the hotel – we invited them to do that during the time, so they didn't have to pay rent. We really believe in people, they are our most valuable asset. In 2018, we won the "Tourism for Tomorrow" Award in the People category from the WTTC (World Tourism Travel Council). So when it comes to sustainability, that's not necessarily just the LEED certified buildings but it's the people, we really believe that's the most important thing."
From a marketing perspective, The Cayuga Collection receives a good amount of business from third party agency representation in the U.S. and Europe, as well as having a valuable public relations company. But as Pfister attests, "If we have a great product and our guests are happy with the experience, that's the best marketing, because everybody today is so connected and on their social media. So if a family is at one of our hotels having a great time and sharing that with their friends, that's the best marketing we can have."
All the Cayuga properties have good broadband access for guests; they've even had people work from their hotels in the past few months – as virtual nomads. They come for an extended vacation and take a few meetings during the day. That's one silver lining people have learned from the pandemic – that we can work from anywhere.
Pfister reports that the big challenge in the background, that might even be bigger than COVID, is climate change. He shares, "Extreme weather is everywhere but I think also, it's justifying how we're doing the type of tourism where people fly on jets that are pumping carbon into the air to come to our hotels. The way we deal with this is, once you're in our properties, your carbon footprint is really low. We also encourage when you fly that you do some kind of offset of your emissions. The other thing is, let's make sure that your handprint when you're travelling here is bigger than your footprint, so there's a positive impact in the communities you visit. Supporting the staff with the purchases you make, so the place that you visit benefits. You're not just lying on the beach with a cocktail in your hand. In that way, tourism can be a really positive force for conservation efforts and community development. We're really trying to make a difference in that regard. We can't just go back to 'tourism as usual', we need to come back with a better kind of tourism after the pandemic."
AT A GLANCE
The Cayuga Collection
WHAT: Manager of sustainable hotels and ecolodges
WHERE: Headquarters in Escazu, Costa Rica
WEBSITE: www.cayugacollection.com