Massy Gas Products (Trinidad) Limited
"Innovative solutions with Excellence"
Business View Caribbean interviews Kailashnath Maharaj, CEO of Massy Gas Products (Trinidad) Limited, for our focus on Best Practices in Caribbean Business
Massy Gas Products (Trinidad) Limited is a premier industrial gas provider based in Savonetta, Trinidad and Tobago. As one of the country's largest suppliers, the company serves multiple upstream and downstream industries, including oil and gas (energy), construction, healthcare, manufacturing, agriculture, food and beverage, steel, and water treatment.
Operating from its North Sea Drive, Point Lisas Industrial Estate headquarters, the privately-owned company manufactures and supplies a wide range of gas products, including oxygen, nitrogen, acetylene, carbon dioxide, argon, hydrogen, nitrous oxide, ammonia, and helium. Besides supplying the local market, Massy Gas Products (Trinidad) also exports to neighboring countries and territories like Grenada, St. Lucía, Barbados, St. Vincent, Antigua, Dominica, French Guiana, Guyana, Guadeloupe, Jamaica, Martinique, St. Croix, St. Martin, St. Kitts, Suriname, and the Dominican Republic.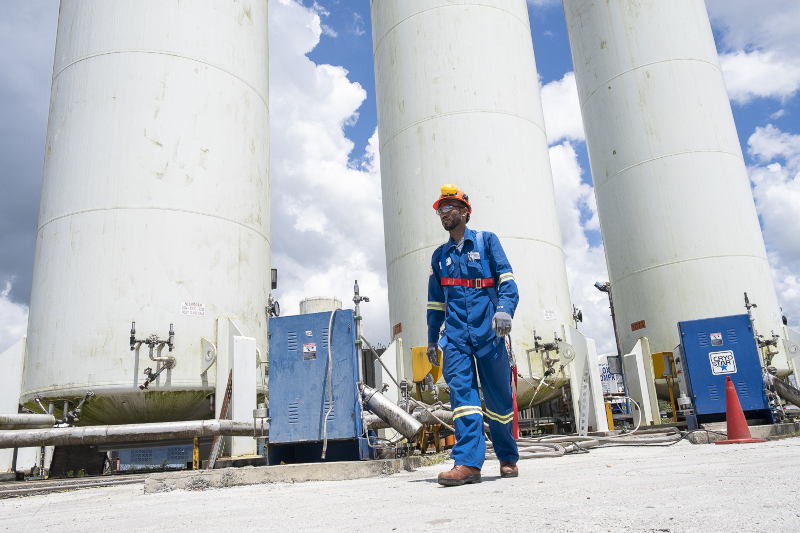 While the company prides itself in its strong market position, it continues to strive for more innovative products and services, a fact underscored by its telling mission: "Committed to creating innovative solutions with Excellence." Now in its 86th year, Massy Gas Products hopes to evolve beyond its gas supply roots and become a multifaceted and game-changing industrial gases player, not just in its home turf of Trinidad and Tobago but across the entire Caribbean Basin as well.
Massy Gas Products supplies industrial gases to almost every industry in Trinidad and Tobago – playing a crucial role in several local and regional industries, including supplying carbon dioxide for firefighting, acetylene for welding and fabrication, and oxygen for healthcare. "We are the largest supplier of oxygen in Trinidad and Tobago and to the Caribbean region," explains Kailashnath Maharaj, Chief Executive Officer at Massy Gas Products (Trinidad) Limited. "We are also one of the largest suppliers of nitrogen and carbon dioxide not just to the Caribbean region, but to Central America and as far north as Puerto Rico."
While supplying industrial gases is the company's core business, it offers two other business lines: specialty gases and value-added services and consultation. Its specialty gas line supplies ultra-high purity and research-grade gases, gas mixtures for calibration standards, and electronic-grade gases. Its services business arm offers cryogenic storage tank and bulk storage system installation and equipment sourcing, like food freezing and wastewater treatment equipment. Its consulting business assists clients seeking specialized solutions that meet environmental and regulatory requirements.
"This company is more than 85 years old," narrates Maharaj. "Founded in the 1930s as a gas company, it has over the years evolved both in ownership and business model to what it is today." That evolution encompasses a series of mergers and acquisitions that have seen the company emerge as an amalgamation of three companies: Massy Gas Products (Trinidad) Ltd. (formerly Industrial Gases Limited), Liquid Carbonic West Indies (LCWI), and Trintogas Limited (TGL).
Incorporated on November 21, 1935 as Industrial Gases Limited (IGL), Massy Gas Products (Trinidad) operated primarily from Aranguez – manufacturing and selling oxygen, nitrogen, and acetylene. Meanwhile, LCWI solely engaged in the manufacture and sale of carbon dioxide, while TGL was involved in the welding and medical supplies sector. The merging of the three entities resulted in a highly diversified business that operated under the name LCWI. In March 1975, the Massy Group, a local multinational conglomerate, acquired a majority stake in the Joint Venture vehicle that owned LCWI. Eventually, a Massy Group rebranding effort in 2015 saw LCWI renamed as Massy Gas Products (Trinidad) Limited, now the Massy Group's Industrial Gases business, with operations in Jamaica, Trinidad, Guyana, and Colombia.
The company employs around 130 workers and Maharaj says they are not concerned about finding skilled labor. He notes, "Ours is a specialized area, so we generally have a very stable work environment because our workers tend to be highly skilled in this area. Because we have trained them over several years, we have low turnover. We also operate in a unionized environment, and our excellent working relationship with the union further enhances our work environment's stability."
The company has a continuous training program that brings younger personnel into the organization and trains them, besides giving engineering graduate trainees from the university access to an internship program. "We also seek employees' children who are of age, and we bring some of those in as well," says Maharaj. "As part of building a skill bank, we also offer intensive retraining programs to current employees or those coming in from other companies."
As part of building a community-level skill bank, Massy Gas Products (Trinidad) supports several schools in the area, providing uniforms, books, and tablets for online learning. The company also encourages employees to contribute their time towards remedial work at the supported schools, as well as engaging in other activities like painting classrooms and installing bathrooms – a continuing effort to give back to the community.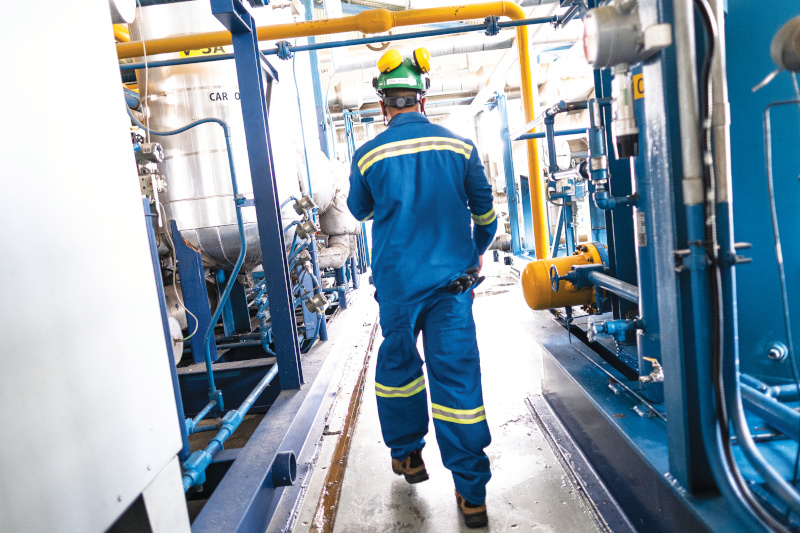 The company's largest division by revenue is its nitrogen unit, while its largest unit by volume is carbon dioxide. "Our largest customer base is the oil and gas industry," avers Maharaj. "We also supply nitrogen to international ammonia and steel plants, including methanol plants in Trinidad and Tobago. Some of our customers are global giants like BP and BHP Billiton, and we act as the sole supplier of carbon dioxide and oxygen in the country."
Asked whether the COVID-19 pandemic has impacted sales, Maharaj reports that while other countries, especially those hardest hit by the pandemic, have seen an uptick in oxygen demand, Trinidad's situation has been different. "We have been fortunate that we haven't had a significant outbreak of COVID-19 in the country, meaning we have not seen a large increase in demand for oxygen; we've seen the reverse," he explains. "Demand has softened because protocols like mask wearing have reduced the overall number of respiratory disease cases outside of COVID-19, resulting in fewer people needing oxygen at the hospitals."
Safety is also a significant consideration for the company, and it relies on various certifications it holds to ensure its personnel and customers' safety. "Product safety training is our most important component because of the nature of the products we handle," shares Maharaj. "We also train our customers because of the products they purchase from us." The company's certifications include ISO 9001:2008, NFPA99 Medical Gas Delivery System Installers, and U.S. Department of Transportation Certified Facility, besides food facility certifications from the Trinidad and Tobago Bureau of Standards.
Complementing safety, the company is also making strategic investments in technology, despite the industry's manual nature. "Most customer requirements involve smaller batch quantities, necessitating manual handling of cylinders," says Maharaj. "Nonetheless, we have an automatic filling system for oxygen operations to control quality and volume, as well as pressure from a safety perspective. We are also barcoding all of our assets, including cylinders, so we can actively track where they go and how long it takes to see an acceptance from a customer." The company is pursuing barcoding from a quality and reliability perspective and as a safety tracking program for food products like CO2 if a customer reports contamination.
Looking forward, Massy Gas Products (Trinidad) Ltd. is targeting several innovative areas of expansion as it seeks to diversify beyond its core products and services. According to Maharaj, "We are focusing on enhanced oil recovery using carbon dioxide in oil wells that have been left idle for some time. The ones that we are testing now have as much as a 50 to 70 percent increase in productivity." This new project allows the company to partner with the Ministry of Energy, state-owned Heritage Petroleum, and other oil companies to produce more oil on the island and support the overall economy.
Another area the company is seeking to expand into is carbon dioxide sequestering in concrete manufacturing. They are planning to offer the concrete industry a greener product that should help with long-term environmental sustainability and carbon capture.
Long term, Maharaj says that the company plans to reduce its reliance on local industries, especially oil and gas, and create greater export opportunities. "As we continue to expand, more customers are reaching out to us from other jurisdictions and we are looking at what such an expansion would mean from a production perspective and what we would need to do to capture the opportunities that we are currently seeing."
AT A GLANCE
Marry Gas Products (Trinidad) Limited
What: A premier industrial gas provider
Where: Savonetta, Trinidad & Tobago
Website: www.massygasproduct.com/tt/
Powergen – www.powergen.co.tt
For over 25 years, PowerGen has served as Trinidad & Tobago's largest independent power producer. Our power plants at Point Lisas and Penal generate a combined 824 megawatts of national capacity. PowerGen continues to scan the generation horizon for possibilities that will keep us at the forefront of the sector.