Papagayo Beach Resort
A Journey of Luxury and Sustainability
Offering tropical allure with a clear vision for a greener tomorrow, Papagayo Beach Resort provides it all
On the sun-kissed shores of Curaçao, Papagayo Beach Resort is the epitome of Caribbean luxury. An all-year-round haven, it promises not just a holiday, but an experience. Whether you're ensconced in the tropical elegance of its villas or the chic minimalism of the design hotel, you're guaranteed luxury, privacy, and a touch of the avant-garde.
The resort is strategically located in the upscale neighborhood of Jan Thiel Beach, a locale that has earned its reputation as the Caribbean's international hotspot. Here, the lines between beach club, shopping plaza, and luxury accommodation blur, offering guests an eclectic mix of amenities.
From the trendy vibes of the Papagayo Beach Club to the diverse boutiques of the shopping plaza, there's something for every discerning traveler. And for those who fancy a flutter, the classy Diamond Beach Casino awaits.
Papagayo is not just about sophisticated leisure. The resort is a gateway to a superfluity of activities. Dive into the azure waters with Fundiving Curaçao or Dive Center Scuba Do, or perhaps engage in a game of beach tennis under the tropical sun. And as the sun sets, the nightlife comes alive, especially with the famous Happy Hour at Zanzibar.
The resort's location is further enhanced by its proximity to a range of dining options, a supermarket stocked with international and local products, and the consistent tropical semi-arid climate that Curaçao is blessed with.
Papagayo Beach Resort is not just a destination; it's a journey. A journey of discovery, luxury, and unparalleled experiences. Whether you're an adrenaline junkie, a relaxation seeker, or somewhere in between, Papagayo promises a Caribbean adventure like no other.
Redefining Luxury in Curaçao
As the world of travel rebounds, destinations like Curaçao are witnessing a surge in tourism numbers. With more resorts springing up on the island post-COVID, the competition is fierce. Yet, amidst this bustling landscape, Papagayo Beach Resort continues to carve its niche, offering an unparalleled experience that goes beyond just luxury accommodations.
General Manager of Papagayo Beach Club, Harm Musschenga, acknowledges the challenges of the current landscape. "Of course, we see the same number of tourists as last year. But with more resorts built in Curaçao post-COVID, there are more places for these tourists to go to. It's challenging to always keep our clientele," he admits.
However, what truly sets Papagayo Beach Resort apart is not just its physical attributes but the ethos that drives its operations. Amadou O.M Njie, the COO, emphasizes, "What makes us unique compared to other resorts is the level of service we provide. We are made up of eighty villas, three royal villas, and two presidential suites. We just finished renovating them last December, which is state of the art. We are the only resort on the island that provides a world-class kitchen in the villa. Most of our guests are business owners or high-end individuals from Europe."
The recent renovations further elevate the resort's offerings. Musschenga explains that the beach club includes a restaurant, an inside event room with a bar, an outside bar, and a large beach with two big pools. For the renovation, everything is completely remodeled. Beach beds, chairs, and all furniture are renewed with the most high-end designer pieces available. The resort aims to create a more open concept for the restaurant, removing walls to merge the beach and the restaurant into one cohesive concept using its unique design elements.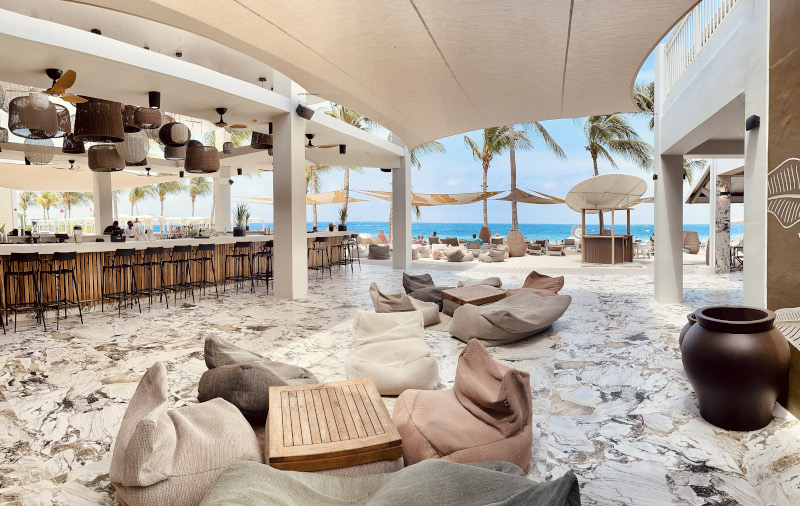 Navigating Renovations Amidst Global Challenges
In the ever-evolving world of hospitality, renovations are a crucial aspect of staying relevant and appealing to discerning travelers. However, the recent global challenges have added an unexpected layer of complexity to such endeavors. Papagayo Beach Resort, in its pursuit of excellence, embarked on a significant renovation journey, one that was not without its set of challenges.
Musschenga sheds light on the intricacies of this process, "We always use local companies. But since we are on an island, the furniture has to be shipped in, and in this case, it came from Europe. After COVID-19, the prices for container shipping soared, and the waiting times extended. For some items, we had to wait over 6 to 7 months."
Despite these challenges, the resort's commitment to its vision meant that the renovations, which began in January of the previous year, saw the last of the products arriving in December.
Papagayo Beach Resort seamlessly blends luxury with a profound commitment to sustainability. Njie highlights this dedication, noting that during the beach club's renovation, the focus was on tourism sustainability.
The resort opted for environmentally friendly materials, transitioning from timber to recycled products for pathways. The resort is also phasing out plastic, aiming for a complete ban at the beach club by year's end. Moreover, a supplier code of conduct ensures that all collaborators uphold environmental safety standards. In an era where sustainability is paramount, the resort's efforts to marry opulence with responsibility stand out.
Community and Workforce: The Pillars of Papagayo Beach Resort
In the heart of every successful resort lies a commitment not just to its guests but also to the community it resides in and the workforce that powers its operations. For Papagayo Beach Resort, these commitments are deeply intertwined, shaping its ethos and driving its success.
Musschenga shares, "We host a variety of groups. Just two weeks ago, we welcomed a local university in collaboration with a school from Holland. They presented on sustainability, and we hosted these events pro bono. Additionally, we open our doors to groups supporting individuals with impairments, such as autism, ensuring they have a memorable time at our resort."
The global employee shortage, exacerbated by the aftermath of COVID-19 and shifting demographics, is a challenge many industries face, and the hospitality sector is no exception. Musschenga acknowledges this, noting, "It's become harder to recruit certified individuals, and retaining them is equally challenging. Musschenga details, the resort invests significantly in training and introduces incentive programs across all departments. These rewards vary, encompassing everything from monetary incentives to language courses and credits at local supermarkets.
In its recruitment efforts, the resort capitalizes on strong ties with Holland, facilitating exchange programs. However, it predominantly focuses on local expertise, with around 70 to 75% of its workforce being local. The resort actively seeks talent on the island and now harnesses social media as a recruitment tool, ensuring it remains both a top destination and a vital part of the Curaçao community.
Branding, Preparedness, and the Local Touch
In the digital age, the way a brand presents itself online is as crucial as its physical presence. For Papagayo Beach Resort, this means leveraging social media not just for event promotions but as a comprehensive tool to communicate their values, goals, and offerings to a global audience.
When asked about Papagayo's brand identity, Musschenga explains, "We've always catered to the luxury market, targeting high-end clientele. However, our brand has evolved to represent a high-end sustainable resort. We're unique in this aspect on the island, blending luxury with local talent and sustainability."
The Caribbean, with its tropical allure, is not without its challenges. Extreme weather events, particularly hurricanes, are a reality that establishments must be prepared for. "We always have a crisis management team in place, consisting of the heads of every department. They convene regularly, especially when there is a potential threat, ensuring we're always prepared for any extreme weather," Musschenga shares.
Offering Guests a Taste of Local Curaçao
While the pristine beaches, sunny weather, and swaying palm trees are primary attractions for visitors, there is an increasing desire among travelers to immerse themselves in local experiences. Musschenga acknowledges this, stating, "People visit our island for its natural beauty. Our focus remains on providing a beautiful environment. However, we also ensure guests get a taste of local Curaçao."
To facilitate this, the resort has a dedicated guest relations team. "Upon check-in, guests receive comprehensive information about the island and our services. Our guest relations team is always on hand to assist," he adds. Furthermore, the resort has developed its own Papagayo app, a digital concierge of sorts, providing guests with all the information they need about the resort and the island at their fingertips.
Valued Partnerships and a Vision for the Future
In the intricate tapestry of resort operations, collaborations and partnerships play a pivotal role. For Papagayo Beach Resort, these relationships are not just transactional but are deeply rooted in shared values and goals.
While Musschenga emphasizing the resort's commitment to working with a myriad of local suppliers, one name stands out when reflecting on the recent renovations—Kooyman. "They're a local company founded by Curaçao people, and they've provided us with a wide range of operational supplies, from wood to other essential materials," he notes. This partnership underscores the resort's dedication to supporting local businesses while ensuring top-tier quality in their offerings.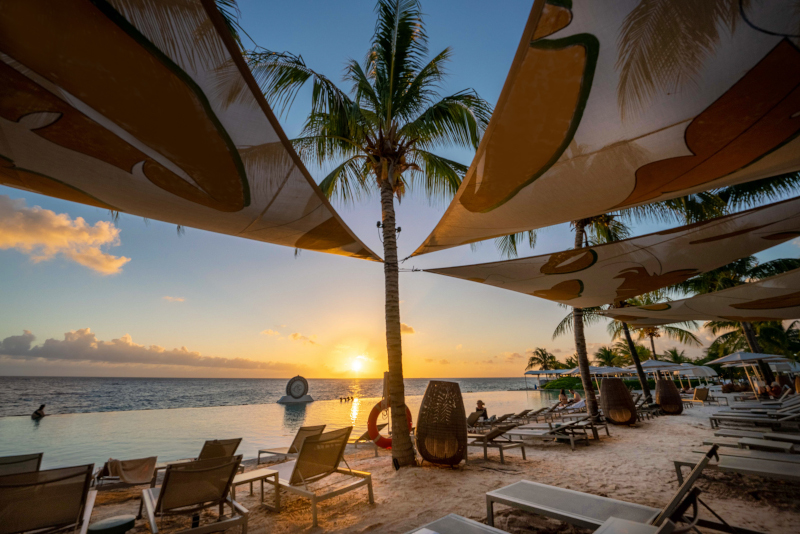 A Bright Horizon
Reflecting on the recent renovations, Musschenga exudes a sense of pride and satisfaction. "We aimed to blend our luxury offerings with environmentally-friendly initiatives without losing the tropical allure that draws visitors to Curaçao. I believe we've achieved a harmonious balance of these elements," he shares.
The journey of innovation and improvement is ceaseless. Looking ahead, Musschenga reveals the resort's next significant endeavor. "With the Beach Club now fully operational, our focus shifts to the hotel. The rooms are set to receive an upgrade," he says.
While each room won't have a distinct theme, the overarching concept will be consistent, ensuring a cohesive experience for guests. "Our company consists of four different departments, and we aim for a unified theme across all sectors. The room upgrades will align with the image we've been projecting," he concludes.
As Papagayo Beach Resort embarks on this next chapter, it's evident that its commitment to luxury, sustainability, and local collaboration will continue to shape its legacy, promising guests an unparalleled experience in the heart of Curaçao.
AT A GLANCE
Papagayo Beach Resort
What: A luxury resort blending opulence with sustainability and community engagement
Where: Curaçao
Website: www.papagayo.com