Venequip Curacao N.V.
"Your Preferred Dealer"
Business View Caribbean interviews Sergio Bitorina, General Manager of Venequip Curacao, for our focus on Best Practices in Business & Economic Development
In September 2004, Venequip Curacao N.V. took on the great responsibility of becoming a service company for Curacao, to provide technical and professional support to those who contribute day by day towards the development and progress of the island. Venequip Curacao directs its strategies to provide services adequately and efficiently for the different economic activities that promote development in Curacao, the commercialization (sales and rentals) of heavy equipment, spare parts, maintenance services and repairs, equipment operations training, and specialized technical support in all of its equipment lines.
A major step was achieved in 2011, with the opening of Venequip Bonaire (Now VINT Bonaire) in Bonaire, and then 2018 brought a unique opportunity to provide total coverage for the three ABC Islands, with the start of operations at the Venequip Aruba Branch. As a multi-brand distributor, relationships with their parts and equipment suppliers are the key to having a window of solutions for their customers. Venequip Curacao's relationships with each of them represent the heart of the company.
Sergio Bitorina, General Manager of Venequip Curacao, shares the backstory on the company: "More than 16 years ago, we started with a clear vision of a business that would allow us to be part of the growth of Curacao. At that moment and for many years we were an exclusive dealer for a well-known equipment brand, and this gave us an important footprint in our island. However the world changed and we decided to change as well by switching to a new way of servicing the Curacao market".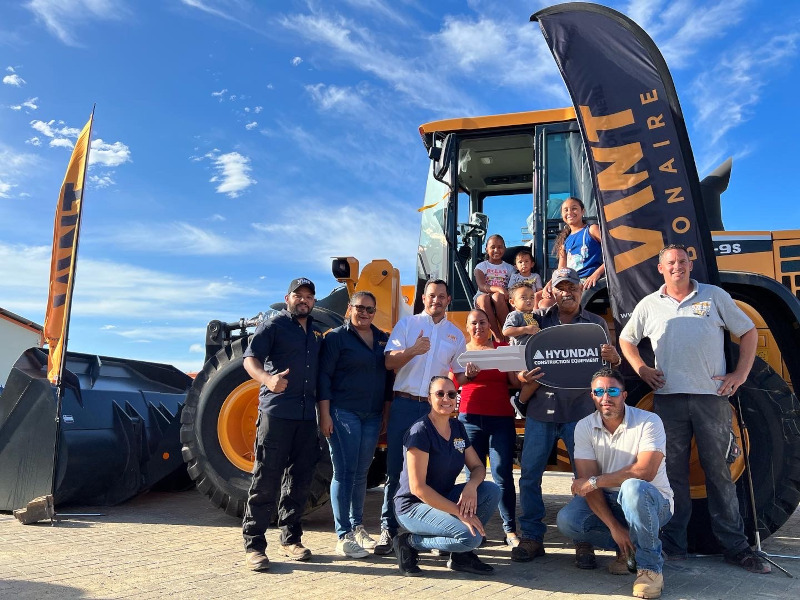 Understanding the needs of its market, Venequip Curacao re-established itself as a multi-brand distributor of spare parts, services, sales and rental of equipment and heavy machinery. Not only did they distribute a single main brand on the island, but the company's range of options expanded greatly to cover the different productive sectors and client needs of Curacao and Bonaire. This challenge implied a great development and growth for the firm's human talent, who have worked hard to train and provide specialized solutions in all the areas they serve.
Bitorina reports, "Our machinery and equipment, sold or rented, has been present in the different constructions and projects that have impacted the development of Curacao. Our specialized technicians have been and will continue to be our most valuable asset, who have provided support to each of our clients, serving the different sectors of our market: Construction, power generation, marine engines, etc. Since we began we have been the only company in our field with the necessary capacity to serve this type of market. This is what has helped us differentiate ourselves from the local competition."
Currently, Venequip Curacao has at least 20 direct employees in Curacao. Their facilities have been specially built to service customers' machinery and equipment in the company's workshop. The firm's coverage extends to the ABC islands thanks to their strategic partners, VINT Bonaire B.V. and Venequip Aruba. Bonaire in particular has had tremendous growth and Venequip Curacao has grown with it. Being strategically located in the three ABC islands has allowed Venequip Curacao to consolidate and, most importantly, offer broad coverage to their customers and their projects.
"We have a business that allows us to serve different types of clients," says Bitorina. "From a person who wants to rent a mini excavator to work in the yard of his house, to the largest and most important government entities that buy an equipment of more than 38 tons. Simply put, we provide equipment for sales and rental for all market segments. In addition, we also provide after sales support by providing a wide variety of genuine parts and top quality service. This means that we take part in all the necessary business activities in the different production sectors of the country."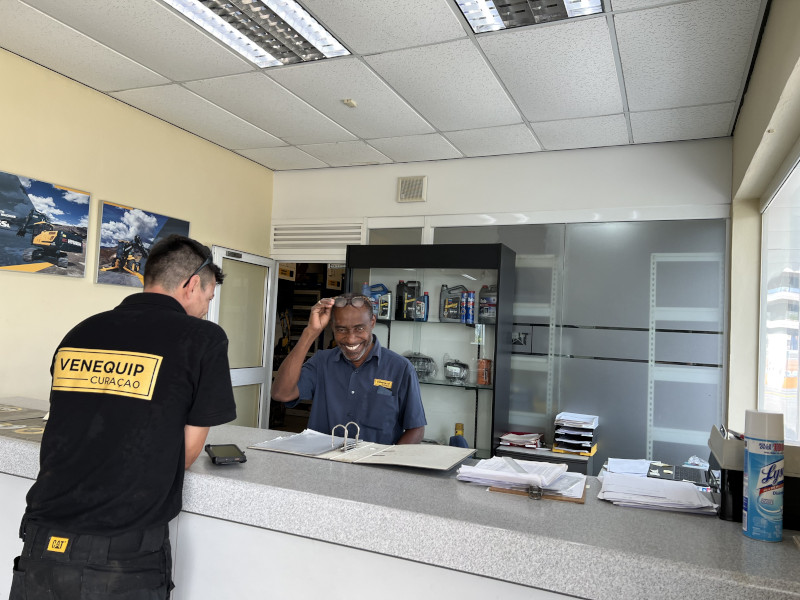 When asked about competition and what sets Venequip Curacao apart, Bitorina is pleased to offer a candid answer. He states, "Excellent question! Yes, we have competition and, although we were pioneers, over the years new companies have been created that compete in this sector. However, Venequip Curacao has the trust of the customers. This has not been obtained easily, it is the reward for more than 16 years of service in a complex and difficult sector to 'remain'."
Noting that there is no magic key to be different from the competition, Bitorina adds, "We have resisted a complex economic scenario that affected the entire world – and choose "The antifragility". That is a concept that goes far beyond resilience. When you are resilient you have to adapt, which is good. But when you're antifragile, you're not afraid to break yourself to be something and someone new. That's how we operate. We've expanded, we've acquired new brands to represent and now we focus on providing complete solutions. "Your Preferred Dealer" is our new slogan. It means a lot for us because it's the customer voice, which has only come from years of service."
COVID impacted and changed the rules of the game. As they mentioned earlier, they weren't afraid to break the old way of doing business stood them in good stead when it came time to adapt. Bitorina explains, "The most valuable thing that has emerged in the midst of the crisis has been the human will to persevere. Our people want to continue creating, building and growing. When the world stopped and with it, the development, we endured. We did it with our service. The sale of equipment decreased but our technicians were still active, serving the clients and their machinery. This is because our customers have understood the importance of keeping your equipment ready, even in crisis situations. We faithfully believe that our customers trust the specialized service that Venequip Curacao is trained to deliver and is ready to provide."
Looking to what the next three to five years might bring, Bitorina shares a positive outlook for Venequip Curacao in the future. He emphasizes, "Our working premise is "to achieve positive and sustainable changes in Curacao. "We're not only part of the market. We're involved in our culture, which allows us to meet face to face the needs of our island. At this moment in history, our machinery, human talent, and infrastructure are at the service of projects for the growth and construction of Curacao.
"By keeping this in mind, our priority for the following 5 years is to continue consolidating ourselves as the "Preferred Dealer" of our people. That is only possible if we continue to deliver solutions, continue training our specialized technicians and expand our range of products thanks to the wide variety of brands we represent. Our path is mapped out and we will continue working for it."
AT A GLANCE
Venequip Curacao N.V.
What: A multi-brand provider of equipment for sales & rental in a variety of markets
Where: Willemstad, Curacao
Website: https://www.venequipabc.com/curacao/