Amforce Security Limited
Meeting client expectations; safety first
A family business that started in the throes of a coup attempt in Trinidad has grown to a nationwide brand known for quality, security, and reliability. Amforce Security Limited was formed by a friend of current owner Raymond Habib's father in 1990 because there was a significant need in Trinidad for the protection of land and goods owned by both companies and individuals in the wake of historically slow police response on the island.
Today Raymond has built Amforce Security Limited into the most highly respected private security company of its kind in Trinidad, and one of the best known in the Caribbean. The company employs more than 200 professionals and engages in weekly, professional training courses on everything from firearms to real-life scenarios to help improve the quality of services it offers while keeping its own employees safe and prepared for any challenges in the field.
Amforce considers itself to be the most effective and efficient contract security provider, called upon at a moment's notice to respond and diffuse any situation. Its customized, individualized security services surpass the standards of the industry in today's ever-changing climate. That helps to ensure the safety and security of its clients.
When Amforce was first established, it focused on preventing larcenies of valuable farm crops. For example, the stealing of one truck of coconuts alone might cost a farmer $6,000 in revenue. So as Amforce grew over the years, it became adept at setting up stings and using sources to anticipate and track down where crimes might be committed against clients.
These services actually can support the law enforcement efforts within the community in Trinidad. The country gives broad powers to private security companies like Amforce, which includes just about all rights and powers that a police officer has up to a certain rank. Amforce professionals can arrest suspects, carry and use firearms, and even support the prosecution. They can work in conjunction with law enforcement officials to solve crimes that involve Amforce's clients.
"We have a very deep respect for our law enforcement friends because most of them are really good, hardworking individuals who want to help people who have been (wronged)," Raymond says. Amforce's main goals are to protect a client's compound using the broad powers it is given.
Hiring and training staff is an important process
Given the growth that Amforce has experienced over the years, it is almost always looking to hire professionals for open positions. Yet it only hires about 10 percent of the candidates it interviews. Says Raymond, "we want to make sure our employees are the right fit because (a private security officer) is not for everyone." Background checks can take a lengthy amount of time to complete and many come back with red flags.
In-house training is intense and never-ending. In fact, most officers who aren't on a job spend their workday in class or improving their skills. Retired and current police and security officers host these courses. Raymond even hires attorneys to educate employees on their rights so they will be prepared to make decisions that are legal and justified while in the field.
Raymond is committed to paying his professionals a very competitive wage because it is a job where they can often feel underappreciated. "The best officers we have go above and beyond what is needed and have an amazing work ethic," he says. It's why there is comparatively little turnover at Amforce compared to other private security companies in the Caribbean.
One area of consistent training is how and when to use firearms. In recent years, criminals are escalating their use of force, and both law enforcement and private security companies are being forced to keep up. Team members use two different firearm ranges for target practice.
Raymond expects the federal government to change its laws to allow expanded use of non-lethal tools like tasers and pepper spray. When that happens, his team will be prepared and ready to use them.
"You train this way so if our officers have to use force, we know they will still be able to go home to their families," Raymond says.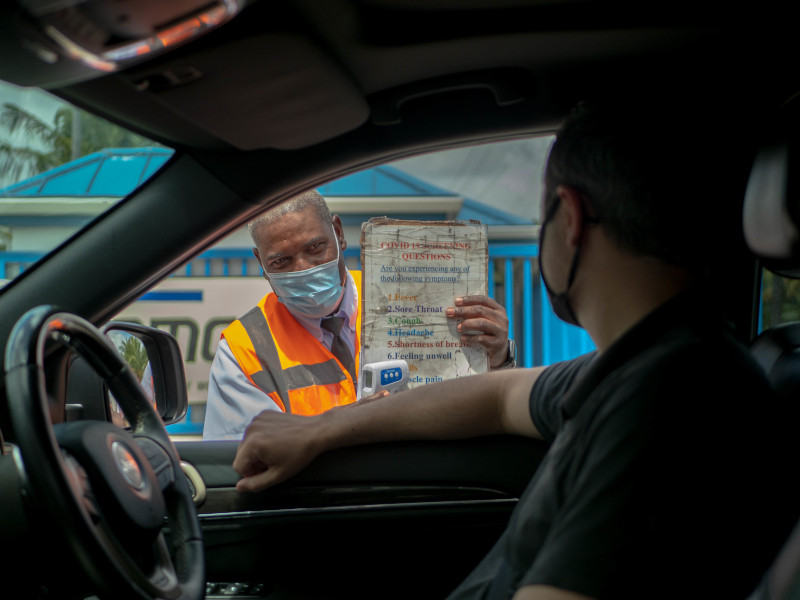 Technology changes
Just as it has in many industries, the technological advances in the private security industry have been significant in recent years. Mobile phones now provide the same level of communications services (and more) as two-way radios from two decades ago. Other types of modern surveillance equipment give officers the ability to see and hear what is happening at any site they are at, including inside vehicles.
This data is constantly being gathered on behalf of clients 24 hours a day and it is up to the Amforce professionals to know how to use it to their advantage.
According to Raymond, training and salaries are the biggest expenses the company has but purchasing high-tech tools provides the team with the data necessary to stay one step ahead of criminals. That technology is an increasing share of the company's expenses but is incredibly important to successfully supporting clients. Amforce professionals need to understand how to use the equipment to support their clients, which is another segment of its training regimen.
Partners make all the difference
Raymond considers clients among his most valuable partners. They put their trust in Amforce Security because of the company's reputation and strict adherence to discipline and training. The contract security provider's full level of services includes executive bodyguard support, cyber security consultancy, armed and unarmed officer protection, 24/7 global positioning system monitoring and tracking, 24/7 alarm monitoring and armed response, and more. Amforce also provides private investigational services and a full range of firearms training and ammunition sales.
While many of Amforce's early clients were in agriculture, it has expanded to numerous industries over the years including manufacturing, food processing, consumer packaged goods, and more. One of its frequent clients is Blue Waters Products, a manufacturer of purified drinking water in Trinidad and Tobago. Recently Amforce partnered with Blue Waters on a project where the client was tipped off about a criminal plan to steal corporate vehicles. Amforce professionals helped to prevent that theft from occurring, saving its client more than $400,000 in the value of stolen goods.
Besides clients, Amforce does work closely with local law enforcement and other law-abiding citizens who have information to share to help prevent larceny and violent crimes. Says Raymond, "we always make sure those who inform us of these plans and have inside knowledge about a possible threat are appreciated."
Ensuring future success by adapting to new trends
The key to ongoing growth and maintaining a brand that clients trust unfortunately means adapting to criminals who are becoming braver and more daring. Many criminals don't care if innocent residents get hurt by gunfire. Now and in the future, Amforce officers will need to be equipped with weapons of an equal or higher caliber to what criminals are using. That means military-grade technology and a fighting force with even more force.
"The future is here," says Raymond, "and we will continue to adapt." So, his officers will be more heavily armed moving forward, with training as important as ever before. He also expects demand will only increase as criminals find more targets. Amforce will invest in other technology and tools designed to thwart the "bad guys," even beyond weapons and tactical gear. Tools like elevated towers, high-powered LED lights, and other detection services will serve as critical assets to the private security team.
"We can't be distracted on any job we are on," Raymond says. He anticipates spending even more time and money on both validating the skills of new employees and developing comprehensive training courses in an attempt to stay one step ahead of the criminal element. If history is any lesson Amforce will find ways to do just that.
AT A GLANCE
Amforce Security Limited
What: Family-run security business
Where: Trinidad, Jamaica
Website: amforcesecurity.com