Bahamas Builders & Development
Most excellent
Business View Caribbean interviews Christian Premock, Managing Director of Bahamas Builders & Development, for our focus on Construction in Bahamas
Now in its third generation of excellence, Bahamas Builders & Development is proof positive that great things often come from humble beginnings. When Daniel Premock started his construction business in 1956, he had no idea that he was starting a legacy of excellence that today is well into its sixth decade of unmatched service. The company began with just two employees and Daniel's no-nonsense philosophy to work hard, deliver unforgettable service, and always exceed the customer's expectations.
Daniel and his team adapted and pioneered the Bermuda roof design in The Bahamas. In fact, solidly constructed buildings from Bahamas Builders' early days can still be seen standing proudly around downtown Nassau. The classic copper roof built in the 1960s on the old Shirley Street library is a perfect example of the durability. Today, 65 years later, Bahamas Builders carries on the fine Premock family tradition and is known throughout the country for high-end custom home renovations, exceptional architectural design, and an untarnished reputation for quality and commitment to client satisfaction.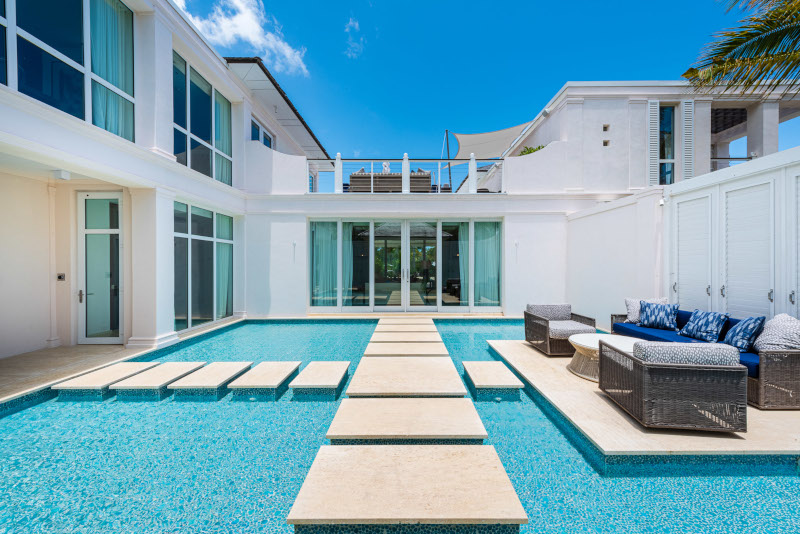 Chris (Christian) Premock, Managing Director of Bahamas Builders and Development, relates, "I am the third generation in our business. The company was started by my grandfather in the late 1950s as a roofing company here in Nassau – my dad was involved from about 1993 until he retired in 2019 and I have been involved in the company since 1995. We've grown substantially over three generations. When I came into the business, we had about seven employees, we have peaked at around 100, and now we're at 30 due to the decreased workload because of COVID-19."
Bahamas Builders is still a family business, but three years ago Paul Fox came on as a partner and that has turned into a great partnership, indeed. Premock notes, "Prior to Paul's involvement in the business, we always specialized in roofing; we were the first roofing company in the Bahamas and the oldest to date. Then we brought in Paul to expand our resources, and our horizon, and our workload, and the type of work we were seeking."
The company's clientele list has grown, predominately, from word of mouth; both for high-end renovations and new construction. And the commercial workload has seen significant expansion. "Since  Paul's been involved, we've done a lot of commercial work at Baha Mar," says Premock. "Baha Mar is a 1,000-acre resort complex in Nassau. We renovated the villas – beautiful! And we created their Current Gallery & Art Center from scratch. That was an empty space that turned into a really cool project." Bahamas Builders also built the new gym at the Melia Nassau Beach Hotel for the same company, and renovated the hotel's Three Tides restaurant. The Royal Fidelity Bank in the Providence House building is another prime renovation in the company's portfolio.
Presently, Bahamas Builders is working on four projects in Lyford Cay – a 1950s era, high-end community of mostly second, third, and fourth generation home owners. The well-established development features an exclusive club, world-class golf course, etc.  Premock's team is winding up some significant renovations there, as well as some new construction. And they broke ground in October on a new house in The Abacos, at Winding Bay; another beautiful, private membership golf course development.
Renovations account for about 50 percent of the company's business; new builds 30 percent; and commercial 20 percent. The renovations are complete gut jobs in the $4 million range, and the results are spectacular. Premock acknowledges, "Unfortunately, life moves so fast that we don't get to capture all the great work-in-progress moments that happen on our jobs. And a lot of our clientele are very private, so once they move in, it's hard to get back in for professional photographs. But now that we're active on Facebook and Instagram, we're trying to get more photos and keep them out there as we're finishing projects up."
The firm draws from a wide range of subcontractors, suppliers, fabricators, and millwork companies in the Bahamas, Florida, Canada, and sometimes around the world. It all depends on the job. Being in a  very unique custom market, no job is ever quite the same. "We don't have our own in-house designers but we partner up with teams," says Premock. "We offer design build services, where the designer, architect, structural engineer, and other engineers all work underneath us. With those, when a client comes to us that we have a reputation with, or has been recommended to us, they are just getting their project started. So we bring them under our wing and take them from start to finish."
The COVID-19 pandemic has caused a lot of construction delays – the Bahamas has been in and out of lockdowns, curfews, shutdowns which has caused setbacks in trying to get materials. Premock reports, "It's hard to pick up materials we need on a daily basis when you're not allowed in the hardware stores. And a lot of our products come the U.S. and their lead times have been pushed back numerous times. Factories have been shutting down, picking back up, and then slowing down again. A lot of staff is working remotely, so since March it has definitely been a lot more challenging than in the past. The pandemic has really been hard on a lot of people… we've been fortunate to have a good workload and we've not had to let anyone go. We're actually hiring and all of our clients kept pushing forward, as have we, and we've basically kept on schedule. Luckily, we were ahead of the game before all this happened."
The company culture at Bahamas Builders is enviable – people just don't want to leave. According to Premock, "I have some staff that retired two years ago that have been with us since day one. They were well up in their 80s, so I finally had to retire them and take them off the roofs. They were not happy! Our lead foreman has been with us for 35 years, the second one about 22 years. So we have that longevity and loyalty, and it's about the way we treat our people and the way we'd like to be treated."
Most of the firm's clients are off-island, so the company has been communicating with them and their architects via Zoom calls and facetime on the site, and an abundance of emails. As for training in new technologies, the company brings in specialty trades from the U.S. or Canada when required, and the team works directly with them to learn as much as possible. "There are some great companies here in Nassau that we reach out to, as well," says Premock, "if there's something outside of our realm that we need to subcontract, say for smart home technology, solar, energy efficiency, specialty water treatment systems, all those type of things. We have a great network of colleagues in the business – people we can rely on, team up with, whatever the job calls for. Everybody we work with has been long-term, all our suppliers locally and in Florida, and so many of our clients have been with us through the years. We have some where we went in and painted an old house they had and two years later they bought a home and we did a $5 million renovation for them. It's the longevity of being here on the ground so long, being visible, being accessible, and just keeping people happy."
Looking ahead, expansion is on the horizon. Bahamas Builders takes pride in keeping lean and being able to control the size of the company, but with what they see happening in Abaco and the groups that are reaching out to be part of their projects and their team, the intention in the next five years is definitely to grow into other islands. "Our long-term goal," says Premock, "is to have a presence in Abaco, probably the size we have in Nassau, and hopefully that will expand to other projects in two of our other major islands. We are also looking into developing some of our own properties, as we have in the past. We have some in the Abaco Islands presently, which we'll start developing this year."
Caribbean communities are well known for pulling together in times of crisis or need, whether it be hurricanes or the pandemic. Premock shares, "The Bahamian people have a culture of helping others. They're happy people. In 2019, Hurricane Dorian ravaged The Abacos and the people held it together. They're coming back and rebuilding and they have a great attitude; wanting to make it better than it was. And that's the sentiment throughout the whole country. As for us, we are keeping a positive attitude and a smile on our face and hoping that we can keep Bahamas Builders going for another 60 years."
AT A GLANCE
Bahamas  Builders & Development
What: Custom home construction and renovation company
Where: Nassau, Bahamas
Website: www.bahbuilders.com