Blinds Designs Limited
A family legacy of inspiration
Business View Caribbean interviews Tara McKoy, CEO of Blinds Designs Limited, for our focus on Best Practices in Manufacturing in Jamaica
Jamaica's preeminent designer and manufacturer of custom blinds and roller shades has a vision to create something that is genuinely new. Driven by the belief of delivering an experience that challenges the status quo, the Kingston-based Blinds Designs Limited team imagines a different, peaceful world filled with stress-free beauty and they strive to give you a taste of it.
This decade-old family owned and operated company carries on a proud legacy of excellence. At Blinds Designs, each day comes as a learning experience and a new opportunity to improve on what 'was'; offering custom roller shades — block-out, decorative, screen, dual shades, 2″ horizontal — wood, faux wood, touch of wood, aluminium, and 1″ aluminium, wood look, and perforated blinds all made from the best materials available.
In 2021, Blinds Designs proudly celebrates a decade in business. Speaking of this wonderful milestone, CEO Tara McKoy says, "My parents, who are currently retired, are very proud of what we've accomplished. We opened in Sept. 2011 and, today, my brother Brian Fong Yee, my sister-in-law Loya Fong Yee, and I operate the business on a daily basis. We each play a different role and have our individual strengths, so we focus on what each person is good at and we get along well together. Everything is put on the table and discussed – pros and cons – whenever a decision needs to be made. The business is still family run and we created it to be more of a family setting among our staff members as well."
Initially, the firm started with 12 employees and have more than doubled that number now to a complement of 25 skilled staff members. All are full-term permanent employees, most of which have been with the company for a number of years. McKoy admits, "Unfortunately, last year we had to lay off a few staff members because business slowed down a lot at the beginning of the pandemic in Jamaica and now, even though things are still unsure, we have been hiring new people. Usually, nobody has prior experience in the manufacturing of blinds, so we do on-the-job training to keep a high level of quality and standards."
Blinds Designs manufactures superior quality window blinds and roller shades for indoor and outdoor use, with a wide range of products and more on the way. The company has three different departments: a verticals department with specified machinery in that area; roller shades and outdoor products are produced in a separate area; and all the horizontals materials in another area.
The manufacturing facility is fully automated – an air compressor powers all the machinery, unless it's a power saw, miter saw, or sewing machine, which are electrical. McKoy states that, at a time like this, if anything was feasible to invest in it would be more cutting machinery to speed up the process to increase efficiency. Being less labor intensive for the employees, it would cut down their production time probably in half.
Company culture is open and friendly; employees are encouraged to let management know what can make the daily manufacturing processes easier. McKoy reports, "It works both ways. If we see a bottleneck somewhere and have an idea, we also propose the idea to them to get their opinion, because they do work with the products on a daily basis. So we definitely see a lot of discussion about that. And even if we don't approach them, the environment is friendly enough for them to say, "Hey boss, what do you think about this?" And then we talk about it to see if it can or cannot work, or we can tweak it to see what can be done. Those are important workplace policies for us."
The firm has operated from a rental property in Kingston since inception, which also includes an adjacent storage facility and warehouse unit, as well as a Blinds Designs showroom. An additional site in Montego Bay houses just a showroom – all the manufacturing takes place in Kingston. Company representatives travel island-wide, selling directly to the consumer. According to McKoy, "We have residential, commercial, as well as government customers. There is no ordering done through an online portal. If it's a familiar customer, we can take their measurements over the phone, or Instagram, or email, but as far as our direct residential or commercial customers, we would go onsite and measure and provide them with an estimate through email. We go to them, and then they will see color samples that we bring. And if they want to see all the products on display, then they will come to the showroom."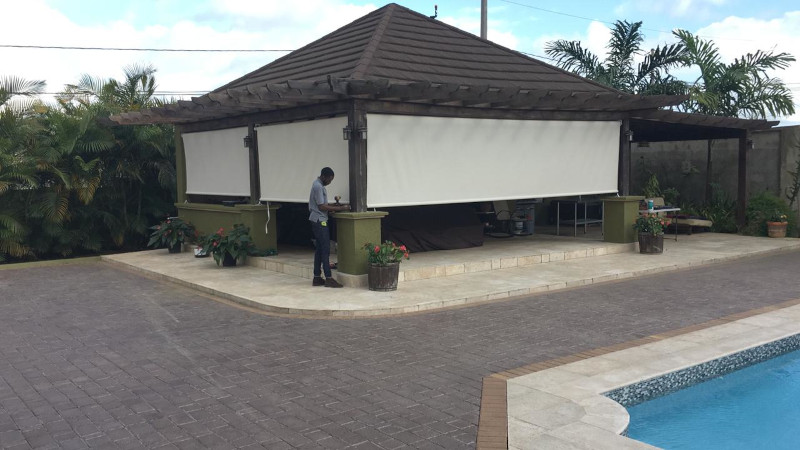 There is less margin of error if the Blinds Design team does the actual measuring because it has to be very precise. The company doesn't stock any standard sizes, everything is custom produced to the fraction of an inch. They also install and repair every product they make, unless the customer opts to install themselves. The blinds and roller shades are made from an array of different materials – wood, fabric, some aluminum and plastic parts, vinyl, metals. McKoy explains, "Depending on what you're trying to get out of the blind, that would determine the fabric you choose and what would work for the space. The bulk of our raw materials are imported from the U.S., although we try to source locally where possible."
When COVID-19 first came on the scene, the company had to get very creative, since many customers didn't want them going into their homes. "So we had to make great use of social media and emails to help them measure," says McKoy. "And we would guide them. We pretty much did online consultations and it worked for a good while until they started to get a bit more comfortable with the protective gear. Then they would allow us into their homes and offices again."
Accessing raw materials was difficult because suppliers would run out and couldn't replenish their stock from whatever country it came from, and then that would affect Blinds Designs. McKoy recounts, "So we tried to encourage the customer to either wait, depending on the timeline, or if not then they would choose a substitute that we had available. We keep a lot of inventory on hand, but it is difficult because we do everything custom. Most of the time the customer is open to substituting something close in the same color range. But if they want a particular color, then they would be more willing to wait. It has been most challenging with COVID because we still are affected by backordered products from our suppliers."
Staff members work as a team to design and create eye-catching showroom displays that highlight their beautiful and diverse offerings. For other forms of marketing, the firm has an active social media presence, as well as outdoor advertisements on billboards, bus shelters, road signs, and a listing and ads in the phone directory.
With the consumer focus on smart home technology, a lot of customers are leaning towards motorization of their blinds, so the firm has been recreating their product to give it a more sleek and modern, motorized design that has compatibility with smart home devices. The company imports the motors and related software and then programs the blinds – no outsourcing.
Looking ahead, McKoy shares, "I would definitely love us to be in a warehouse space that we own, rather than rent, with a much better, more efficient layout. I'd also like us to expand our product line. Our location, in terms of space, limits us on being able to add more products right now. So hopefully in three to five years we can make those dreams come true."
AT A GLANCE
Blinds Designs Limited
What: Provider of custom window treatments and related products
Where: Headquarters in Kingston, Jamaica
Website: www.blindsdesignsja.com