Caribbean Housing Limited
Creating & connecting vibrant communities
Business View Caribbean profiles Caribbean Housing Limited for our focus on Best Practices in Construction in Trinidad & Tobago
Widely regarded as the new frontier for living and doing business, Trinidad's community of Chaguanas has emerged as an idyllic setting for both through decades of growth. Its perfect location, sitting just on either side of one of the country's main highways midway between North and South Trinidad, provides convenient access to and from any region of the country. Chaguanas is a diverse area, rich in culture, and a hub of commercial activity. Not surprising then, that commercial entities and residents alike continue to gravitate towards to this Central borough.
Caribbean Housing Limited (CHL) is a proud part of this evolution, starting in the 1970s with its residential communities and continuing today with the Brentwood and Brookhaven developments – on the residential front alone, homes built will number in the thousands. Together with a well-earned reputation for its attractive and functional buildings, CHL goes further to create a network connecting community members to what is important – laying a solid foundation to bring together homeowners, family, friends, professionals, business owners, and consumers.
For more than 50 years, Caribbean Housing Limited has been a most trusted real estate developer – a fact that has allowed it to remain prolific. Founded by Jang Bahadoorsingh, the company began by building communities throughout the country that would nurture families, connect people, and support them in creating the lives they wanted to live. Starting with single-family homes in East and Central locations, then expanding to Northwest Trinidad, CHL grew their portfolio with retail and commercial-based developments.
In 2017, Caribbean Housing Limited was the proud recipient of the 2017 Business of the Year Award from the Chaguanas Chamber of Industry and Commerce.  The firm continues to be a major player in community development and a respected pioneer in the industry.
Past developments
Caribbean Housing Limited is dedicated to creating beautifully vibrant, sustainable communities in Trinidad. Incorporated on 2nd March 1968, CHL has been working hand in hand with its sister companies, Westmoorings Limited (incorporated in 1969) and Jang Estates Limited (incorporated in 1957), since their respective incorporations.
Past notable projects include the following developments:
Goodwood Gardens, Diego Martin
Westmoorings, North, South-West, South-East, Westmoorings-by-the-Sea and Westmall
Blue Basin Gardens, Diego Martin
Victoria Gardens South, Diego Martin
Andrew's Court, Chalet Court and Hacienda Court in Fairways, Maraval
North Avenue Park, Balmoral Park and Aberdeen Park in Chaguanas
Five decades later, these neighborhoods are still vibrant; many of them thriving within their own networks enjoying the added benefit of vastly increased property values. This success harkens back to the Company's raison d'etre; service – to families and communities. CHL's vision in creating self-contained communities is to it, poetic in design – an interwoven tapestry of homes, offices, restaurants, shopping and entertainment centres, health care facilities and other services necessary for integrated neighbourhoods. The latest developments in Brentwood and Brookhaven, Chaguanas are excellent examples.
The beauty of Brentwood
Brentwood is a vibrant, mixed-use community (town centre) in central Trinidad, situated on the Eastern side of the Sir Solomon Hochoy Highway with a primary catchment of about 25,000 people and secondary and tertiary markets numbering close to 270,000.
As part of their vision for developing the 500-acre area that was previously home to the Edinburgh Estate, CHL began construction on the 75-acre Brentwood – a self-contained town centre/residential styled community encompassing everything from homes and offices to restaurants, health care facilities and other related community support services. The first completed part of the development is Brentwood Palms, a gated residential community comprising 80 lots of land, spread out over 13 acres, on which homeowners have constructed privately designed homes.
In Brentwood, there is a synergy among homeowners, professionals, and businesspeople that creates its own sense of community.  Much more than just attractive, functional architecture, CHL offers the ideal lifestyle with convenient access to schools, businesses, entertainment, and health services in a setting where everyone can thrive and evolve. Indeed, Brentwood has become a sought-after integrated community in which to live, work and shop.
Already established are a Unipet Service station, Chuck E Cheese's family entertainment centre, two gated residential communities (Brentwood Palms and Brentwood Court), and the A-grade Brentwood Professional Centre – a modern, architecturally beautiful, three-storey commercial building. In addition to being Caribbean Housing Limited's headquarters, the Brentwood Professional Centre offers 36,000 square feet of prime office space for lease to a varied range of professionals, including medical and legal practitioners, insurance agents, investment and accounting companies, travel agents, and spa services.
The Massy Stores Supermarket chain has also begun construction on its newest location at Brentwood, offering a premium shopping experience, with an in-house pharmacy.  The much-anticipated Supermarket is projected to open its doors in the coming months.  All of these establishments will serve to drive additional traffic and revenue streams for the upcoming Brentwood Mall, which is now under construction.
Brentwood Mall
With its combination of Caribbean warmth and modern amenities, Brentwood Mall will be at the heart of the community – bringing retail stores, restaurants, professional offices, a fitness centre, grocery shopping, and essential services to a distinctive neighbourhood already on the rise. Desirable, secure, well-designed communities are really about people – and CHL has the track record to prove it. In keeping with international trends, they are creating a progressive and integrated work/retail/leisure experience.
Some may say that launching a Mall in the midst of a pandemic would be ill advised, but at Caribbean Housing Limited, decades of experience building energetic communities has taught vital lessons in adapting and staying the course. They know that Brentwood is an evolving district that supports the people who live and work there, offering hope and connection at a time when everyone feels a sense of separation. The initial rollout revolves around the immediate needs of the Brentwood community, with offerings that help make the everyday routine easier, enjoyable and more convenient.
CHL's determination is what crafts resilient communities and dynamic neighbourhoods. With Brentwood Mall, everything is at hand – amazing food, quality stores, essential services – but you'll also find connection and a sense of belonging, at a time when we all need it most.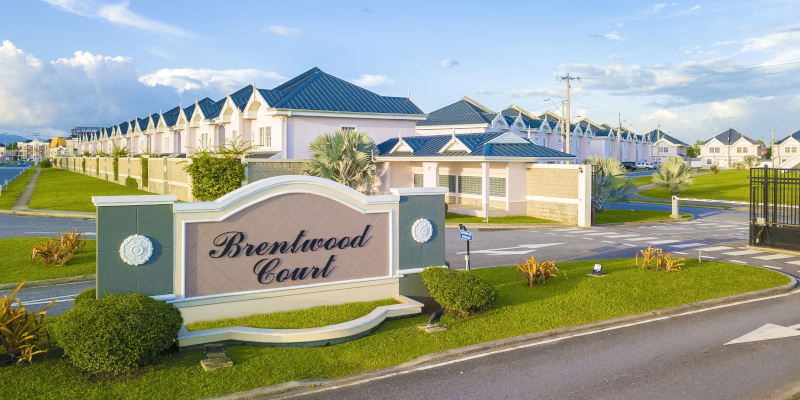 Brentwood Court
A residential gated community of 221 upscale multi-family townhouses and duplexes spread across 14 acres, Brentwood Court is situated immediately off the Sir Solomon Hochoy Highway for easy access.  This delightful development is in high demand with everyone from young professionals and business executives to expatriates and investors. New homeowners have already moved into 129 of the 3-bedroom, 2½-bathroom townhouses units and they are thrilled with them.  Construction of the next phase is now being planned.
Architecturally, Brentwood Court is a blend of contemporary design with whimsical Victorian elements. Each townhome is outfitted with French doors, sliding windows, kitchen cabinetry, granite or quartz countertops, central air-conditioning and high-end shower and basin mixers. This welcoming community sits directly opposite Brentwood Mall and is generating incredible sales interest, as homeowners love the convenience of having shopping and other support services close by.
Brookhaven
With an atmosphere of old-world charm, yet all the amenities of modern suburban living Brookhaven offers the best of all worlds in a self-contained, residential community in Chaguanas.
Stirling Gardens
CHL began the Brookhaven development with Stirling Gardens, a gated residential community in a beautifully designed setting near parks, dining, shopping and other family-minded services. Stirling Gardens featured 59 fully-serviced lots of land… ideal for building a dream home. This desirable neighbourhood is property-managed, has 24-hour security, park access, and landscaped common areas. Lot sizes range from approximately 5000 to 7000 sq. ft., all of which are SOLD.
Glendale Gardens
On the Northwestern side of Brookhaven lies Glendale Gardens, a private, gated residential development of two- and three-bedroom homes for sale. The Caribbean-centric designs are a playful twist on Trinidad and Tobago's colonial architecture and are the embodiment of elegance and functionality. Glendale Gardens retains the value of peaceful living and is nestled within manicured grounds and tranquil garden settings.
Kensington Gardens
Also located within the friendly Brookhaven community, Kensington Gardens is CHL's newest private, gated residential development of 114 fully-serviced lots of land. Newlyweds, families, and professionals now wishing to build their dream homes will feel a sense of stability and community spirit here!  Residents of Kensington Gardens will have exclusive access to their own security guard booth, mail centre, and additional features including a neighbourhood park with a multi-use community facility, two playgrounds for kids, and landscaped common areas – which will all be property-managed.
Madison Gardens
CHL's next planned development in Brookhaven will be Madison Gardens – a gated, residential development of 2- and 3-bedroom single storey modern designed homes.  CHL's vision for Madison Gardens is to create a place of retreat. For these homes, they've opted for an up-to-date aesthetic – clean roof lines that crown uncluttered façades washed in neutral tones to create a feeling of calm and balance. Accent walls and trim will frame the front entrances to add interest and curb appeal. The interior of the homes will feature an open plan layout and will be finished with contemporary fixtures.  Certain models of homes are being designed to allow for future expansion by homeowners. Madison Gardens is expected to attract young professionals and investors and will become available for sale in 2022.
The surrounding sites in Brookhaven will evolve into a mix of more residential communities, and essential services and Caribbean Housing Limited will continue to enhance the quality of life for residents, businesses, and visitors in the lovely borough of Chaguanas for generations to come.
AT A GLANCE
Caribbean Housing Limited
What: A pioneering, multi-faceted development company
Where: Chaguanas, Trinidad
Website: www.chltt.com