Chocolate Dreams
The stuff that dreams are made of
Business View Caribbean interviews Michelle Smith, CEO of Chocolate Dreams, for our focus on Manufacturing Excellence in Jamaica
"Everything tastes better when it's infused with love," says Michelle Smith, owner of Chocolate Dreams in Kingston, Jamaica. When Smith followed her business dream 17 years ago it led her down a path of sweet-tasting decadence – straight to the commodity that once thrived in Jamaican soils before giving way to more lucrative banana crops.
"I always thought chocolate was a billion dollar industry and I always wondered why, in Jamaica, when we had a huge cocoa industry years and years ago, we were not doing more of chocolate manufacturing," Smith relates. "So I decided to brave it and go dabbling in chocolate." That dabbling took place in Smith's two-bedroom apartment, where she practiced and experimented with different online recipes and learned how to make her own chocolate indulgences from scratch.
Smith had been a baker most of her adult life and the interest in her confections was making its way beyond just those of friends or family. She explains, "I found there were quite a few people that were interested in what I was doing so I decided to launch full-fledged into it at home, having my friends and family to help me when I had big corporate orders to fill. One or two people would see me at trade shows, expos, and corporate events and enquire about chocolates, so I really waited until it got some traction before I decided to go into it full-tilt." Knowing the small confines of her apartment were no longer adequate for the following she was gaining, in 2004 Smith opened a small retail/manufacturing space, sharing it with another business.
In the beginning, Chocolate Dreams was a very small, two-person operation. But, when Smith traveled to the U.S. to see her children, who were at college in Boston, her interest in the world of chocolate grew even further. After visiting some mom and pop businesses in that area, she saw what they were doing with chocolate, and was inspired to evolve into a chocolate factory. Smith's chocolate business expanded to the point where she opened separate manufacturing and retail spaces. At the height of the business she had 23 employees and offered a host of delicious chocolate delights, such as her signature White Chocolate Cheesecake and Triple Pleasure Chocolate cake. "The creation is hand-crafted and blended from scratch to perfection," she notes proudly.
More corporate clients came calling for Smith's decadent delights and her workforce was kept busy fulfilling orders for corporate, charitable, and community events. Five Caribbean hotels contracted Chocolate Dreams to provide 'turn-down' chocolates to be placed on guests' pillows each evening. "People want sweets and comfort food," says Smith of her handcrafted luxury chocolates. "We have a good brand so we've been able to command a lot of the market for it."
At the time nobody could have anticipated that a world-wide pandemic would effectively close the hospitality industry down. So when COVID-19 struck, the growth that Chocolate Dreams was enjoying, came to an abrupt halt. "We've had some challenges," admits Smith. "Until the hotels get back to a certain occupancy, we don't have that business anymore, so we've had to downsize."
Chocolate Dreams once again amalgamated to include retail and manufacturing in one location. Like many businesses in the COVID-era, Smith had to let several employees go, leaving her with only seven workers, down from 23. She acknowledges, "What happened in the factory prior to doing that was that we made the turn-down chocolates for five hotels on the north coast. We have over 250 hotels here so I had just started breaking into the market; I had been servicing them for a long time and I was just about to expand so that I could provide them with more, when COVID struck."
Chocolate Dreams continues a wholesale business to area restaurants and cafes, as well as having a boutique shop to service individual orders and walk-ins. "I still try for the corporate clients but, of course, corporate events have been cut," Smith says. "A lot of events that I used to do have been cut and in order to keep my presence in a sector that is virtually non-existent now, I've had to change the direction of the company."
Smith turned to the Internet to see how she could maintain Chocolate Dreams' profile and further expand her business to compensate for the losses related to COVID-19. "What's happened since COVID is we have a lot of people who are away from the island, yet have their family here," says Smith. "So we found that strengthening our social media presence has actually given us more overseas orders for family over here. We've been doing a lot of those orders with the hope that we are going to increase our export factor."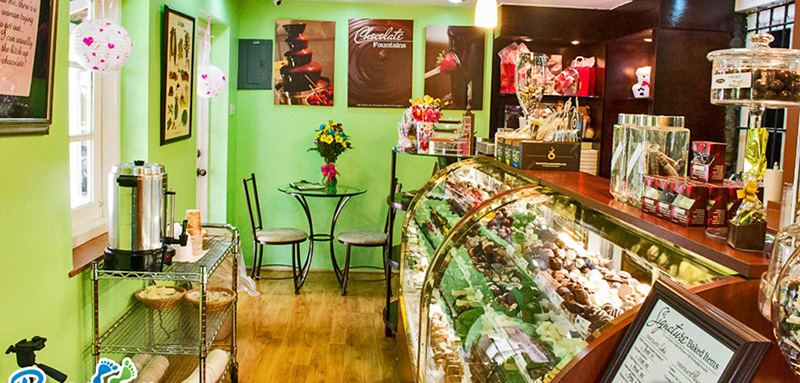 Some of Chocolate Dreams' most popular items are being kept at the top of the menu to see if they will entice additional export orders within the Caribbean region. Hopes are that exporting will also expand to Europe and the United States. "It's a long-term plan but we have to bring it forward," adds Smith. The shrewd businesswoman realizes the vastness of product available on the worldwide web, but believes her product stands for itself. The way she conducts business also plays a part in her success. "My competitive advantage is that I'm fully involved with my customers and it gives that personal touch, which is very, very important here," Smith stresses. "I always respond to my clients within the day and I think that has helped us tremendously. I'm trying to be very positive about what's going to happen once we get settled back in again."
In the meantime, her retail business continues to attract customers with its delightful offerings of all things chocolate. "We follow all COVID protocols for all customers and employees entering our factory and people are compliant," Smith notes. "We have certain protocols when you come into the store. We're trying to do a lot of deliveries – they have really taken off here and we are also doing curbside pick-up so customers don't have to come in."
Clients can now choose from smaller sized items and orders, which also serves a niche market in the wake of COVID. New partnerships have been built, including with Devon House Ice Cream, the owners of Scoops Unlimited ice cream parlours that are opening locations throughout Jamaica."They buy my White Chocolate Cheesecake, which is one of my top-selling items, to serve in their stores so that's a pretty good relationship," says Smith. "Because of COVID, we've had to change our direction in such a way to maintain the survival of the company."
From a dream to reality, Smith has put her all into the building of the Chocolate Dreams brand and she isn't about to let a pandemic put out her flame. "It's a woman-owned company and, to be honest, I think I've done a pretty good job over the last 17 years with the way I started," she says. "We have pivoted into what we are doing now and we are going to try and regrow again. After all, it isn't the first time Chocolate Dreams has faced a setback. I've had a fire where my retail burned down flat, so I had to rebuild and I started again. And I've started again after COVID. I have the resilience and the strength of a real entrepreneur because I started with nothing and I've brought it to this level."
Moving forward and not looking back is important to Smith. "I want people to know that Chocolate Dreams is resilient and strong," she says. "We don't entertain negativity at all and I'm not going to lie down and die because of COVID… I'm going to try to regroup and refocus because I feel post-COVID is going to be very lucrative. I believe Jamaica itself will pull through and forge ahead once COVID is behind it, with a better economy and a renewed optimism. And I will feel like I served my country well by hiring people and putting myself out there. This is a business based on strength."
And that is truly the stuff that dreams are made of.
AT A GLANCE
Chocolate Dreams
What: Manufacturer/retailer of chocolate confections
Where: Kingston, Jamaica

Scoops Unlimited Ltd.
2 ½ Kingsway, Unit 27, Kingston 10
876-754-4988