Grantley Adams International Airport;
a sunny takeoff for the Caribbean-based airport
With state-of-the-art facilities and planned operational upgrades, Grantley Adams International Airport is soaring to new passenger heights
If a traveler is looking for a relaxing getaway while wanting to take in stunning scenery there are very few areas that offer both when stepping onto the tarmac. Serving as a gateway to the island nation of Barbados, Grantley Adams International Airport offers this perfect combination and more for leisure and business travelers, serving as a hub of Caribbean aviation and a gateway to the region for millions of passengers each year.
With a rich history dating back to the 1940s, the airport has undergone significant expansion and modernization in recent years to become one of the most modern and well-equipped airports in the Caribbean.
From its state-of-the-art terminal building to its wide range of shopping and dining options, Grantley Adams International Airport offers a world-class travel experience for passengers from around the globe.
Business View Magazine caught up with Hadley Bourne, CEO of Grantley Adams International Airport Inc., to delve deeper into the history and operations of the airport and explore its facilities, services, and the role it plays in connecting the Caribbean to the world.
"GAIA was previously a landing strip during the British colonial times," Bourne says. "Back in 1939, it was a grass runway, which the government saw the necessity to expand to the current state. As part of the expansion process, a new terminal was opened in 1979."
GAIA's current traffic is roughly 2.2 million passengers a year, with a capacity to handle aircraft of any size up to Airbus A380, supported by recent runway rehabilitation works that will help these capabilities for the next twenty years.
"The airport has over twenty parking positions, which gives it the capacity to handle commercial and private jets coming into the country," Bourne adds. "Especially during the holidays, we a see a lot of private jets, most in the category of 11,000+ feet."
GAIA boasts multiple landing facilities, including a central runway that can accommodate large commercial aircraft besides facilities for general aviation and private jets.
Aside from aircraft-specific facilities, GAIA's modern terminal building provides a range of amenities and services for travelers, including retail and duty-free shopping, casual dining, currency exchange, comfortable seating areas and lounges, and Wi-Fi access throughout the terminal.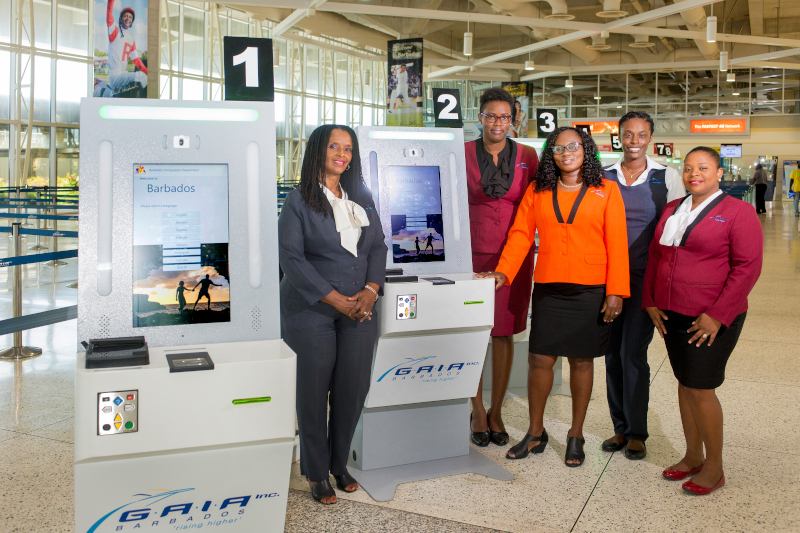 Like most airports, the COVID pandemic impacted GAIA's operations, at one point grounding all flights. However, as life returns to normalcy, Bourne is bullish on the airport's ability to regain pre-pandemic visitor numbers.
"Compared to 2019, we've recovered between seventy and seventy-five percent of our total passenger volume," he reports.
"Most of the flights we had pre-COVID have returned, especially international ones. We also added a number of carriers during the COVID period, further boosting our numbers. On a regional front, however, we have seen a drop in numbers due to the reduction in the operational capacity of the regional carrier."
"Based on what we see in the market, if we still had the seating capacity we had in 2019 for regional travel, we would have met or surpassed pre-COVID numbers. So, looking at the monthly numbers from the international markets, we are matching pre-COVID numbers. Still, our overall position has significantly reduced due to the lack of regional airlift."
As a state-owned commercial enterprise, GAIA is responsible for raising funds to finance its operations. Its organizational structure includes a board of directors drawn from the relevant ministries and the private sectors.
Bourne leads the executive team, which handles the day-to-day operation of the airport, including recent and planned upgrades, as he explains.
"We had a runway rehabilitation project that started in 2020 and was completed in late 2022, which has resulted in a new strip. We also upgraded our common-use system, which greatly helped this winter period."
In 2022, GAIA welcomed a new Fixed Base Operator (FBO) called Private Aircraft Services, which primarily deals with luxury travel alongside other FBOs like M-Jet that operate onsite.
Besides FBOs, the airport also has onsite fuel services provided through a consortium of providers comprising Shell Oil Limited (SOL) and Rubis Energy.
"The consortium handles all fuel-related requirements in the airport independently from the airport," Bourne says. "They handle that aspect as a turnkey contractor, without our involvement at an operational level."
The consortium works within contractual agreements set with the airport and the carriers it deals with directly.
Training is another facility provided within the airport through training service providers.
"The COVID pandemic affected many airlines, which had to lay off pilots and other aviation staff," explains Bourne.
"However, from a straining standpoint, it did not affect the airport directly, instead affecting the carriers we work with. In that respect, it did affect the training capabilities within the airport because of the limited availability of training equipment normally provided by carriers."
Despite these challenges, the airport offers training opportunities through the Flight Training Institute and the Barbados Light Aeroplane Club, among others.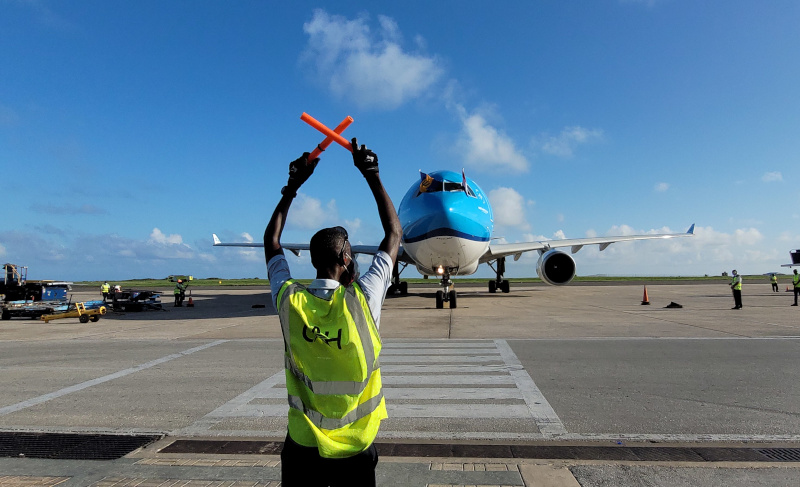 "The pandemic did not affect training at all," Bourne confirms. "If anything, some pilots were laid off, so there has been no talent shortage."
Although the airport does provide these training facilities, commercial pilots required to update their flight hours cannot do so on the island and must travel to the US to complete the simulations.
Grantley Adams International Airport has deep ties to the community and continues to engage with and support it through various programs and initiatives. For Bourne, this community involvement is entrenched in airport operations, occurring all year round.
"We have a very strong corporate social responsibility focus," he says. "Just today, I spoke with the finance director concerning our initiatives, like handing out hampers and other support for the needy within the communities around the airport."
"We've adopted all of the schools within our catchment area, both secondary and primary, regularly visiting them to help with things like cutting grass, minor repairs, and other tasks.
"We also support them whenever they have functions. For example, we will provide gifts, trophies, and certificates during graduations. We also participate in career showcase events that expose students to aviation careers, besides partnering with other career lines like the police, immigration, customs, fire, and airlines."
Besides these initiatives, the airport also provides ad-hoc assistance whenever needed, like helping conduct clean-up during a recent ashfall and providing maintenance and support to communities affected by the recent airport upgrade.
"Our CSR is broad and entrenched in the community, even reaching into areas like cancer and healthcare awareness," says Bourne.
All these factors combined have placed GAIA in the top five Caribbean airports, only behind those in countries like Jamaica and the Dominican Republic.
"We look to those airports as a role model for us at GAIA," Bourne says. "As they continue to strive to improve, we are right behind them, emulating and sometimes improving on what they are doing."
All the operators within the airport help the airport achieve these results, from restaurants to firefighters to fuel providers. For Bourne, the airport itself has little to do with its success, counting the efforts these operators contribute as central to its success.
"I see myself as a landlord, and all the tenants are the stakeholder we work with," he says. "No one entity is responsible for our success because it is a collaborative effort. If I were to single out the ones that contribute the most, it would be our two main FBOs, who are responsible for most of the airport's essential operations, and the catering provider."
Other notable providers are the fuel provision consortium, the primary security provider G4S, and critical government entities like customs immigration and the police.
As the new year unfolds, Bourne's focus as CEO of GAIA is to ensure it keeps modernizing and staying abreast of global airport best practices.
"We had aggressive plans to upgrade and modernize the airport pre-pandemic, but all those slowed down during the pandemic. In 2023 and beyond, we want to regain that momentum and get back to our modernization schedule."
Achieving all this is not just a professional objective for Bourne but a personal one because of how he views the work that the airport (and any other airport) does.
"I'm well aware of the impact that ports of entry have on the national economy," he says. "As a small developing state heavily dependent on tourism, I know the airport's role in the country."
"This awareness drives me to get up every morning to ensure the organization reaches its potential. When it does, it creates a systemic impact throughout the economy and community."
"I see it as a catalyst for economic growth. For example, many small businesses derive revenue from airport activities, whether craft vendors, taxi drivers, restaurants, or other associated operators."
"For an economy built on tourism like Barbados, the airport is a major economic driver. If it succeeds, it will nourish the wider economy."
AT A GLANCE
Grantley Adams International Airport
What: A Caribbean-based airport with state-of-the-art facilities serving as the region's gateway
Where: Adams-Barrow, Barbados
Website: https://www.gaia.bb/
Barbados Water Authority – www.barbadoswaterauthority.com
Barbados Water Authority is responsible for management of the island's water resources, provision of adequate, regular and safe supplies of potable water and wastewater services.
The Authority has a mixed staff complement of approximately seven hundred and fifty full time and temporary employees operating from fifty facilities across the island.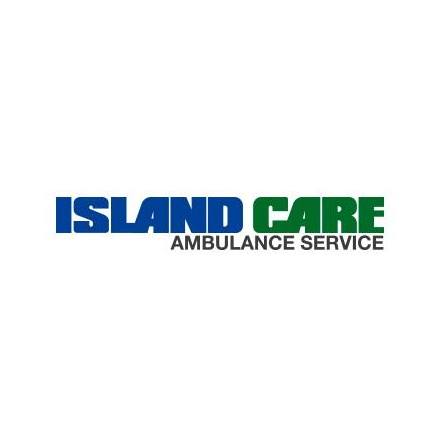 Island Care Ambulance Service – https://www.facebook.com/IslandCareBarbados/
Island Care Ambulance Service is a privately owned company dedicated to serving the public of Barbados and visitors alike with prompt and reliable medical transport. We recognize the need for a professional, competent and affordable private ambulance service, and provide an alternative for both emergency and non-emergency medical transport. Our staff are fully qualified and trained to ensure the highest standards of medical care, and our response time is excellent.
G4S Secure Solutions – www.g4s.com
There for you™, serving and safeguarding customers, communities, and people around the world, is G4S' purpose. Operating in over 90 countries and part of the Allied Universal Group, G4S, through its unparalleled customer relationships, provides proactive solutions, cutting-edge smart technology, and tailored services that allow customers to focus on their core business. G4S is the  leading integrated security solutions provider in Barbados and the Caribbean.