Easispice Manufacturers Limited
the spice of life
Things are heating up for Easispice Manufacturers Limited with business hot and customers happy
Easispice Manufacturers Limited is spicing things up as we head into the second financial quarter of 2023. With business booming and expansion plans in the works, Easispice Manufacturers Limited, a Jamaican-based company that produces spices and seasoning blends, continues to grow with the market.
First established in 1966 by the late Kareem Josephs on a shoestring budget, over the years, Easispice has expanded its production capabilities and footprint to meet the growing demand for its products worldwide.
In a recent interview with Business View Caribbean, Peter Ramson, Managing Director, and General Manager, reflected on the company's journey, stating, "The company has come a long way since its humble beginnings in 1966. Moving from a shoestring budget and working within tiny confines to where it is now with 10,500ft² of space, automated packaging machines, and all the capabilities we need for mass production."
Easispice's growth is driven by its ability to adapt to increasing product demand. As Peter Ramson explains, "We tend to grow into the demand as the years go by." However, despite this organic growth, the company is focusing on fostering the continued acceptance of its products worldwide, which it is actively working towards through its distribution partners.
Alongside Peter Ramson, the leadership team at Easispice Manufacturers Limited also includes Wendy Ramson, Executive Assistant, Christian Ramson, Production Manager, and Shaun Mckenzie, Operations Manager.
Together, they are committed to driving the company's growth and ensuring the continued success of Easispice as a global supplier of high-quality spices and seasoning blends. The company's current success is a testament to the dedication and hard work of its founders, leadership team, and employees, who have turned a small, family-run business into an internationally recognized brand.
Easispice's product line includes a wide range of spices, including meat seasoning, chicken seasoning, fish seasoning, pork seasoning, seasoned curry, curry powder, barbecue seasoning, jerk seasoning, all-purpose seasoning, oxtail seasoning, among others.
Christian Ramson sheds light on the company's best-selling products, explaining that their popularity varies depending on the region.
"Popular seasonings mostly depend on the area. For example, in the US, we tend to have more jerk seasoning sales, while locally, meat seasoning, chicken seasoning, and all-purpose seasoning tend to sell more. However, we also have some parts of Jamaica where the fish seasoning is the popular choice." he says.
An interesting aspect of Easispice's success is its appeal to different generations, particularly younger ones. The company's pre-packaged seasonings offer convenience and ease to busy individuals who may not have the time to create their seasoning blends from scratch.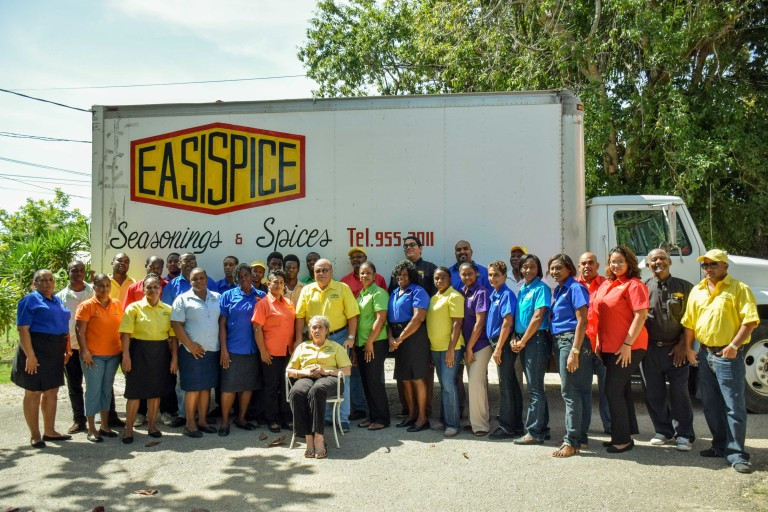 Speaking about this trend, Christian deferred to his father, Peter Ramson, who explained that Easispice's products cater to a wide range of tastes and preferences.
"We have never published recipes for the use of our seasoning, but there's a rule of thumb that we work with. Whatever your desire for salt, it is in the product, and the rest of the seasoning follows."
"For instance, if you typically use a teaspoon of salt in your meal preparation, you'll also get a similar amount of seasoning when you use our products. We've done this to make it easy to use our seasonings without measuring out everything."
Peter Ramson mentions that most Jamaicans rely on their taste buds to measure seasoning, which Easispice aims to accommodate in its seasonings.
This focus on staying true to its roots by offering versatile and high-quality spices and seasoning blends that appeal to customers of all ages and backgrounds is a key factor behind the company's success.
Despite not publishing recipes that accompany its seasonings, the company appreciates that times are changing, and a more digitally inclined generation may benefit from such recipes.
Wendy Ramson explains that the company is developing recipes to share with its customers, acknowledging the importance of social media in today's world.
"We are working on recipes based on the changing technological market. We're doing so because everybody's using social media these days, and we don't want to be left behind as a brand," she says.
She further explains that the company's focus on innovation and forward thinking extends to its product line.
"We started with meat seasoning, which slowly but surely picked up, leading to the development of our other seasoning blends. We've always focused on demand and what our customers are asking for. This approach has been the wind behind our sails and the main reason we have become a household name," she adds.
Easispice's distribution model primarily leverages a network of distribution partners in Jamaica and its overseas markets. Christian Ramson provides additional insights.
"Our distribution and retail strategies are primarily anchored on selling through distributors, wholesalers, and retail outlets. We have two main distributors in Jamaica and others in South Florida and the Tri-State area of New York. We also want to expand our distribution network in the UK and other key markets, such as Canada."
As Easispice Manufacturers Limited continues to expand its business footprint, it is actively working on expanding its reach to cater to the growing demands of its customers by developing new recipes, utilizing social media, and exploring new distribution channels.
The COVID pandemic hit the restaurant and hospitality industry hard, with many businesses closing down or significantly shrinking their operations. With restaurants being a significant customer segment for Easispice, one would imagine the company was also hit hard, but this wasn't the case.
Christian Ramson shares how Easispice experienced significant growth during the COVID-19 pandemic, primarily due to more people staying home and cooking.
"In terms of growth, we've seen quite an increase since COVID because more people are staying home to cook," he says.
Wendy Ramson adds that the company was fortunate because, during the pandemic, many restaurants closed, but people cooking at home served as an alternative market for the company.
"We were one of the few who were very lucky," she says. "When COVID hit, many restaurants globally closed because people were restricted from going out  to eat. However, demand for our products remained constant and sales even increased due to people making an effort to cook at home. People were still buying, and we remained open for people to buy. We're very grateful about that and also very grateful that we could keep our staff on during the pandemic."
Shifting gears to the differences in selling trends between Jamaica and the US, Wendy mentions that the tastes and preferences are similar, especially in Florida.
"In Florida, we sell a lot of the meat, chicken, jerk, and all-purpose – the same as we do here. It might be because there are many Jamaicans abroad, which might also explain why our seasoning has been doing extremely well in the US," she says.
As demand for its products grows, the company has made several strategic and operational investments to remain competitive and efficient.
Peter Ramson shares that Easispice continuously invests in upgrading and expanding machinery to meet the growing demand for the company's products.
"It's an ongoing process. We have replaced and added to our machinery over the years. We have more machinery, including reserve machinery, to ensure that we can continue production in case of any failures," he says.
Continued production is crucial for the company, especially considering its broad-based market.
"Our key demographic is essentially anyone interested in cooking, from everyday consumers to restaurants," Wendy Ramson says. "We supply restaurants and individuals in Jamaica and abroad, which is a vast market and one we are keen on continuing to serve competitively."
As Wendy Ramson explains, part of this strategy to expand its marketing reach includes leveraging digital channels, especially e-commerce marketplaces like Amazon.
"We're in the process of getting our digital sales up and running. We sent off our first shipment a few weeks ago and are currently waiting for that process to conclude so we can send the rest once we ensure the process will run smoothly."
Besides these digital strategies, the company continues leveraging its long-standing partnerships with key local and international distributors, including Chas E. Ramson Ltd., TrinJam Distributors, First World Imports, Amalgamated Distributors Ltd., and Sunland Caribbean Food Imports. Some of these partnerships have lasted for over 20 years, demonstrating the strong connections Easispice has built in the industry.
The company also recently started a partnership with Fit Meals by Tanya, a catering business in Kingston that showcases Easispice's commitment to working with local businesses to promote Jamaican flavors and cuisine.
Easispice's top short-term priority is expanding its distributorship, especially in Canada and the UK.
Wendy Ramson says, "We'd love to increase the distributorship in those areas because of demand. Our short-term goal is to find distributors in those areas while building a stronger online presence to reach more customers worldwide."
Peter Ramson concludes by highlighting the influence of Jamaican flavors on international cuisine, noting that tourists visiting Jamaica often buy Easispice seasonings to take back home with them.
"When they experience the flavors of Jamaica by going to little restaurants and tasting the seasoning, they want to replicate that flavor in their own cooking."
"Our goal is to capitalize on this demand by expanding distribution and making our products more accessible to customers worldwide."
AT A GLANCE
Easispice Manufacturers Limited
What: A leading manufacturer of all types of spices geared toward Caribbean cuisine
Where: Savanna La Mar, Jamaica with a global reach
Website: www.Easispice.com