Geddes Refrigeration Ltd.
First in service
Business View Caribbean interviews Roy Lafayette, Managing Director of Geddes Refrigeration, for our focus on the Resilience, Strength and Growth of Jamaica.
Geddes Refrigeration Ltd. (GRL) is known throughout Jamaica as a very cool company, and for good reason! They are the go-to specialists in sales and service of high efficiency air conditioners for residential and commercial spaces, cold rooms, chill rooms, ice machines, air curtains, and extractor fans. The impressive GRL Maintenance Service Pack includes preventative maintenance, as well as repairs on all brands of ACs and refrigeration equipment, and duct cleaning. And, just think, it all came about because people wanted to have a nice cold beer.
Roy Lafayette, GRL's Managing Director explains, "The company was started in 1948 by Paul Geddes – son of the founder of the Red Stripe Beer empire in Jamaica. When Paul Geddes took over the leadership of Red Stripe brewery, there was a saying in Jamaica, 'If you're going to have a Red Stripe, you must have a well-cold Red Stripe. There is nothing like it.' To do so, Paul Geddes set up a separate company in air conditioning and refrigeration to assist the brewery in cooling their beers. That is when Geddes Refrigeration all started."
Lafayette joined the company in 1986 as the Commercial Manager. At that time, company sales were around $3 million Jamaican. Within 8 years, sales grew to $20 million. Today, that number is $1.7 billion. What's his secret? Lafayette admits, "I worked a lot. It's about dedication. In 1992, Paul Geddes was Managing Director and my mentor. He offered me a scholarship to the University of Illinois to do the Executive Business Development program. I was successful in three months; we had classes 18 hours a day and did a lot of research and development. When I came back from University, to display what I learned there, I thought: business expansion. That's when the business really took off. There was a change in the mindset. Paul Geddes thought it was time to turn over the company to me. In doing so, there was a management buyout in 1997 and I became the Managing Director, acquiring 69,000 of the 72,000 shares. And that was it. I just never looked back."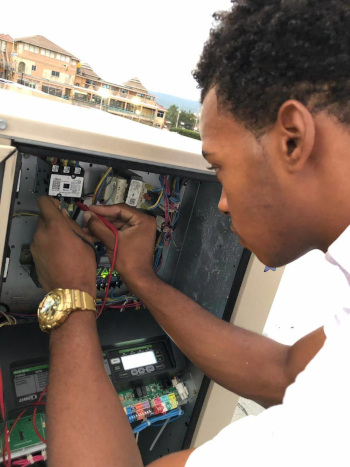 In 1986, GRL employed a staff of about 30 people. Today, there are close to 200 employees working from company headquarters in Kingston, and satellite offices in Montego Bay, Ocho Rios, and Mandeville that just do servicing and engineering. Sales are concentrated from the Kingston office. To tackle the shortage of skilled workers, GRL started an apprenticeship program with a local government organization, Heart Trust. Working closely with the Trust, they take on the graduates of a three-year skilled trades program and put them into a two-year program, after which, the students progress into another program called Geddes Advanced Technical Training. The goal is to ensure GRL can recruit and retain technical workers for the company.
Five years ago, Geddes Refrigeration decided to diversify, establishing Estech Energy Ltd. to focus on alternative energy as the way of the future. Estech's mission is to solve a customer's energy equation though expertise in design; the installation and supply of management systems, energy savings, and lighting fixtures; the conducting of energy audits and quotes on energy replacements; and more. Lafayette reports, "We created a new alternative energy and building management company, which is doing extremely well within that five-year period. We also established Geddes Financial Services about seven years ago, and it really got off the ground around 2015. So, if you want to buy an air conditioning unit and you haven't got the money, Geddes Financial Services will finance the purchase for you. We also offer the staff loans and other financial services, and we offer loans to external persons. So, GRL is now a group of companies."
In 2017, a devastating fire razed the entire Geddes location and caused nearly $700 million Jamaican in damages. Fortunately, all their data was saved, so they bought some laptops and started operating immediately. In fact, the day after the fire, the company brought on two new customers. "We never said no," says Lafayette. "We continued to employ people, we just moved to another location. A friend of mine was able to rent me some containerized offices – it took six weeks to refurbish them and during that time another friend, my IT supplier, put up the entire staff at his office location, and we operated from there, temporarily. Then we moved to the refurbished offices and stayed there for a full year. Can you imagine? We had about 64 people sitting six inches apart from each other and working from a call center – it was amazing. I've never seen people so dedicated as the staff we have at Geddes. Some of them have been here 45 years. We have two staff members that came here before I joined the organization and they're still here."
And here's some great news. In mid-October, after almost two years, GRL moved back to their previous site into all new facilities – a first-class office and warehouse location. The previous warehouse was 20,000 sq. ft. and 10 ft. high, but it was rebuilt at 30 ft. high. The former office was 5,000 sq. ft. and the new office space is 9300 sq. ft. on two floors, upstairs and downstairs. Now, the entire group of companies is under one location: Geddes Refrigeration (the parent company), Estech (the alternative energy company), and Geddes Financial Services (the subsidiary). A big celebration marked the official opening on November 24th, the anniversary of the week of the fire.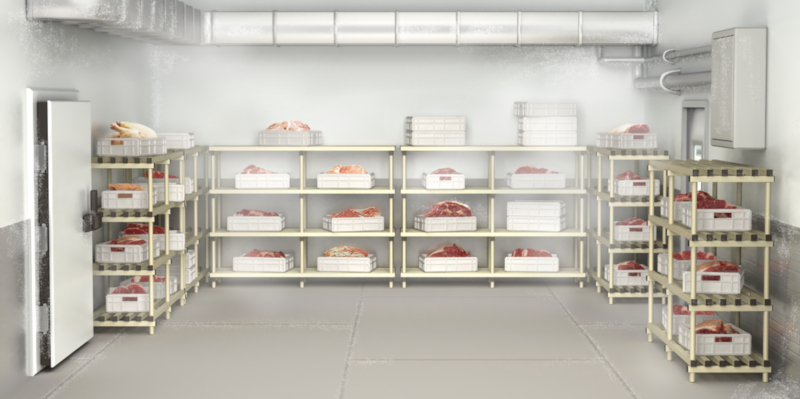 GRL represents Daikin Appliances (importing from the U.S. and Europe), and they are the official distributor for Lennox in Jamaica (importing from the U.S.). They also represent Mitsubishi Heavy Industry (importing from Japan). The customer base is a healthy mix of at least 40 percent commercial industry, 25 percent industrial, and 30 percent domestic. But maintenance is the company's strong suit. Their very large portfolio includes 100 percent of the maintenance for Flow Jamaica telecommunications, all National Commercial Banks, and most other major banks, as well as several government locations and, of course, the Red Stripe Beer facilities.
Lafayette notes, "We work closely with the developers, the architects, and engineers in the construction industry. There are three other large players in our sector, but most of them are more sales-oriented than us. We are maintenance, sales, and deep engineering. We do radio and newspaper marketing, but a lot of our business comes from the mechanical and electrical engineers who know of our company and know of the standard and quality of work we do. We've been around for many years, so everybody knows of us, but we have to advertise just to stay relevant because there are a lot of new players coming into the market."
Climate change is affecting the country of Jamaica in a very real way with more rain and increasing temperatures. If there is a silver lining, the rise in temperatures is good for Geddes Refrigeration. Lafayette admits, "I think we are in the right business. Some schools and churches here don't have air conditioning, so with this kind of climate change, those things must happen, and that means more business. The air conditioning technology is rapidly changing. Five, six years ago it was more mechanical, it's now more electronic and becoming more energy-efficient and cost saving. In Jamaica, the cost of electricity is so expensive – 38 U.S. cents per kilowatt hour. So if we can find ways of bringing down the cost of equipment, while saving energy, that's what we want. And we've been doing pretty good in that area."
Looking ahead, Geddes Refrigeration wants to add to their sales office in the western part of the island, in another four to five months. And Estech has recently moved into solar, and plans to do a lot more investment into alternative energy projects. Continuing to champion the skilled labor cause, as a follow up to Geddes Advanced Technical Training, Lafayette has his sights on creating a Foundation "where we actually partner with a university to take on that center for advanced training of air conditioning and refrigeration to ensure we have properly-trained people. Currently, nobody on the island is doing that. And we'd also like to add more scholarships for our employees for their children. The plan is to have their children working here, as well, by offering scholarships to assist where we can."
He stresses, "It's important for us to give back. We want to incorporate more technology to save people money. In Jamaica, a lot of companies in our business are selling but not maintaining. So, we'd like to be known as the company that looks after your equipment from the start to the finish. And we have our One Hour Service Response guarantee and no one can match us on that. We've worked on it for many years and perfected that response."
Geddes Refrigeration is a proud member of:
ASHRAE – American Society of Heating, Refrigeration and Air Conditioning Engineers
IIAR – International Institute of Ammonia Refrigeration
RETA – Refrigeration Engineer & Technicians Association
JARVA – Jamaica Air Conditioning, Refrigeration & Ventilation Association
PSOJ – Private Sector Organization of Jamaica
JCC – Jamaica Chamber of Commerce
AT A GLANCE
Who: Geddes Refrigeration Ltd.
What: Industry leader in air conditioning and refrigeration sales and service solutions
Where: Headquarters in Kingston, Jamaica
Website: www.grlja.com