itelbpo
Experts in navigating today's CX challenges
Business View Caribbean Magazine interviews Yoni Epstein, Founder & CEO of itelbpo, for our focus on Best Practices in Technology in Jamaica.
Founded in 2012 in Montego Bay, Jamaica, itelbpo is now a respected global business, and the region's largest homegrown business process outsourcer of end-to-end customer experience management solutions. With eight facilities in four countries (Jamaica, The Bahamas, Mexico, and Saint Lucia) and a robust network of Canada-and U.S.-based, work-at-home (WAH) agents, itelbpo delivers customized contact center solutions across multiple channels and industries. The company is well known for its commitment to "employee experience = customer experience," as evidenced in itelbpo's fun-enhanced corporate culture, state-of-the-art technologies, and innovatively-designed workspaces that spur innovation, excite employees, and sustain productivity.
Yoni Epstein, founder and CEO of itelbpo shares, "I started my call center career back in 2000 as an agent while I was in college, and I moved back to Jamaica in 2004 to start a call center for Sandals Resorts. I believed in what I was doing. I liked the call center industry and I liked working with people. After working nine years with Sandals, I had achieved all the goals I'd set for myself there. Given that call centers were not their core function, I felt there was a much greater opportunity for me to change the game if I was to start my own firm. Jamaica had much more to offer when it came to scale and, because Jamaica is home, I felt it was the right place and the right time to start. This is how itelbpo was born in June 2012."
The company started out with seven employees and in eight years of existence has grown to 3,500 team members operating in six different countries. itelbpo currently provides omnichannel contact center services to some of the biggest brands in the world through inbound and outbound voice channels, and through non-voice channels, such as email, SMS, online chat, and social media. The initial goal was to stay within the travel industry where Epstein had garnered the most experience. But over time, it became clear that in order to achieve scale, itelbpo had to diversify into other industries. So today, it not only provides services in the travel and hospitality space for airlines, hotels, rental car companies, etc. but also in the telecommunications space, property and casualty insurance, healthcare, utilities and financial services. Online retail is a significant piece of the business, as well, and one that is growing quickly.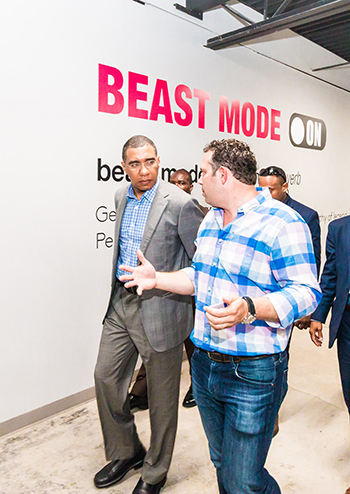 As Millennials gain strength in the marketplace, the way and the places where people work are changing to accommodate new approaches. itelbpo's head office in Montego Bay is a fabulous example of a unique and fun atmosphere. "We really wanted to differentiate ourselves and disrupt what people thought of and looked for in a typical call center," says Epstein. "Our spaces and operations reflect these modern times, from our at-home agent network to our on-site delivery locations. They're designed to maximize employee comfort, enhance productivity, and inspire creativity." With so many companies sitting back and waiting to see what's going to happen with COVID-19, itelbpo continues to expand, and their wise decision to diversify, early on, is paying dividends. In 2017, they acquired the industry's leading work-at-home platform, so when COVID-19 restricted capacity at their sites, they already had proven capabilities and systems in place for ramping up WAH and even deploying it in the Caribbean. In addition to its Montego Bay, Kingston, Grand Bahama, and Monterey, Mexico facilities, the company recently cut the ribbon on a 40,000-sq.-ft building in Saint Lucia where it has also started the build-out to add another 20,000 square feet.
Epstein admits, "The biggest challenge is managing scale and making the decision at the right time to invest in hiring – not only your front line, but also your middle and upper management teams. You have to ensure, as you expand into other countries and other lines of business, that you're continuing to provide high-quality service to your customer even as you scale. It is not our intention to stay this size forever. We've come from seven to 3,500 employees and we want to step up to a big target in the range of 10 to 12 thousand employees. In order to achieve this level of growth, you have to hire good management to manage the services."
Many customers who are with a larger vendor come to itelbpo because they don't want to feel like just a number. They want to try working with a smaller vendor where they have easy access to the leadership team and will be treated as an important client. Surprisingly, COVID-19 has provided a new opportunity. Epstein explains, "Being a smaller vendor, we're not the lion's share of any one particular client of ours; they have other vendors that they work with. But because they are looking for more diversity, and we have that with our delivery sites being in several different countries, we can provide that for them. So, that has opened another opportunity where in the past people may have only wanted to deal with the top three big name call centers, but now they're looking to diversify because they don't want to be in a position again where their entire system gets locked down due to 80 percent of their business being in the Philippines."
From a marketing aspect, itelbpo relies on PR as the best form of advertising and creating a strong brand presence in the marketplace. In addition, the company's U.S. sales team is generating leads and bringing potential opportunities to the table on a daily basis. That is the real revenue driver. Before COVID, company reps did a great deal of networking at trade shows and conventions. However, as Epstein relates, "What I certainly picked up in more recent times because of COVID is actually sitting on virtual panels because no one can go to these shows anymore. Putting ourselves out there to speak on a panel about our experiences is another avenue we use these days to get the brand and the company out there."
Relationship building is a key tenet at itelbpo and Epstein wants to mention one particularly valuable long-term client: "John Billings at Hilton Hotels has been a great partner for us. They were one of our marquee clients in the early stages that took a chance with us, and he himself took at chance with us by working with a smaller vendor. So, I most certainly feel that he deserves a shout-out for helping take itelbpo to the main stage."
The itelbpo culture is bound by four 'Y's – Quality, Integrity, Reliability, and Family. In that regard, and to become a good community partner, the company launched the 4Ys Foundation, which focuses on initiatives in education, the environment, innovation, and sports. Epstein acknowledges, "Given that we operate in a lot of developing countries, education has always been an area that needs attention. If we can play a part in the early childhood stage to help build and develop the next generation, then we feel that's a big win. We've also spent time working with child development agencies in the Caribbean, helping orphans who are underprivileged and need a level of support to stand out in their communities. That's a big part of our outreach.

"Also innovation: where technology is going today is where the world is heading. The more we can teach our children to innovate and be entrepreneurs (maybe software developers or engineers) the better we can prepare them for the future. We want to help them along that path because we feel that they have talent that is next to Silicon Valley. The environment is a big part of our Foundation, as well. Living on the beach and in a country where the rivers dump out into the ocean, we see the damage that is being done to the oceans, especially with plastic. We feel it's our duty to help protect the environment and give all of our team members a non-disposable bottle for their drinks, so they're reusing rather than throwing away. Reduce, Reuse, and Recycle and eliminating plastics is one of our big campaigns.
"Lastly, we focus on sports. In the Caribbean, there are a lot of non-communicable diseases, such as high blood pressure, stroke, heart disease, and we feel that exercise is one of the best ways to ward off those diseases. Also, having Olympic champions like Usain Bolt and Shelly-Ann Fraser-Pryce who have represented Jamaica on the world stage has created exciting momentum. It's an area that Caribbean youth can see as an avenue to use their talent to better themselves and their educational opportunities. Through these four pillars of our Foundation we give focused attention to developing our communities."
For the next five years, itelbpo's biggest goal is to achieve over 10,000 employees, believing that the biggest value they can offer the countries in which they operate is to provide opportunities for people. One, by providing jobs; two by providing learning and professional development; and three, offering growth within the organization. In summing up the best attributes of itelbpo, Epstein states, "We are an organization that provides a wide variety of services to a broad range of industries; one that does it differently by being flexible and creative while still maintaining established processes and internal efficiencies, but most importantly meeting the needs of our team members who are predominately Millennials. We offer job opportunities and career growth for a talented workforce in countries that have high unemployment rates and actively support the communities where we operate."
Making an impact in the world that goes beyond profit. That's the itelbpo difference.
AT A GLANCE
Itelbpo
What: Business process outsourcer
Where: Montego Bay, Jamaica
Website: www.itelbpo.com