JPK Development
Luxury, residential, commercial builds
Business View Magazine interviews Jay Knoepfel, owner of JPK Development, as part of our focus on best practices of Caribbean builders and contractors.
JPK Development has been populating the U.S. Virgin Islands with luxury, residential, and commercial builds since its incorporation in 2002. Licensed and fully insured to do business as a general contractor in the USVI, JPK applies its extensive knowledge of new construction to the design/build of high-end custom residences, commercial projects, as well as renovations of offices, condos, and existing homes.
Headquartered at Compass Point Marina, St. Thomas, the JPK team delivers on its passion for producing high-quality buildings to happy clients – on schedule and on budget. Owner and Managing Director of JPK Development, Jay Knoepfel, is personally involved in every project, regardless of scope or scale. He has over 30 years of hands-on experience in the construction space and has built his company's success on the strength of a ceaseless commitment to integrity and attention to detail. Knoepfel recalls, "I spent most of my adult life doing construction for small contractors in St. Thomas; carpentry and various fields, all the tasks that involve trades. Then, I started JPK Development doing, primarily, high-end spec homes with a few partners, buying homes and redoing them or buying lots and building homes that we'd sell. People would sell the home they bought from us, and profit on that, and it was all very great. That was our business until about 2009, when the market crashed."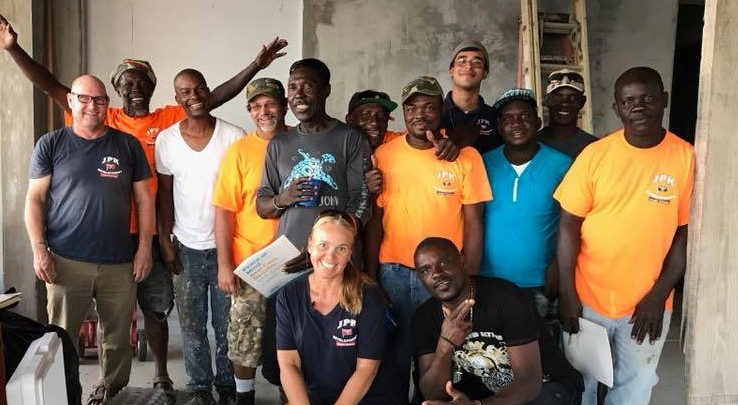 When sales in the housing market died off in the islands, JPK diversified from building on spec to building luxury homes for private owners on request. From there, they branched out into commercial work; the big introduction coming as a major addition at Montessori School. The project involved construction of a large gymnasium, 6,000 square feet of classrooms, and a library. The JPK focus from 2009 to 2012 was primarily commercial. Another significant build was a large, high-end office building for ICMC. Designed to house all the office employees, the space featured very nice finishes, while being utilitarian, as well – in direct contrast to the company's other building that was historic and limited to the spaces it could provide for workers.
"We did a large job at the Westin hotel in St. John, prior to the Sept. 2017 hurricane," Knoepfel reports. "There were two phases; first to repair and restore their six beachside villas and the pool area. We did a lot of roofing for them and the following year, they turned four large hotel room buildings into time-shares. Eventually, all the rooms were converted to time-share units. We spent two-plus years working at the Westin under a major stateside contractor called DCK. For that project, we had about 75 employees, the most workers we've ever had." Employee numbers shift based on the size of the project. After Hurricane Irma wreaked havoc in USVI, work was plentiful with severely damaged homes and resorts desperately needing repairs. The JPK team went to work immediately, cleaning up debris and trying to fix people's homes as quickly as possible. They did about 150 estimates for insurance quotes for home repairs; those estimates turned into the repair of between 50 and 70 homes.
JPK was not spared from the destruction. "Our office was wiped out during the hurricane," Knoepfel declares. "Everything was ruined. We got a few things out before the storm and, afterwards, we moved to a construction site we were building as a company project to rent or sell. The location has worked well as a lay-down yard for all our materials and as our office. Personally, our home which was under construction had a lot of damage, but we had insurance for that. The condo we were living in was also damaged – we were like everybody else on the island. Everything with western exposure got ripped apart. Only a few avoided it. The day after the storm was amazing. People were out in the street, clearing, picking up branches; it was a very positive feeling of people trying to rebuild. Of course, they were emotionally devastated but, somehow, they were able to just get to work."
Even though their crew was stretched thin on a variety of projects, JPK soon got involved in the FEMA Blue Tarp Program. After a natural disaster, FEMA comes in and the first step is putting blue tarps on roofs. The second step is temporary home repair, followed by permanent home repair. Knoepfel explains, "JPK did temporary home repairs to about 700 homes. We had several crews out there doing work for an excellent U.S. company called SLS. Hamilton Smith, project manager from SLS, did a fantastic job coordinating local contractors like JPK to do repairs for people on the island. That company should be commended for its efforts. They spent so much time working on these FEMA programs at their own expense of several million dollars without any funding. They paid their contractors and that's why the program was a success."
JPK is currently building a large waterfront villa for a private owner that was planned before the hurricanes. They are also finishing roofing and repair projects for IGY, owner of the Yacht Haven Grande (marina and shopping center) and the American Yacht Harbor. JPK installed a total of 50,000 square feet of new, galvanized roofing on five buildings at the American Yacht Harbor, alone. They also did repair work for the main branch of Scotia Bank. "We'd rather be doing a large new build," says Knoepfel, "where you can have a structured plan from beginning to end, instead of a rushed scenario of fixing people's windows and damaged walls. But you have to take what you can get in construction and make the best of it. We're now looking to work with Lemartec– a Miami-based construction company that has been hired by the Government of the Virgin Islands to assess all the storm damages and start to collect bids and manage repairs of all the government buildings. We've met with the company and put up 50 bids, and it sounds like their storm-based repairs will go on for at least two to three years."
The VI has experienced a flurry of activity from investors purchasing real estate and planning new projects. Knoepfel believes the real estate market, which has been down for the last dozen years, is turning around. He notes, "That's positive news. There's a really good vibe about the economy. Even though the hurricane shut down the hotel industry for at least a year, and the cruise ships stopped coming for a short period, everything is bouncing back with vigor. Although, we're a couple years away from some of the large hotels like Frenchman's Reef and Sugar Bay being operational. They are still completely shut down." One element that has gone off the charts is the short-term real estate market. With hotels closed, many homeowners are offering short term rental places at good rates, and others are considering building an addition onto their house.
Word of mouth is the best type of advertising and JPK reaps just such benefits from its large slate of satisfied clients. "We're a well-known company," says Knoepfel, "so, if it's a larger project, people might reach out to us for bids to do the work. We've been building residential homes for many years – we put signs up at the homes during construction; people see them and they contact us. We do a wide range of builds, from low income housing, to condominiums, to high-end waterfront homes. We have an architect working in our office and we're getting some commercial design/build work now, such as a rum bar we just completed in Coral Bay, St. John. We love serving the community, and we love building quality products that people are going to enjoy for years to come. That's our motivation. And working with the employees of our company, the family of JPK workers, creates a level of joy that makes its way through our small community into the bigger community."
Erik Miles is one of five project managers who are valuable members of the JPK team. Speaking to why the company is a great place to work, Miles admits, "Working for JPK basically saved me. I'd always wanted to work with Jay. We've known each other since school. But after the hurricane, when my main line of work evaporated, it gave me the chance to do that. I was very fortunate. JPK is one big family. Many of the guys have been here from day one. We also have a new Governor and a new Administration in USVI. They're doing great work down here and things are looking up."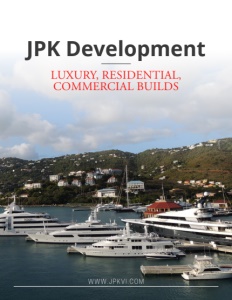 AT A GLANCE
WHO: JPK Development
WHAT: A builder and general contractor
WHERE: St. Thomas, USVI
WEBSITE: www.jpkvi.com