Pegasus Services aims to be the industry's innovative leader.
Gary Kalliecharan had no real notion to get into the security business.
The Trinidadian executive had spent several years as general manager of a family-run company – KV Investments Ltd. – and had only ventured into the other realm when needs arose for in-house security-related tasks at the original operation's myriad properties, estates and buildings.
But ultimately, as other associated companies and other businesses run by friends and acquaintances began requesting similar security tasks, there was a niche to be filled – and a choice to be made.
"Eventually it got to the point where it had to become a commercial venture," Kalliecharan said. "We had to make a decision whether or not we were going to remain in that form or take a commercial venture form. The catalyst for actually moving into a commercial venture and registering the company was the fact that there was a need for quality guard services at the time. That's how we started off."
The venture was first christened as Pegasus Services Ltd. in San Fernando, Trinidad, and Kalliecharan was installed as its chief executive officer in January 1998. The initial backbone of the operation, he said, was mainly the provision of guard services to other companies, and later the general public.
The business has since expanded to between 350 and 400 employees, most of whom serve in guard-related functions; though the menu of services has similarly swelled to include bodyguard activities, property patrolling and IT-related responsibilities – such as closed-circuit television, alarm systems and GPS – that combine to offer clients a fully-integrated and robust security program.
Pegasus facilities include an administrative and IT center on Coffee Street in San Fernando, as well as an operations center located about a mile to the east on Lazzari Terrace.
The company's customers typically come in two forms, with general alarm systems, response and CCTV tasks most often requested by residential clients local to the Pegasus home base. Meanwhile, most of the guard services are focused on government, commercial and industrial entities and give the company a footprint across the twin-island nation, Kalliecharan said.
The corporate blueprint, however, is undergoing an imminent change.
"Because of the scale, it would be the commercial and government services contracts (that provide the most revenue)," he said. "The big money comes in from that, I would say. But we have embarked on recently is the positioning of IT to be the backbone for driving the company from now on. What we provide for homes – we integrate GPS, we integrate alarm systems, we have a monitoring center and we do armed response – so what we're going to do now is look at how we can use GPS to make the individual safer, using alarm systems and our response services."
Kalliecharan said the sector is being driven by major players, and by the reality that the cost to have a guard stationed in a home is exorbitant compared to installing an alarm system and having a monitored response via video feed from closed-circuit television. Market competition appears to be vast in terms of numbers, he said, though many of the businesses that could be regarded as competitors are not registered with the national apparatus.
Those not registered are relegated to the lower end of the spectrum, while Pegasus chooses to position itself closer to the middle – proclaiming that it's small and manageable enough to make changes along the aforementioned technology lines.
"The face of Pegasus is changing to become a company that is leading the industry in terms of technology," he said, "to deliver services to both its customers and to its employees."
The use of online services now allow customers to get real-time video feeds of their monitored properties, and a similar mindset has led to an internal change on the corporate side, too, which enables Pegasus employees to sidestep the traditional human resources interface and access their own personal information online.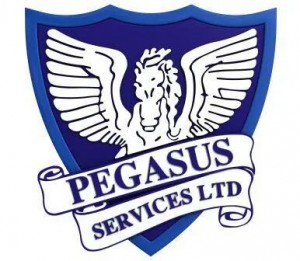 "If we are providing IT services in terms of GPS, you can go online and you can see that," Kalliecharan said. "If we are monitoring your warehouse, you can go online and view your cameras.
"That's something you can do on your own, but if we do the managing, we are looking at it 24 hours a day. What we are trying to do is to say, 'Look, you have a need for security services. We are going to do that. Run your business. Your core function is not security. That's our core function, so give us that. We have become part of your company. We are a department of your company.'
"That's the next move that we are taking, where the customer – and, again, the employee – is now interfacing with the company and its information. This is the information age, so we need to supply that sort of thing for customers and employees. It must be at your fingertips. And what we are forecasting is that this is something we want to do. It gives you more information. We're going to push big into that in the coming years. There is a need for it, and we are looking to basically be setting the trends, rather than being one of the ones following everybody else."
Expansion of the client base to include islands nearby to Trinidad – Grenada and northward, to be specific – is a part of the company's five-year plan moving forward, he said, as is a perpetual dedication to offering traditional guard services, even as the rest of the offerings are changing.
"Guard services is always going to be one of mainstays. I'm not going to go away from it," Kalliecharan said. "But we are transforming the face of the company to become a leader in technology. The company is going to be technology driven. A lot of the systems that are in the company are being upgraded, and within the next five years see the company being the leader in terms of technological innovations in this industry. We're going to take what has developed abroad and bring it to Trinidad and start pushing toward those services for the customers."
__________________
AT A GLANCE
WHO: Pegasus Services Ltd.
WHAT: Provider of armed/unarmed guard services, K-9 services, VIP airport/escort services, armed escorts, residential patrols, cash-in-transit, courier and consultancy services; supplier and installer of CCTV, alarms and access control systems
WHERE: San Fernando, Trinidad & Tobago
WEBSITE: www.PegasusSecurityGroup.com
PREFERRED PARTNERS:
Personalised Insurance Brokers and Re-Insurance Ltd.