R Hotel Kingston
An adventure in the making
Business View Caribbean interviews Alexander Pike, Managing Director of R Hotel Kingston, for our focus on Best Practices in Caribbean Tourism
New Kingston is Jamaica's emerging business capital and the R Hotel Kingston is located right in the heart of it all. Seamlessly blending boutique-style guest service and luxurious accommodations, R Hotel caters to every whim a discerning traveller could desire. As Jamaica's first business, leisure, and extended stay hotel, the warmth and hospitality at R Hotel ensures relaxing, rewarding stays of a night, a week, a month, or more.
A total of 48 chic, contemporary guest rooms range from the Penthouse Deluxe Room with Balcony to the Standard Deluxe Room with Kitchenette, and expansive Two-Bedroom Penthouse Loft Suite with Kitchen and Balcony. When you stay at R Hotel Kingston, you will be able to work, relax, replenish and return home as a satisfied guest… with memories beyond words.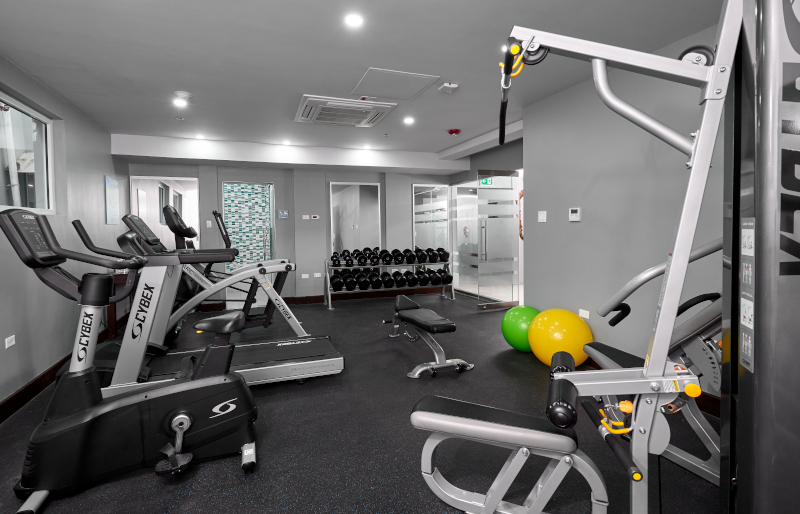 To learn about all the exciting details, Business View Caribbean spoke with General Manager Alexander Pike, who shared his knowledge and passion for R Hotel and the City of Kingston. He begins at the beginning…
"The hotel was a dream by a gentleman named Mr. Evan Williams – a well renowned architect who was responsible for many of the lovely older resorts here in Jamaica that are now being transformed. Having designed many hotels for other persons, he decided to build a hotel property of his own in Kingston. He had to fight to get approval to build this sort of structure on this particular lot of land, so he took on partners in the venture – the main one being Josef Bogdanovich, owner of a record label called Downsound Entertainment; the Hardware & Lumber company in Jamaica; as well as Tracks & Records, which is the Usain Bolt restaurant in Kingston, Montego Bay, Ocho Rios, and London, UK.
"The project was started around 2014, initially to create Jamaica's first extended-stay hotel and make it a business hotel. So, today, half of the hotel's rooms are self-contained units with washer/dryer, kitchenette – which makes it very different than other hotels in Kingston. Then they hired me. Coming from a background in luxury resorts and leisure, I brought to the table the concept of adding leisure to Kingston, which is not really pushed here as a marketing strategy. We were #14 on TripAdvisor when we opened in 2018 and in a year and a half we moved up to #2 in Kingston when it comes to service."
BVC: What is so different about 'the vibe' at R Hotel?
Pike: "We try to create an environment where our team can be expressive. They don't even wear ties, they wear nice, casual uniforms. We don't want guests who are out doing business all day to come back to the hotel and feel like they are still in a meeting. So we create more of a relaxed leisure vibe. We did a little experiment and found that we can actually be a very cool, hip hotel, where there's a lot of creativity and art. We are striving to be the 'W' of the Caribbean.
"The guest experience is wonderful. We don't just package the hotel, we package Kingston as a destination. We're not just going to promote our fabulous restaurant on the roof, we're also going to promote other restaurants in town. We'll book for them, and recommend activities outside of the hotel. If guests are staying for a while, we can order their grocery items for them and stock the room. We offer that level of service, like a one-stop shop. Our people at the desk are not front desk agents, they're concierges who also do special occasions like birthday setups, wonderful romantic getaways…"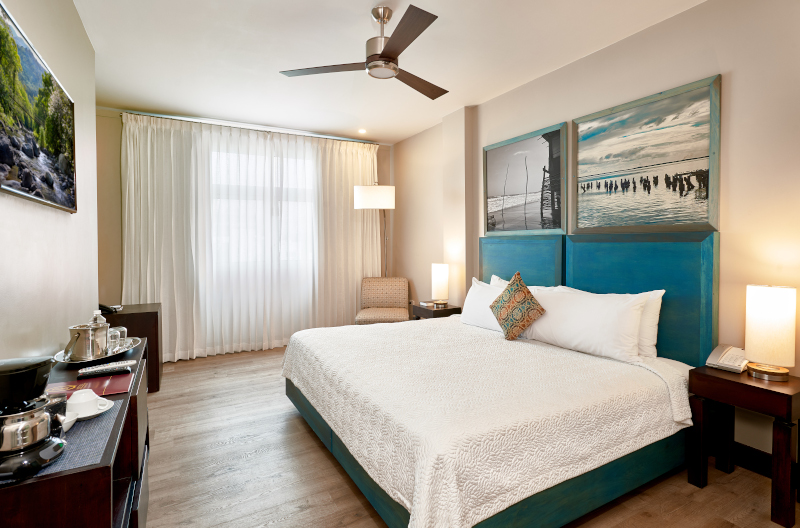 BVC: And the cuisine?
Pike: "We did a relaunch of our restaurant in August of 2020; it was previously rented out and we took it over ourselves and branded it 'District 5'. In Jamaica, the communities are called districts and have a very family-oriented feel, especially in the rural areas. People coming out of their houses and gathering in the street, playing games, going to the community bar, the local restaurant and it all has a very nice feel. So we decided to make a gathering place at R Hotel, where people could get together. District was chosen as the restaurant name and 5 is the floor it's on. That's the highest floor on the property and has a gorgeous panoramic view of the city. Like a Miami vibe but with a Jamaican element.
"Our Executive Chef, Brian Lumley, is young and well known in Jamaica. He won Caribbean Chef of the Year in 2013 (Caribbean Hotel & Tourism) and 2012 Chef of the Year (Taste of Jamaica), and has designed a wonderful menu blending Caribbean flair with some very popular international dishes. People are just loving the energy we created in District 5. Jazz, reggae – we do live music on our stage and 70 percent of the visitors we have are walk-in right now. It allows people to meet and greet and get to know each other. And all is well managed during COVID because we have specific restaurant protocols we have to follow."
BVC: What else sets you apart?
Pike: "It's all in one building – we have a gym, an art gallery, the restaurant on the roof, the rooms, and a small but effective lobby. And because we have eight, two-bedroom, two-bathroom loft suites with a full-size kitchen, living room, dining area, nice balconies… we're planning to launch Kingston's very first butler service, in this hotel. It's expected to be fully active by the end of 2021.
"Another thing that sets us apart from other hotels here is that we created a six-day Explore Jamaica package. So a client can book with us for a week and enjoy two or three nights in Kingston and then we would arrange transportation to a resort that we have partnered with, and they spend the rest of the time there. All the guest has to do is pay us directly; we manage all the logistics. We pay the other hotel and look after the whole process, so they can get a mixture of the cultural mecca of Jamaica in the city, while also getting a beach vacation.
"The idea is to get tourists to come to Kingston and experience it as a destination, rather than spending their whole vacation at a resort. For that six-day package, we have a partnership with Geejam Hotel in Port Antonio – a boutique hotel, very well aligned with us. Port Antonio is where Beyonce and a lot of celebrities stay when they go to the recording studio there. Many celebrities and fashion models stay here at R Hotel, as well, because of the privacy and the suites. We also have great shopping in Kingston – and food. A large variety of international restaurants with a Jamaican twist of authentic spices. Fresh Blue Mountain coffee, local pastries… It's a gastronomic adventure!"
BVC: How would you describe R Hotel from a staff perspective?
Pike: "Since the beginning our corporate culture has been based on: "Happy staff, happy guests." That's a key element. As management, we believe in creating an environment for the team that makes them very comfortable (happy) and that will transcend to the guests. We train our staff to feel motivated by giving them the ability to make decisions. With a guest issue, they can fix it without having to go to management. We have conversations, we don't shout or send nasty emails, and the team has bought into this concept and do their best to make sure there is mutual respect across the board. As a result most of them stay and enjoy being here."
BVC: What do you see on the horizon for R Hotel?
Pike: "Looking to the future, we're bringing in the butler service and those rooms will be 'smart rooms' as well, with the latest technology. And we are looking to expand the R Hotel brand and the District 5 restaurant concept to different areas of Jamaica and the Caribbean. We are currently building everything as a model and documenting it as we go; creating a manual for this brand. It's fully Jamaican owned and we're really pushing to build on it as we go forward.
"Our goal is to become #1 on TripAdvisor, we also want to expand this current property by purchasing the lot next door, so we can create a leisure pool environment with cabanas, etc. Along with expanding our parking and our conference space and the banquet hall to better serve business guests.
"Travellers today want to achieve 'Instagram-able' moments. They want to take pictures, they want to post, to show that they're doing something different. And honestly, you can only take so many photos of a beach. So here you can come to the city, go to the Blue Mountains, experience a whole different adventure. That's what we do for people and what makes R Hotel special."
AT A GLANCE
R Hotel Kingston
What: Boutique-style, luxury hotel
Where: In the heart of New Kingston, Jamaica
Website: www.rhotelja.com