Sky Mall
Bouncing back
Business View Magazine interviews Everick Eastmond, Managing Director of Sky Mall as part of our focus on best practices in Barbadian businesses.
The Sky Mall at Hagget Hall, St. Michael, Barbados has stores and services for everyone's needs. It's a place where Barbadians, and visitors alike, can go to the bank, eat, exercise at a gym, pick up a few groceries, buy gifts, make travel arrangements, get a new hairdo, get up a new phone, hold seminars and meetings, and much, much more. Formerly known as Mall Internationale, Sky Mall is operated by Williams Industries Inc., a diversified Caribbean corporation that controls 13 wholly-owned and 17 joint-venture companies in Barbados, Saint Lucia, Trinidad, Guyana  and as far north as Ireland, that do business in manufacturing, electrical engineering, construction supply, waste recycling, water desalination, well drilling, real estate development, building and equipment rental, sewage treatment, alternative energy, cellular communication, and tourism. Williams Industries Inc (WII) took over the bankrupt Mall Internationale in 2010 and rejuvenated it to make it a true one-stop experience for Barbadian shoppers. The true entrepreneurial spirit can be garnered from this excerpt in the company's annual report by the Chairman of the Board of Directors of WII, Ralph "Bizzy" Williams:
"I want the Caribbean to be a place where people are rewarded for results achieved and not for empty promises made; where honest work is adequately rewarded; where all workers can aspire to be owners of the business they work with; and where people understand that the secret to success is in finding innovative ways to give more for less. We need to recognize that: a smile, a positive attitude, and a helping hand are not servitude but they are the markers of world class service that cost nothing. I pray that these simple principles will be the hallmark of WII forever."
According to Operations Director, Everick Eastmond, the Sky Mall, and its sister company in the city, Bridge Street Mall, have bounced back after some recent, harsh economic times with a 98.5 percent occupancy level. "The new government in Barbados came into power in 2018, and its austerity measures significantly impacted both retail and distribution as there was less money in people's pockets," he explains. "We were affected adversely by that, but, to be quite honest, it was something that had to be done and we understand that as one of the major companies in the economy of this country. But we are looking forward to better times because I think that the level of confidence from the consumer spending aspect has grown. Some retail shops in the Mall, this year, are looking at 5-10 percent growth above last year once the construction and tourism segments of the economy improve."
Some of Sky Mall's tenants include: Payless (shoes for ladies, gents, and children); Courts (home furnishings and accessories); Brydens Stationery (school and office supplies); and Upbeat (men's and women's apparel). Also, on the property's southern side, are Kravingz Pizza & Pasta, Burger King, and other food court restaurants offering a variety of menu items, in addition to government and commercial offices.
Massy Stores & Pharmacy opened a new outlet at the Mall in 2014. The Massy store occupies 33,000 square feet – including 20,000 square feet of retail space – in a completely refurbished and re-designed space that is also home to smaller retail outlets in front of the entry to the supermarket. "Massy has invested a lot of money in terms of the aesthetics and the product offering and the whole ambience of the supermarket," Eastmond says. "It's a state-of-the-art, well laid-out supermarket. The mall extension cost us about $4 million and Massy would have also invested a significant amount." Eastmond adds that the supermarket accounts for approximately 2,000 transactions per day; 3,000 to 4,000 people a day eat at Sky Mall's six restaurants; and its Scotia Bank location is one of the busiest branches in the entire Caribbean.
Another unique characteristic of Sky Mall is that it has a solar-generated electricity system that was initiated and financed by Williams Solar. "In terms of photovoltaic, they have recently increased the area of the roof equipment, and we are now generating, between this mall and our sister mall, nearly a million kilowatt-hours of energy a year," Eastmond reports.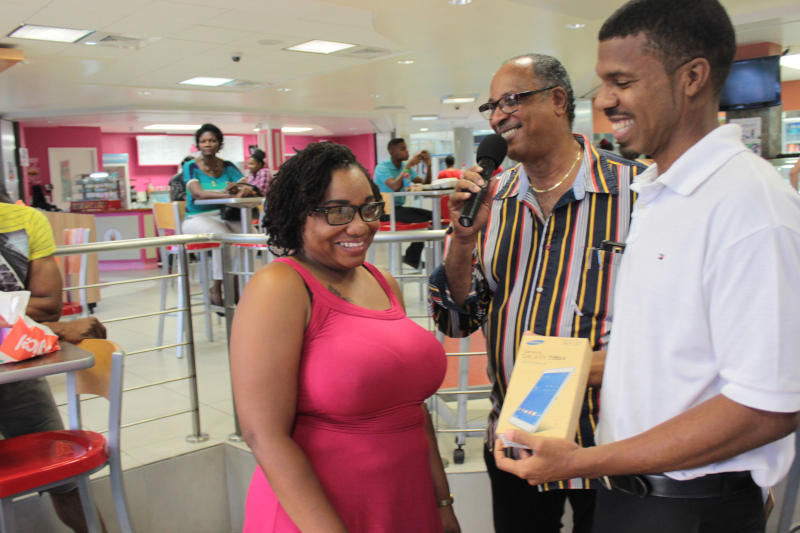 Sky Mall was also ahead of the new government's ban on plastics, and had planned to outlaw plastic utensils and Styrofoam containers well before the new legislation came into effect, as a part of the movement towards a green economy. In its goal to have Barbados plastic-free by 2020, the government placed a ban on the importation of single-use plastics in April, 2019. These are items made of plastic or polystyrene and Styrofoam containers used in the culinary retail industry. Finally, effective April 1, 2020, there will be a ban on petrol-based plastic bags, except those used for the packaging of pharmaceuticals, hygiene products, and food preservation.
Sky Mall is also very involved in the local community, and participates in many charity, sporting, and educational events. "Over the next 15 months, we'll be concentrating on helping 42 different primary schools to get some of their projects off the ground and to assist them in some of the things they want to do to improve their environment or improve their methods of learning," Eastmond notes.
In the end, though, keeping its customers happy is still the prime directive at Sky Mall. "When people come, we want to make sure it's an atmosphere that is comfortable; that it meets the satisfaction of its clientele, not just with products, but also with service," says Eastmond.  "And that when they come, they can feel safe and secure. We still have a very exciting mall. We are in the forefront in terms of how we promote and advertise it, and we're a frontrunner in that segment of the economy."
AT A GLANCE
WHO: Sky Mall
WHAT: A shopping mall with retail, grocery, and offices
WHERE: Bridgetown, Barbados
WEBSITE: www.skymall.bb