Zeco Group of Services
sector-specific and industry-leading
With a host of sectors within its purview, Zeco Group of Services services the Caribbean region with first-in-class products
As the economy of Guyana continues to flourish, businesses are seizing opportunities to expand and diversify their operations. One such company making waves in the country's thriving business landscape is Zeco Group of Services. From humble beginnings as a small workshop, Zeco has grown into a powerhouse, boasting eight subsidiary companies under its wing.
CEO and Partner of Zeco Group of Services, Byron Biswah, explained the company's journey from inception to success. In 2001, Zeco Industrial Engineering, a fabrication company focused on residential work, was founded by Guyanese businessman and current Chairman Zakir Hack. Over the years, the company evolved, acquiring its first crane in 2010 and subsequently branching into small-scale erection work.
By 2012, Zeco Industrial Engineering had expanded significantly, building a 5,650-square-foot workshop that would eventually grow to 10,000 square feet in 2015. Due to permit issues and increasing demand, the company relocated to its present location on Agricultural Road in Triumph, where it established a 25,000-square-foot workshop that has since doubled in size.
It was during the COVID-19 pandemic that the company underwent a major transformation. In April 2021, Byron Biswah joined forces with Zakir Hack, and together they diversified Zeco Industrial Engineering into Zeco Group of Services. This strategic move saw the formation of several subsidiaries, with each business unit contributing to the group's overall success.
In just over two decades, Zeco Group of Services has grown from a small residential fabrication workshop to a major player in Guyana's industrial sector. With its strong leadership and commitment to diversification, the company is poised to make an even more significant impact in the years to come.
As Guyana experiences a surge in investor confidence, businesses are positioning themselves to capitalize on this newfound optimism. While Zeco Group of Services started focusing on fabrication, the company has since diversified and shifted its primary direction toward construction.
Biswah explains, "Zeco Industrial Engineering, the original company, was focused mainly on fabrication, which is a construction component, specializing in steel, fabrication, and erection." The decision to diversify in 2021 was spurred by several factors, including the expansion and evolution of Guyana's construction sector.
Biswah cites the significant growth in the country's economy and the resulting investor confidence as the driving forces behind this expansion. The discovery of oil by Exxon and the subsequent boom in the oil and gas sector has had a ripple effect, spurring growth in other industries such as agriculture and hospitality. The government, too, has seized the opportunity to raise financing and drive development across the country.
To capitalize on this construction boom, Biswah and the board of directors at Zeco made the strategic decision to diversify Zeco Industrial Engineering, forming the Zeco Group to include specific services that target high-value markets. "Zeco wanted to benefit from the construction boom that was forecasted and is presently going on in Guyana," says Biswah.
Recognizing the need for specialized services within the construction sector, Zeco Group has honed its core competencies. It has assembled a team with the expertise needed to address these unique demands. The company's decision to diversify and adapt to the shifting economic landscape demonstrates its commitment to seizing opportunities and positioning itself as a significant player in Guyana's burgeoning construction sector.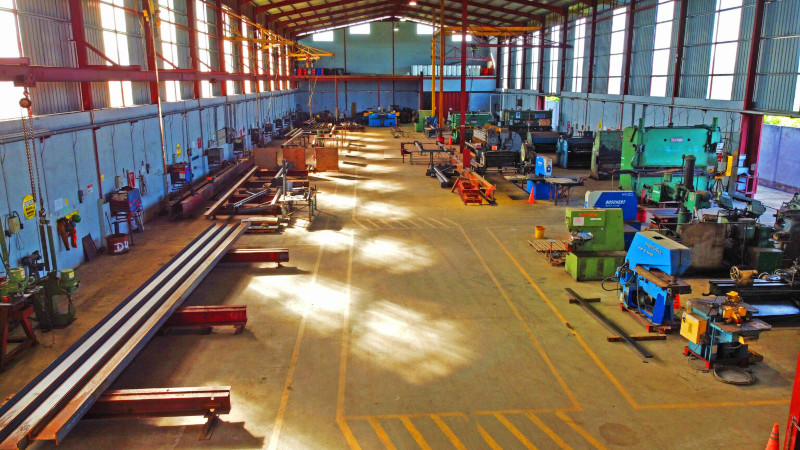 Zeco Group of Services has established several specialized units to solidify its position in the booming construction sector. Biswah elaborates on the strategic formation of these units, some of which include:
Zeco Fabrication and Machine Shop Services remain the business's core area with a 56,000-square-foot building.
Zeco Engineering Services targets prime contractor status and is supported by back-office partners from Trinidad.  Zeco Construction Services deals primarily with foundation work, turnkey construction projects, housing, and infrastructure projects.
Zeco Building Solutions partners with companies from Colombia and the US to offer high-quality prefabricated building solutions and aggregates from various international suppliers.
Zeco Industrial and Safety Supplies' target services in the oil and gas sector, such as certification, process piping, valve certification, automation, and electrical services.
Biswah highlights the company's exclusive partnership with Massy Energy Engineered Solutions from Trinidad, which will help Zeco pre-qualify to supply a range of services to Guyana's oil and gas sector. This collaboration aims to facilitate knowledge transfer and bolster Zeco's expertise in the industry.
Through these strategic partnerships and the formation of specialized business units, Zeco Group of Services demonstrates its commitment to staying ahead of the curve in Guyana's construction sector. With a strong focus on innovation and collaboration, the company is well-prepared to address the unique demands of a rapidly growing economy.
Biswah further elaborated on the group's diversified business units, mentioning Zeco Labour Supply and Training, which plays a crucial role in providing services to the oil and gas sector. "We procured more land next to the office and built a second building, another 44,000 square feet, in the last year," he said. This new facility enabled Zeco to offer additional services, including pressure testing, blasting, and painting, in an environmentally friendly facility.
Zeco has been audited and commended by key players in the industry, such as Exxon and SBM, for its strides in service development for the oil and gas sector. Biswah explained, "We created a company called Zeco Labor Supply and Training," which built a three-story building with a large warehouse facility. This building, already procured but not yet erected, is expected to be completed by the third quarter of 2023.
Zeco's partnership with the Trinidadian company Massey will allow it to provide certification and training to its personnel across all business units. "We expect to have a competent labor force and knowledge transfer to the locals," Biswah said, emphasizing the importance of a trained and certified workforce for Guyana's construction and oil and gas industries. This vision aims to expand the knowledge base of the local Guyanese workforce and supply labor to the entire industry.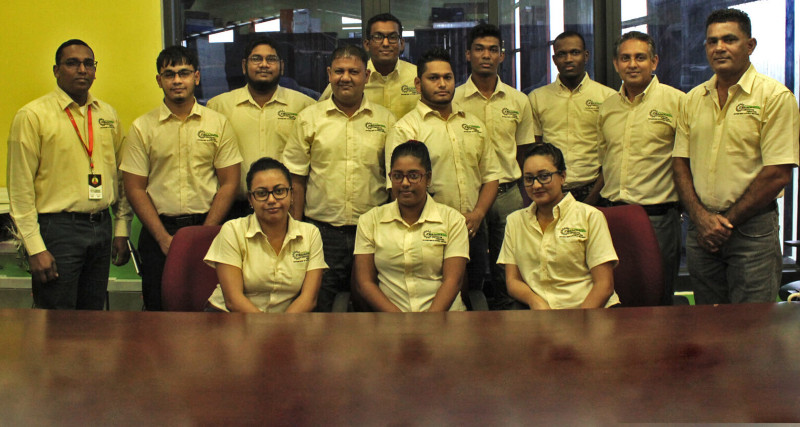 Zeco has achieved significant milestones in the past two years, including ISO certification through Lloyd's. "We scored 100% on the audit," Biswah said.
He expounded on the company's efforts to ensure its work meets regional environmental standards and codes. "We are compliant. We have a certificate from the EPA in Guyana," he said. Zeco is pursuing ISO 14,001 Environmental Management Certification and 45,001 Health and Safety Management Certification. "We expect to have those certifications in the next two months," Byron noted.
"We expect to become a triple-accredited ISO-certified company in Guyana within the next two months, including the API Q1 Certification we expect the earn this year."
Biswah emphasized the importance of training and knowledge transfer for the company's success: "We invested heavily in training and partnering with personnel and companies that can provide this knowledge transfer." The company also has a full-time consultant training workers in-house every weekend. The results are evident in the satisfaction expressed by major industry players like Exxon and SBM during audits.
When asked about the importance of maintaining a local focus, Biswah replied, "It's extremely important for our success. It's a key success factor." He highlighted the company's commitment to continuous training and knowledge transfer from experts worldwide, enabling it to adapt to the high standards required by the oil and gas industry. "I think that is our key success factor, and we will continue to build on that strategy as we go into the next year and two years," he concluded.
Biswah also mentioned the company's collaboration with local authorities, detailing their involvement in environmental management. "We have had multiple visits with the local environmental authority to our company to review our present operations to give us the certification of clearance," he said.
Furthermore, Biswah highlighted Zeco's investment in its environmentally compliant blasting and painting facility, which meets all environmental standards. "All the emissions are going to be channeled to a system that will not go into the environment, but instead go through an entire water bath and a scrubbing system that will completely recycle the product and make it environmentally friendly," he explained. The company's commitment to environmental protection is evident, as it works to align with international standards for environmental protection.
Zeco Group of Services has been working on multiple projects that showcase its diverse capabilities. One notable project involved designing and building a 120,000-square-foot mall. Although the project was temporarily halted due to revisions in government approvals, it is set to reconvene on a larger scale.
Biswah also mentioned the company's involvement in constructing the Baker Hughes facility in the Land of Canaan, working on the Yellowtail Project for SBM, and participating in the erection of Exxon's head office in Guyana. Additionally, Zeco is working on the hangar for Exxon and Trans Guyana Airways and projects for the Guyana Water Authority.
Zeco is seeking to raise funds and establish partnerships with other companies. Biswah said, "One of our strategies is to build a name for Zeco, brand it, and then go towards partnerships where we can fit the individual business units and partner with other companies that can bring in funding and expert knowledge."
As Zeco Group of Services looks towards the future, the company is focused on expanding its reach by forging strategic partnerships with other companies that can bring in funding, expert knowledge, and technology. In doing so, the company aims to improve its competitive position in Guyana's rapidly evolving construction and oil and gas sectors.
Biswah emphasized the importance of these partnerships, saying, "We are in the process of partnering with a large construction company for road construction, and that will also diversify our portfolio even more into the construction sector because there's a lot of road construction going on and targeted for Guyana."
With its focus on collaboration and growth, Zeco Group of Services is well-prepared to thrive in Guyana's fast-paced construction and oil and gas industries.
AT A GLANCE
Zeco Group of Services
What: Leading construction product and service professionals with top-tier product offerings
Where: Demerara, Guyana, in the Caribbean region
Website: https://zecogy.com/
Eclisar Financial & Professional Services – www.eclisar.com
Eclisar Financial & Professional Services provides the very best in accounting, auditing, taxation, forensic and financial services to both its local client base and valued foreign clients. With a business model that is second to none, Eclisar provides reliable and quality services with utmost confidentiality and transparency, while maintaining impeccable ethical working practices.
Services provided by Eclisar are as impressive as the company itself, cementing its position as a leading player in the accounting sector. Key services include taxation, accounting and auditing consultancy services for companies which includes the preparation of financial statements compliant with International Auditing Standards (IAS), International Financial Reporting Standards (IFRS) and Guyana's Companies' Act. Client representation to the Guyana Revenue Authority and National Insurance Scheme is also a major part of what Eclisar prides itself on.
Eclisar is cognizant of the fact that operating in the financial services sector requires keen attention to detail and a distinct level of discretion and confidentiality coupled with excellent communication. Represented by a talented and dynamic team of professionals specialized in auditing, accounting and forensic practices, Eclisar provides a welcoming atmosphere and outstanding customer service by creating a positive, personalized experience for each individual client.
Eclisar values its clients and believes that it is critical for them to feel confident in choosing Eclisar for their accounting and financial services. True to its motto, 'Financial and professional services and solutions for organizations in all industry sectors,' Eclisar goes above and beyond in ensuring it provides viable solutions for its valued clients.
A proud member of the Association of Chartered Certified Accountants (ACCA), Society for Human Resource Management (SHRM), and Allinial Global (AG), among others, the company is recognized by renowned industry bodies.
Long-standing client relationships are at the core of Eclisar's business model. Relationships include, among others, Zeco Group of Services, one of the leading fabricators in Guyana. Eclisar's knowledge of the local market guarantees the delivery of seamless financial services to its impressive client base.
Connecting the highest quality financial offerings with some of the industry's leading clients and beyond, Eclisar Financial Services faces a bright financial future as clear as the Guyana skies.