AMB Construction Ltd.
Happy clients, happy team
Business View Caribbean interviews Rommel, Arnold, and Kerry Bennett from AMB Construction Ltd. for our focus on the Caribbean Construction Industry
From upscale retail showrooms to pristine kitchen renovations and everything in between, AMB Construction is a familiar name in Grand Cayman and throughout the Cayman Islands, where they are known for high-quality workmanship, timely and budget-conscious deadline management, and strong relationships with designers, architects, and developers.
Founded in 2005 by Rommel Bennett, AMB Construction is a family operation, with Rommel's nephews, Arnold and Kerry Bennett joining him in providing top-notch residential and commercial building services. AMB specializes in interior work, offering medium and high-end finishes to discerning clients. Their outstanding portfolio of finished projects showcases a wide range of capabilities and beautiful results. Arnold Bennett explains, "We cater to businesses like banks, law firms, insurance companies, reinsurance companies, homeowners, and just about everyone right down to government and the Health Services Authority."
AMB takes pride in having a talented workforce of 47 full-time employees – many who have been with them since the beginning. Although the company also utilizes a small number of sub-contractors, depending on the project, it is the familiar faces on the job site that builds trust with repeat clients, who are pleased to see the same experienced crew members time and again.
Arnold notes, "We usually get compliments from clients when they see the same faces for over 10 years working with the company." This also highlights the company culture, and AMB's commitment to maintaining a happy and productive team. Offering up-to-date training on the newest products and trends is important for the company, keeping everyone current with new and upcoming materials and applications in the building and design world.
Completing a job to perfection is another source of pride for the company, where working hard to complete every project on time and on budget, without sacrificing quality, is the standard. AMB also attempts to manage healthy indoor environments throughout the duration of the job – a necessary step in some situations. "We do focus heavily on using air scrubbers, and controlling exhausts," says Arnold, adding, "we have a full janitorial staff in house, as well. So, usually there is no cleaning required."
This attention to detail is one reason that AMB can rely on repeat business and word-of-mouth referrals to continuously grow as a company. Arnold admits, "Every job brings 10 other jobs through the door, and we are so busy, we don't really have time to focus on marketing. And we are afraid that if we do focus a lot on marketing, then we won't be able to handle the demand." He elaborates that they do use the company website as a platform to market their skills and services, and to share completed projects.
Kerry Bennett adds his thoughts on AMB's continued growth, stating, "It is important to mention that Mr. Rommel Bennett is the founding partner of AMB Construction. Since day one, his expertise and knowledge, and the access to some of the very important clients that he has been able to pass on to us, have been the main factors why AMB has been steadily growing. Growing, not only in size, but also growing in all the necessary aspects that it takes to continue to satisfy clients by delivering a quality product and keep the clients coming back."
COVID brought its challenges for AMB Construction, specifically in terms of material availability and lead times. Arnold recounts, "It was difficult across the board to source everything from the day-to-day things that you would take for granted, like drywall and insulation, to just about anything else you can think of… not to mention price increases." Relying on U.S. suppliers, such as Foreign Commerce Inc. and Marjam Supply Company, helped to overcome some obstacles. Since these companies had a broader reach, they were able to source required materials through individual suppliers.
A significant change that COVID has brought to the operation of AMB is in relation to purchasing and planning. Arnold notes, "One of the biggest things is that we are stocking a lot of products and materials now, more than more than we did before, just to be able to guarantee availability and properly time our projects." This was an obvious step for a company known for their commitment to completing jobs on time and on budget.
Maintaining excellent working relationships with businesses in Grand Cayman is essential to the successful and quality completion of projects. Manufacturing company Garrison Industries is a valued partner to AMB, supplying custom cabinets, moldings, and millwork. Andro Group, another key supplier, provides air conditioning, plumbing and electrical services, among other specialized offerings. Tri-Power systems, an electrical contracting company is also an important partnership for AMB.
Developing strong relationships with design and architecture firms, such as Frederick McRae Ltd., is another critical part of the process for AMB Construction. Although AMB is not involved in the initial design phases, they keep the lines of communication open, working to ensure they are meeting all expectations throughout the job, while offering as much flexibility as possible when changes are required. Not taking part in the design phase means that any green initiatives, or sustainability upgrades are decided prior to AMB becoming part of the project.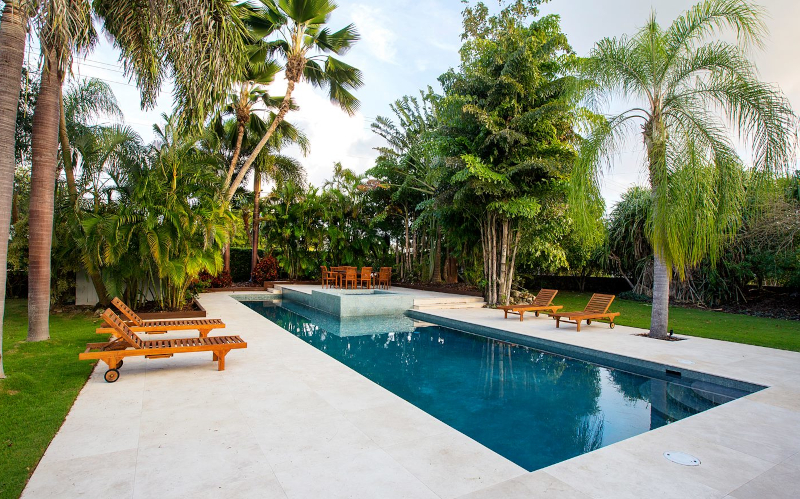 "Typically, in this industry, we are driven by the designers and the owners' desires. So that is not one of the things that we will usually get involved in. It's really done at the design stage, which we are not a part of," says Kerry. "We may see this come into play at certain homes, there are a few complexes that are engaged in renewable energy, for instance, but we don't necessarily see it in the other areas of the work we are work currently engaged in, which is more commercial. There is more of that renewable aspect on the residential side of things."
The recent completion of a 65,000 square foot, four-story fit out for the law firm Maples Group was a successful project for AMB, although there were challenges along the way. "It was quite a lengthy project. We were affected by COVID in the midst of it and we ended up shutting it down for a while," reports Kerry. As soon as they were able, AMB got back to the job, proceeding with their high-quality work. He adds, "Once everything was back up and running, we not only resumed ongoing works prior to COVID lockdown, but we were then able to engage in a second contract with them. So, we have a very well-maintained relationship there as well, with them as a client."
Slow and steady growth has been the direction of AMB from the beginning. Looking to the coming years, Arnold sees this pattern continuing for the company. He shares, "We have been constantly increasing business, right across the board. I can see once the borders open it will be the same. We keep moving up and up." Rommel adds his thoughts on the future of the company he started over 16 years ago, "I'm the founder, and the uncle. Arnold, Kerry and I, we are the three musketeers." Planning to eventually step back, Rommel is confident his nephews will continue to build and grow AMB Construction. As far as what happens next, he adds, "I'd say things will just keep going. The sky is the limit."
AT A GLANCE
AMB Construction Ltd.
WHAT: A full-service construction firm for high quality commercial and residential interiors.
WHERE: Grand Cayman, Cayman Islands
WEBSITE: www.ambconstructioncayman.com