Barbados Dairy Industries Limited – Pine Hill Dairy
The island's only dairy processor looks ahead to its second half-century
Barbados, in the eastern Caribbean, is an island nation within the British Commonwealth that achieved its independence in 1966. A relatively small island with a population of approximately 282,000, 90 percent of whom are of Afro-Caribbean descent, the economy of Barbados was based almost entirely on sugar cultivation and related activities up until the end of the colonial period. Since the late 1970s and early 1980s, however, many former sugar plantations have been turned into industrial sites, as the country began diversifying its economy into manufacturing and tourism.
Also founded in 1966, as a joint project between the Northern Dairies of England, the New Zealand Dairy Board, a private enterprise in Barbados, and the Government of Barbados, was Barbados Dairy Industries Limited, which, today, does business under the name of Pine Hill Dairy (PHD). Built on the site of a former sugar plantation, Pine Hill Dairy is Barbados' only dairy processing plant. In its earliest days, its first suppliers were local, family farms from in and around the city of Bridgetown. Twice daily, about 3000 liters of milk was transported to the company for processing in trucks, animal-drawn carts, and even by hand. Most of the neighboring farming operations were manual and the milk was not refrigerated prior to delivery.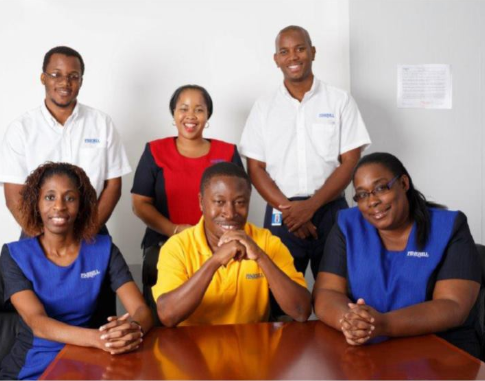 In 1997, the company was acquired by the Banks Holdings (BHL) Group, Barbados' leading beverage conglomerate, whose subsidiaries include: Banks (Barbados) Breweries Ltd., the Barbados Bottling Co. Ltd., Banks Distribution Ltd., a distribution company, as well as Pine Hill Dairy. Today, Pine Hill Dairy maintains an up-to-date and well regulated system, operating a sophisticated fleet of specialized tankers that collect an average of 15,000 liters of milk, daily. The 17 local farms, from which it gets its raw milk, now boast state-of-the-art milking parlors and storage equipment.
In addition to its dairy products, which include ultra-pasteurized, evaporated, flavored and fresh pasteurized milks, PHD also produces a line of juices including Mango, Bajan Cherry, Fruit Punch, and Guava Pineapple. They also produce a line of 100 percent juices with no added sugar called Sensations. In 2010, in order to improve its efficiencies and yields, increase the quality of its products, and compete in both the domestic and regional markets, PHD invested BBD$14.2 million in a major re-engineering project to consolidate its two production facilities – dairy and juice – into one. At the time, the newly consolidated facility was described as one of the "most modern and automated facilities in the region."
While the markets for PHD products are mostly in the Caribbean region – Trinidad & Tobago, Saint Lucia, Antigua, and Guyana – the company also has exports to the United States. Areas where PHD juices are sold in the U.S. include New Jersey, and the boroughs of Brooklyn and Queens, in New York City. Local airline flight kitchens and cruise ships are also regular patrons of the company's products.
Lorenzo Roach is the Dairy Operations Manager for PHD. He describes some of the challenges that his company faces: "Barbados is only 166 square miles. In term of raw materials and sourcing materials for the production process, almost everything has to be imported. And, therefore, we're always challenged with finding a supplier we can partner with that can ensure the quality that we need at the best price. . .and that the logistics are there. So we're always on the hunt for the best supplier, but because we are a small island, the logistics tend to be challenging – sourcing material and getting it here." PHD is also entirely reliant on a relatively small, local dairy industry – only 17 dairy farmers supply the fresh milk portion of its business; the evaporated and flavored milk portion has to be supplemented by imports.
Regardless of the challenges it faces, Roach is justly proud of his company's product lines: "We offer a quality product – that's something we pride ourselves on. We're constantly looking to ensure that we can commit to the consumer that when they purchase our product, they're getting something that is consistent in its quality." To back up that claim, Roach points out that PHD is ISO (International Organization for Standardization) certified in four standards: Quality, Environmental, Food Safety, and Occupational Health & Safety Management.
Future plans for PHD include launching an adult range of flavored milk products (in addition to its very successful line of flavored milk for children – vanilla, chocolate, malted milk, tutti-frutti, cookies and cream) and some new, non-traditional juice flavors. The company also is looking to grow its exports to places like the United Kingdom, and increase its "green initiatives," particularly in the area of recycling.
PHD is also pursuing policies of social responsibility. This past month, the company partnered with several local organizations, including – YWCA Barbados, and launched its first Milk-a-thon. A Milk-a-Thon is a milk collection drive wherein persons are asked to purchase an extra liter or two of milk and then donate them to the charity on hand at the collection/retail location. It is a nationwide effort to collect milk for distribution to thousands of impoverished children. . The primary objective is to assist in meeting the nutritional needs of these children by supplying them with their daily requirements of milk.
Pine Hill Dairy is strongly committed to quality and healthful products. In addition, the company is a responsible corporate citizen, employing approximately 100 local workers while also supporting the island's small community of dairy farmers. As it enters its second 50 years of providing milk and beverage products to consumers in Barbados and abroad, the future of Pine Hill Dairy looks bright and promising.
AT A GLANCE
WHO: Barbados Dairy Industries Limited
WHAT: Dairy processor and beverage manufacturer doing business as Pinehill Dairies
WHERE: The Pine, St. Michael, Barbados
WEBSITE: www.thebhlgroup.com