An old company with a new name serves its customers with an innovative business model
Massy Technologies Applied Imaging began its life as Pereira & Company, a stationery and office supply dealer, founded in Trinidad in 1923. In 2007, the family-owned firm was acquired by a new owner – the Massy Group – but only recently changed its name to reflect its upgraded and streamlined operations within its new corporate family. The Massy Group is a management holding company that owns over 60 businesses in the Caribbean and Latin America under its six distinct business units: Massy Automotive, Massy Stores (food, retail), Massy Distribution, Massy Finance, Massy Energy, and Massy Technologies.
The original company is 92 years old and has a rich and innovative tradition serving its island customers for almost a century. Jevorn Scott, Massy Technologies Applied Imaging's Business Development Manager, explains that Pereira & Company was the first to introduce the fax machine to Trinidad, as well as digital and color printing, among other emerging technologies. The company's owners have always tried to stay ahead of the curve, maintain its relevance, and incorporate new brands and technologies in order to "offer the community or business world something that they could use or solve any problems they were having."
Today, Applied Imaging has 110 employees in two locations – one in Port of Spain, and another in the south of the island, as well as a warehouse outside the capital. It provides its corporate customers – mostly small to medium sized businesses – with services and products. Scott says, "Our core business is in the imaging and printing space – anything from imaging and printing, production, wide format printing, document printing – we supply the hardware that does that."
While the company provides its clients with such well-known brands such as Ricoh, Toshiba, Brother, Osay, Canon, NEC, Opex, etc., its "managed services" is another key part of its value proposition. "We want to be able to walk into your environment and offer you office equipment as well as outfit your space, so that when you are finished dealing with us, you have a totally functional, up-and-running office. We like to think of ourselves as being able to transform our customers' office environment," says Scott.
He further explains the importance of Applied Imaging's managed services: "A lot of people don't understand or know what their printing activity is in their business; they don't understand the costs that are associated with it; they don't understand what their employees do and how their behavior directly impacts their costs and their bottom line at the end of the day where printing is concerned. What we are able to do is come in and say, 'let us do an assessment and observe your printing environment and behavior over a period of time, and come back with a proposal or a solution that: 1) corrects any abuse of printing privileges and, 2) streamlines your printing with a more compatible machine by way of speed, functionality, color versus black and white, number of users, if you need to set printing rules, that kind of thing. We manage that entire infrastructure for you for a managed service fee, every month.'"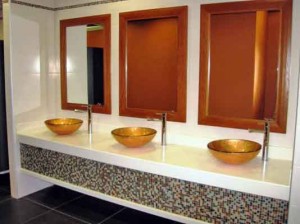 Scott contrasts the old way of doing business with Applied Imaging's new model: "What traditionally, used to happen was that, you buy a printer, you buy a copier, you run it, you service it, and when it goes out or goes bad, you buy another one and you keep going through that cycle. What we've been able to do is educate our customers around the industry of print – what the values are, what the drivers are – so that they know how it's impacting their business. We can save them on costs and help them grow, so that when they add users we can enhance the infrastructure they have. It's really more of a consultative approach as opposed to 'Hey, let me sell you a copier.'
"Retention in our business is key. Solving problems is one thing, but how do you sustain and maintain that efficiency after solving the problem? That's where our business is critical. Because, as a customer, you're focused on the operational efficiency of your business and making that bottom line. What we come in and say is, 'let us look at your processes and your business operations and streamline things for you so that can focus on what you are good at. When we take away the problems a customer can say, 'Well thanks, we don't need you anymore,' but that is actually when the work begins, because we need to sustain that level of efficiency, and also enhance it, and continue growing it, and bettering it, so that when you want to move to the next level, we as your partner in technology, are right there with you so that we can take you to that next level."
In addition to serving its customers in Trinidad, over the last few years the company has endeavored to expand its regional reach. "We've been looking aggressively at establishing a presence in other territories so that we could replicate the success of the business model that we've had in Trinidad for so long. We now have operations in Barbados (through a sister company – InfoCom); Jamaica and Dominica (through a sub-distributor); Surinam (through another sub-distributor); St. Vincent (through another sub-distributor); and Antigua, through Massy Technologies and InfoCom, as well."
What differentiates Applied Imaging from its competitors? Scott replies: "There's a certain level of customer experience when you're dealing with our company. Our service standards are, by far, superior in the industry. Fifty percent of our company is certified technicians. We believe strongly in training our technicians. We only have manufacturer-recommended supplies for all our equipment – we don't do any third party. We are supported and backed by all of our suppliers, so in the event of any failures, or anything like that, we have direct intervention from our suppliers. And we always resolve any issues that we are faced with. So, at the end of the day, the customer experience and the integrity of that interaction with us, is always protected at whatever cost to the company."
Applied Imaging has had a strategic plan in place since 2010. It involves consolidating its core business, delivering more and better services, incorporating new technologies, and becoming the number one provider on all the islands on which it operates. But while working toward these more concrete goals, Scott also offers a more philosophical reflection about his company:
"When I think about who we are, and our purpose, it's really about transformation – how we've transformed our customers' environment or experience in a way that was meaningful to them, so that they see the benefit. How we deliver that ease of mind that allows them to go to work the next day and perform their job more efficiently and more effectively. People look at print as a piece of paper, but in certain industries, it's mission-critical that that piece of equipment does not go down, and when it does go down you have service readily available and onsite to repair it and restore you back to full functionality. If we can do that we'll have all the success in the world."
Applied Imaging may have a new name, but its attention to its customers' needs is a timeless value.
________________
AT A GLANCE
WHO: Massy Technologies Applied Imaging WHAT: A full-service printing and imaging company with managed services; formerly known as Pereira & Company WHERE: Port of Spain, Trinidad, W.I. WEBSITE: www.massytechnologies.com/appliedimaging