Caribbean Housing Limited
The Legacy Developer Helping to Craft Trinidad's Future
Continuing to change the landscape with innovative and leading solutions, Caribbean Housing Limited lays the foundation.
Caribbean Housing Ltd. is not your conventional housing or construction firm, as Chairman Dr. Krishna Bahadoorsingh would clarify. "We're not a construction company, but a property development company."
The roots of Caribbean Housing Ltd. run deep, grounded in a rich family history of around 60 years. The company has evolved into a significant player in the housing industry. This transformative journey has been fueled by Caribbean Housing Ltd.'s land's strategic location along the nation's major North/South highway and adjoining the country's fastest growing area. The company's diligent work since 1968 has seen its metamorphosis into a thriving hub of real estate activity.
Operating within the niches of the housing market, the company brings visions to life, developing lands into habitable spaces. This process has been made possible with the cooperation of all the necessary local authorities and agencies.
The company's versatility shines through as they develop various types of properties. Their projects run the gamut from starter homes, townhouses, and high-rise condos, still to come, along with nonresidential structures like shopping centers and commercial buildings. Conceptualizing each area according to its potential, they have carved a unique space for themselves in Trinidad's real estate landscape.
The journey began with the company's first major project in the early 1960s. Since then, the operational model has been an efficient one. The company employs a diverse array of contractors who perform various functions from infrastructural development to superstructure.
Crafting a Legacy: Commercial and Residential Ventures
The operations of Caribbean Housing Ltd. stretch beyond what one might initially expect.
Dr. Bahadoorsingh talks about a mix of commercial and residential initiatives and provides a candid overview of the current developments, which has two distinct areas.
"Closer to the Sir Solomon Hochoy Highway, we have Brentwood – a vibrant, mixed-use community (town center) in central Trinidad, home to our Brentwood Mall and our more upper-middle-class development.  We've been building townhouses in Brentwood for the past seven or eight years, and we intend to continue until the project is completed".
About a mile east, in one of the company's other developments, lies Brookhaven where suburban housing is the central focus. "This area is dedicated to gated communities comprising homes, townhouses, and single-family lots designed for customized new builds."
This careful geographic arrangement doesn't just address varying housing demands but also considers access to commercial amenities. "Brentwood Mall is conveniently closer to the highway," Dr. Bahadoorsingh explains. "We've made sure everyone will have easy access to it, as there's a boulevard connecting the communities."
Regarding current trends in the housing and commercial development sector, Dr. Bahadoorsingh brings attention back to the housing deficit. "The government states that we need about 250,000 homes to meet the demand in Trinidad. Yet the entire country, including government initiatives, is building approximately 3,000 homes a year." This situation, Dr. Bahadoorsingh explains, results in a perennial need for more homes.
The company's answer to this deficit? To produce as many homes as they can sell every year. "This is our plan for the next 15 years or so," Dr. Bahadoorsingh remarks, hinting at a possible retirement once the company's main developments are completed. However, his entrepreneurial spirit continues to burn bright, crafting a legacy within Trinidad's housing landscape.
Navigating Pandemic Challenges
Discussing the challenges emerging from the Covid pandemic, particularly focusing on the inflationary climate and the heightened cost of materials and skilled labor, Dr. Bahadoorsingh acknowledges there was an issue with the supply chain at the height of the pandemic, particularly in the importation of steel. "Over time, however, things have normalized," he says. "Prices, once soaring, are gradually returning to more reasonable levels."
Dr. Bahadoorsingh's confident approach to managing the inflationary climate, particularly concerning labor costs, shows his ability to navigate challenging economic tides. "We've been working with the same contractors, some for over 15 to 20 years, and together we were able to successfully navigate these difficult times which now thankfully are for the most part, behind us. We look forward to an ongoing positive relationship with our longstanding contractors."
Crafting a Collaborative Culture Amidst Infrastructure Upgrades
Dr. Bahadoorsingh's company culture at Caribbean Housing Ltd. is something truly noteworthy. Shunning the traditional employer-employee dynamic, he emphasizes a culture of collaboration and respect. "We don't like to use the term 'employees'," Dr. Bahadoorsingh discloses, "We prefer the term 'associates' because 'employee' conveys an air of subordination, which we strive to avoid."
The heart of this company culture lies in making everyone feel comfortable and valued, a place where they want to come to work. "My door is always open, except for the air conditioning," he laughs. "When you wake up in the morning, I don't want you to dread coming here. I want you to enjoy performing your function. Unless you feel that way, it's just not going to work out – hence the reason we have such a remarkable retention rate of associates, spanning in some cases over half a century."
Despite the company's employee-friendly approach, they're not complacent. They are continuously looking for ways to upgrade and improve their infrastructure. "We've already upgraded our facilities," Dr. Bahadoorsingh says. "We've transitioned from having all our associates tightly fitted in a house in Port of Spain to what I believe are A+ office facilities. It's not just a renovation but the creation of a new structure, a purpose-built one."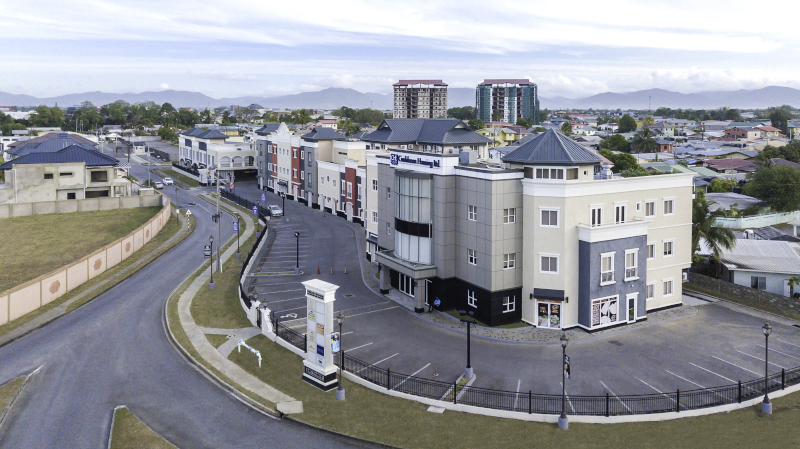 Fulfilling a Legacy and Looking Ahead: A Peek into Caribbean Housing Ltd.'s Future
Having inherited the family business built on land acquisition, Dr. Bahadoorsingh turned his legacy into a thriving venture. He shares, "It wasn't something I chose to do, but rather it was handed to me, and I am incredibly grateful for it." He has expanded the business exponentially since taking over.
With the land as the foundation, Caribbean Housing Ltd. was built brick by brick, carving out a niche in Trinidad's real estate sector. For Dr. Bahadoorsingh, this isn't just work—it's his passion. "When people ask when I'm going to retire, I tell them, 'You retire from something you want to get away from.' But this is what I love doing," he admits. At 85, Dr. Bahadoorsingh plans to stay in the game for many more years, continuing to shape the landscape of the island nation.
Caribbean Housing Ltd.'s identity as a property developer is one that Dr. Bahadoorsingh holds dear. Despite numerous opportunities to further expand, he firmly believes in the company's focus on the land inherited from his father. He clarifies, "We're not project managers. We're developers, and we employ all other skills needed for our projects."
As Caribbean Housing Ltd. looks towards the future, the company has ambitious plans for the near future. "We're focusing heavily on the design completion of the second phase of Brentwood Mall.  Our in-house architects are diligently at work, and we're looking to break ground on it next year." Dr. Bahadoorsingh reveals. "While regular activities will continue to unfold as planned, the expansion of the Mall takes precedence".
Dr. Bahadoorsingh's love for his work, passion for community development, and keen focus on the company's future aspirations truly embody the spirit of Caribbean Housing Ltd. The company's dedication to providing homes and constructing community-oriented projects continues to play a pivotal role in shaping Trinidad's housing sector, bringing a bright future to the island's residents.
AT A GLANCE
Caribbean Housing Limited
What: A property developer building a wide range of properties
Where: Trinidad and Tobago
Website: https://chltt.com/