Carita Jamaica survives and thrives through Hilton's hard work.
Rita Hilton has been around long enough to appreciate the journey.
The managing director of Carita Jamaica Ltd. has been with the company since it was first registered and has seen every step of the process that's taken it from a one-person operation with $20,000 in annual sales to a team of more than two dozen employees and revenues measured in the millions of dollars.
"The produce business is not an easy business, it's full of challenges," she said. "And having survived to this point is quite a feat. There was a gut feeling that this was the right way to go."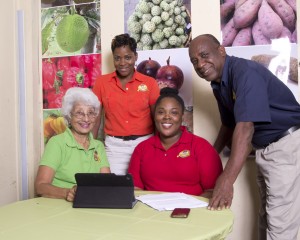 Her personal path actually began in the classroom as a teacher, but she ultimately found herself between careers and seeking a reliable and independent source of income. An acquaintance in the produce business told her there was a need for Jamaican-grown products in New York, and Hilton quickly immersed herself in behind-the-scenes research to investigate the available possibilities.
Ultimately, she used her expertise in geography to study the nuances of the export market, then turned to the charisma and comfort developed from her school days to sway others toward the business.
The company name, in fact, blends the company's home region – Caribbean – with her name.
"I felt that I could motivate, stimulate and also train people to do the job I wanted to do," Hilton said.
"I asked a lot of questions and I did a lot of footwork. Money at that time was a big challenge because financing was not available to women on their own merits, they had to have a male figure co-signing loans and co-signing financial arrangements. But I managed to persuade my way and get myself on my feet. It was not easy and I did a lot of the tasks myself."
Today's operation features 30 employees working out of a warehouse facility in Kingston that's owned by the Jamaican government. The government had been directly involved in buying and ultimately exporting fresh produce from small farmers on the island, but that business incurred large debts and was eventually halted, which made the warehouse available for rentals to private produce traders.
Carita Jamaica now works out of 4,500 square feet, Hilton said, though expansion is imminent and necessary thanks to the burgeoning nature of the business. In fact, she said, a lot of interest comes in without solicitation, simply because it has been around so long and developed such a solid reputation.
"Customers come to us," she said. "They look us up and say this is a company that has been trading a long time and has longevity and it has a history."
The company deals with wholesalers to guide it on what products are needed in the marketplace from season to season, and Hilton said relationships have been established with clients as far flung as New York, London and Toronto, as well as Miami, Atlanta and Houston.
Carita Jamaica will participate in a trade show event this year in Houston and Atlanta, and has near-term plans to expand its product line beyond fresh produce to include frozen items and Jamaican natural teas.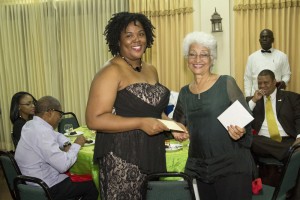 "We're trying to spread beyond the diaspora and ethnic markets, and that is why we are looking at new areas," she said. "We do have a link into an upscale market, which is the DeKalb (Farmers) Market in Atlanta, and we need to strengthen that relationship. We want to see first-hand what the customers' needs are."
The positive vibe that's attached worldwide to nearly all things Jamaican doesn't hurt either.
"Jamaica has such a tremendous brand," Hilton said.
"And Jamaica is so known for athletics, music, its food; the only way to go is up to capitalize on that platform. I think there's a definite advantage to products emanating from Jamaica."
Of course, doing business on the island is not without its challenges, too.
She said multiple layers of bureaucracy and the accompanying red tape is a perpetual challenge to any domestic operation doing business internationally, as are security problems created by the fear of drug contamination and exorbitantly high energy rates compared to the rest of the Caribbean.
"It makes doing business in Jamaica vey uncompetitive," Hilton said. "So you really need to be sharp and be able to be innovative to deal with these challenges."
The company's facilities have passed initial tests required by the U.S. Food and Drug Administration and it follows requirements as laid out by the U.S. Department of Agriculture as well, so it's now in the process of developing links to local farmers who can provide products to those specifications.
Most of Carita Jamaica's business is with the United States and Canada, though a greater export footprint across Europe is a prime objective. As well as boosting the company's profile domestically through outreach within its home territory.
"There's a whole new world for us to expand into and we are very much looking forward to that," Hilton said. "My objective is to get a lot of community involvement in our business. I am very seriously concerned with raising the standard of living of rural communities and empowering them. This will the s contribute to the recovery of the national economy – because Jamaica has such a wide range of natural products.  We are just not reaching the potential that this country has in terms of exports."
AT A GLANCE
WHO: Carita Jamaica Ltd.
WHAT: Distributor of fresh produce and processed foods, including pepper, yam, breadfruit, ackee, callaloo, soups and juices
WHERE: Corporate headquarters in Kingston, Jamaica
WEBSITE: www.CaritaJamaica.com

Jamaica Manufacturers and Exporters Association
Working to foster a stronger economy
Business View Caribbean interviews representatives of the Jamaica Manufacturers and Exporters Association for our focus on Economic Development in Jamaica.
In 2018, the JMA (Jamaica Manufacturers' Association) and the JEA (Jamaica Exporters' Association) merged to form the new Jamaica Manufacturers & Exporters Association (JMEA) – a dynamic organization serving as the voice of Jamaica's exporters, manufacturers, their service providers, and micro, small, and medium enterprises (MSMEs). JMEA works diligently to foster a stronger economy, supporting the long-term success of renowned Jamaican brands, job creation, and endeavoring to improve the standard of living for the country, as a whole. Vital business development support is provided through advocacy, strategic partnerships, export services, research, capacity building, and access to finance.
Currently numbering around 400, members of the Jamaica Manufacturers & Exporters Association form the cornerstone of Jamaica's business community. Membership has three categories: Ordinary Members (should be engaged in manufacturing, be a registered company with Articles and Memorandum of Association); Associate Members (individuals, firms, partnerships, or companies, which provide service to the manufacturing sector and associations engaged or interested in any business in Jamaica and acceptable as such to the Board of Directors); and Micro and Small Members (companies employing up to five persons, in operation for less than seven years with gross annual sales not exceeding J$10 million).
Business View Caribbean recently spoke with Imega Breese McNab, JMEA Executive Director, and D'Jamila Ward, JMEA Export Director, about the Association's major objectives and ongoing initiatives that are propelling growth and sustainability in the Jamaican manufacturing and export sectors. The following is an edited transcript of that conversation.
BVC: What was behind the merger of JMA and JEA to form JMEA?
McNab: "We realized that we had two membership-based associations utilizing resources to serve manufacturers and exporters in Jamaica. Around April 2018, the membership agreed that the interests of those manufacturers and exporters would be better represented by a merged entity – now the Jamaica Manufacturers and Exporters Association. The overall objectives of the merger were to ensure we have a wider, more efficient range – almost like a one-stop service with the technical competence that would benefit the members; to provide stronger lobbying, as we thought there needed to be greater focus on manufacturing and export by the administration and the government; and to become a stronger entity that could attract, retain, and increase an active membership base.
"Due to the merger, we have an expanding role and represent a cohort of exporters that are involved not only in manufacturing, but also the export of primary produce, as well as services. We are a very small team of 15 staff, with four divisions: our executive and administrative team; our export, research, and trade department; our membership services and engagement department; and our business development services department."
BVC: How do you communicate with the membership?
McNab: "We use different avenues of communication with our members. We find that direct messaging, whether via email, or telephone, or actual company visits, is very impactful. Outside of that, we are very visible through social media, as well as utilizing traditional media, because we have to be a visible, strong advocating body. So, we tend to ensure that those issues we are representing the interests of the members on are actually in the public domain. In terms of highlighting our benefits to attract new members, we do a lot of capacity building – in training, market intelligence, industrial relations, and other areas. We also hold two of the largest trade shows in the islands, Expo Jamaica and the Jamaica International Exhibition, where we promote avenues to increase local and export sales for our membership."
Ward: "Our membership base constitutes the largest manufacturing and exporting companies in that industry. Speaking to the overall contribution of the industry to Jamaica's development, at this point, they are contributing 8.6 percent of GDP and have 7,000 to 9,000 jobs created through manufacturing. That's 6.4 percent of the total employed labor force."
BVC: What 'hot topics' and important issues are at the forefront?
Ward: "From our perspective, it's to get greater focus on manufacturing and export from the current and future government administration. We see that more resources need to be directed to stimulate greater export expansion and more investment, both locally and internationally, into the manufacturing sector. As such, we have been advocating for a number of impediments to be removed, especially relating to trade facilitation and the cost for logistics to move your goods from the port and have them shipped abroad; and bureaucracy – when it comes to the different licenses, permits, and charges that are applicable, and just the timeline to actually gets things done, not just to import but to export. In addition to that, there are other areas required to support the industry. We continue to advocate for competitive rates, and our intent is to have rates at about five percent going to the manufacturing and export sector.
"We look at issues such as infrastructure because one of the needs, especially from the micro and small manufacturers and exporters, is for retrofitted, concessionary-type factory space. But the strong focus of our new president is export expansion. We have recently developed a 10-point plan which includes a number of initiatives around stimulating exports, and these will now be presented to the government with the hope of having a strong industry partnership team with the government that will monitor and enforce what we are proposing. In addition, we have a manufacturing strategy that was developed in partnership with the Ministry of Industry, Commerce, Agriculture, and Fisheries, as well as JAMPRO, which is going to cabinet. We have set ourselves a high target because we want to move our GDP contribution from $66 billion to $81 billion by 2025. That means we need to embark on a three percent annual growth rate in the manufacturing sector."
McNab: "We also play a role in sustainable development, where we take into consideration the environment and the health of our people. We do have initiatives and work in partnership with the government to find the best, most equitable position that works for our people and the manufacturers, themselves – initiatives such as the deposit return scheme that we're working on, where we have a target of around 80 percent of PEC bottles out of the system by 2025. And we had established a coalition with all our bottle manufacturers and beverage manufacturers to get this target. This is something we're very proud of that is now being spearheaded by Recycling Partners of Jamaica."
BVC: What part do members play in advocacy?
McNab: "We've talked about responsibility of our government and our stakeholders and partners, but one thing our president has been pushing is our own responsibility as members, and as manufacturers. The most recent rhetoric on what we have been advocating for is also for our members to provide effective data that will inform policy designs, because unless we have that data at our fingertips, there's no way we can adequately represent what the sector needs.
"As with everything, transition takes time. But I think the merger has shown members that it was relevant because we had the same objectives. And now, we have a much stronger team that is focused on expanding manufacturing and export. As our profile and visibility in that area has been advanced, we're seeing we are recognized as almost the only player in that space. So there is a lot of dependence on us from the membership to represent them at all levels with all Ministries."
Ward: "As it relates to trade negotiation matters, this is an area where they have been utilizing us extensively because we now represent at the regional level, where we attend every quoted meeting. We are now the representative for CARIFORUM on the EU business review committee, so we're playing a very critical role at the highest level when it comes to trade. Our members see that we are well-positioned and they believe in the team we have, and our Board has strong support from the membership base."
BVC: What are the most important points you'd like to share about JMEA?
Ward: "From an international perspective: we are the one-stop shop in Jamaica to get access to manufacturers and exporters, especially if you are seeking goods for your market. Also, if you wish to invest in this space or play a role – if you have a particular skill set you would like to impart to the industry – you can actually reach out and contact us about anything that relates to manufacturing and export in Jamaica. From the local perspective, there are a lot of stakeholders we'd like to speak to. As it relates to manufacturers and exporters who are non-members, we want to say that this Association serves your needs through the services we offer. And we can help your business grow, and help you realize your business targets and objectives."
McNab: "I think it's a manifestation that there is strength in numbers. From a local perspective, what we want prospective members to realize is that we are an actual organization. We have a reputation of not just talk, but action and executing initiatives. And we're recognized as one of the preeminent business associations in Jamaica and the region. That's a reputation we have worked very hard to maintain. You cannot go wrong with being a member of JMEA."
AT A GLANCE
Who: Jamaica Manufacturers and Exporters Association (JMEA)
What: Membership organization for the manufacturing and export industry
Where: Kingston, Jamaica
Website: www.jmea.org