Long-time industry powerhouse aiming for fresh, modern image.
The name "Cavalier" might be viewed as peculiar for a company – Cavalier Constriction – which considers itself the flagship of the Bahamian construction industry. But, in fact, it comes from the Bahamian founder of the business, Godfrey E. Lightbourn, who attended the University of Virginia.
The school's nickname: Cavaliers.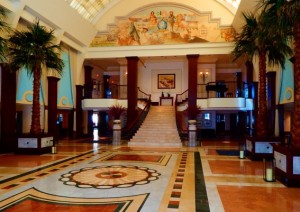 The actual origin of the nickname comes from what was going on during the 17th century, when an English civil war pitted supporters of the parliamentary system of government against King Charles I, who asserted absolute power. The word Cavalier, too, predates the formation of the United States, with a very similarly spelled version used by William Shakespeare in Henry IV.
Shakespeare used the word to describe a swashbuckler not unlike the current Virginia mascot, which depicts a sword-wielding fellow on horseback. When the university officially took the name in 1923, it was to pay homage to the aforementioned civil war era, when the people of Virginia aligned themselves with royalist supporters often referred to as "Cavaliers."
Under the ownership of Lightbourn and his partner, Eugene A. Pyfrom, the company completed its first project – a resort that still stands today — in the Exuma Cays in 1956. Since, it has grown from strength to strength to become a household name in the Bahamian construction industry.
Cavalier's founders retired in 2005 as part of a structured buyout which saw company ownership transitioned to several long-serving employees. The arrangement with superintendents, engineers and procurement staff, among others, has helped ensure a level of vigilance at the grass roots operational level which the directors felt could not be matched by rigid headquarters office overview.
These days, the company prides itself on a capacity to not only deliver an incomparable end product, but also to guide its clients through regulatory approval processes while proffering engineering proposals that are rooted in local knowledge. The Bahamian landscape is embroidered with projects bearing the Cavalier stamp of quality and longevity, ranging from luxury private residences to hotels, schools, condominiums and office buildings. One corner of downtown Nassau – at the intersection of Shirley and Charlotte streets – is flanked on three sides by Cavalier-built properties.
Cavalier has left an indelible impression both in Nassau and the out islands.
The Valentines Resort in Harbour Island was completed in 2007 and reflects the island's rustic charm. Luxury condominiums at Bayroc on West Bay Street in Nassau were completed in 2009. The company was awarded the contract to build the Atlantis Conference Centre on Paradise Island for Kerzner International – a $60 million project that was finished in 18 months and now houses events and concerts for the Atlantis resort.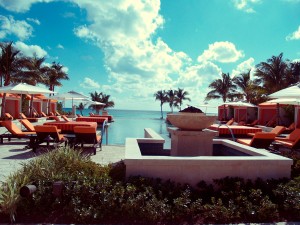 Cavalier began work at the Albany development in 2008 for the Tavistock Group, whose principals include British financier Joe Louis and professional golfers Tiger Woods and Ernie Els. The $100 million project opened in 2010 and comprises a series of townhouses and amenities, including restaurants, a clubhouse, fitness center and spa facilities. The company also delivered the Straw Market, on time and on budget, for the Bahamas government on the grounds of the structure destroyed by fire in 2001.
The prime minister at the time, Hubert Ingraham, attended the official opening and said, "I wish also to acknowledge the excellent work undertaken by the primary contractor for the market, Cavalier Construction, and all the various subcontractors." A reward for the performance on the market was the government contract for construction of the critical care block at the Princess Margaret Hospital.
According to Chief Financial Officer Steven B. D´Alewyn, the company's workforce stands near 40 full-time employees, alongside a roster of field laborers who come and go with projects – like health/safety officers, engineers and property surveyors – and are part of an extensive network of available workers.
As larger projects are awarded, he said, project managers and superintendents are hired on, too.
Operations are housed in a single Nassau facility, though the geographic footprint for services has stretched as far as Turks and Caicos – about 420 miles to the southeast – and consideration was given to an ultimately abandoned project in St. Kitts, which lies another 600 miles away from Cavalier's home.
"We do look at further afield," D´Alewyn said. "We don't necessarily restrict ourselves to the islands, but, obviously, logistically it's a different proposition mobilizing in another country."
Cavalier's reputation has put it among the four or five contractors in the Bahamas capable of working on $10 million to $20 million jobs, but D´Alewyn said the company has worked hard recently to establish itself as a go-to option for smaller projects as well – eschewing the notion that it would either not be interested in smaller endeavors, or would be too costly for those looking to have work done.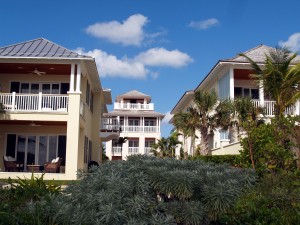 A new website – CavalierBahamas.com – has been put together, too, as means of projecting a fresher corporate look and a revamped image.
"We're trying to let people know that we do smaller stuff. Renovation work. Rather than just big luxury homes and hotels and condominium buildings," he said. "We're trying to let people know that we actually do and have done smaller commercial projects. We're in discussions with someone right now about a $2 million office block. We're a multi-faceted business and not just geared to the high stuff.
"You've got to kind of push that out yourself. We've got a fairly extensive network of architects and people that we deal with quite a lot. It's a question of having lunch with them and leveraging those networks to let them know, if they come across projects like that and they're putting together a bid list for projects of that nature, that they shouldn't necessarily exclude us."
Elsewhere, a significant change to the business landscape has come in the form of a nationwide value-added tax that took effect on Jan. 1 and is prompting entities like Cavalier to rethink pricing structures.
In conjunction with the introduction of the 7.5-percent tax, there was also a review of import duties and a downgrading on rates attached to certain materials and products.
"Now, when you're looking at pricing a project, you're looking at a little bit of a different animal," D´Alewyn said. "On your aggregates and your building supplies, the duty has come down and the basis on which that rate is applied has changed. Our guys are kind of wrestling with that a little bit. How you bundle it up and present it is important. You've got to present it like 'Our price to you is X,' to which we would add a government-mandated stamp tax of 7.5 percent.
"That doesn't come to us, it goes to the government, but it's still an add-on to the price. So when you're bidding stuff you've got to be smart about how you present that. And also you've got to be smart on how you build your price because of the vagaries of the changes that have occurred. That, internally, we've had to look at because we're still in the early days."
________________
AT A GLANCE
WHO: Cavalier Construction
WHAT: Bahamas-based general contractor
WHERE: Corporate headquarters in Nassau, Bahamas
WEBSITE: www.CavalierBahamas.com