Delfins Beach Resort
A visit to paradise
Business View Caribbean interviews David Rietveld, General Manager of Delfins Beach Resort, for our focus on Best Practices in Tourism
The Dutch Caribbean Island of Bonaire is a breathtaking tropical paradise – home to 6,700 acres of fringing reefs and the exquisite Delfins Beach Resort. This stunning oceanfront property offers guests an unforgettable experience with luxury accommodations including studios and villas all equipped with high-end amenities. Also onsite are the top-rated Brass Boer Restaurant and 5-star diving center.
General Manager of the resort, David Rietveld, recounts, "We opened the doors of Delfins in November 2018 with 84 units, a restaurant, a beach bar, a beautiful pool, and a beach area. We have 200 meters of coastal grounds connected to the sea. One part is occupied by the restaurant, so you have fine dining on the coast, which gives you the most amazing sounds of the waves when they break on the cliff nearby. The other part of the resort has a small Bonairian beach. As with all beaches on Bonaire, it is small, but we made an extra beach area with imported sand from French Guinea." Another distinctive feature is the resort's beautiful pier, incorporating stairs angled at 45-degrees that allows guests to walk into the ocean safely and easily without being swept away.
These unique features don't allow Rietveld to sit back and relax. "We have been busy, despite the world going berserk," he says, before listing all the current projects. These include 32 new studios, a swimming pool 25-meters long, another restaurant, a 1,200-square-meters fitness club, and even state-of-the-art conference rooms. Rietveld adds, "Each of these rooms will have a system that kills all bacteria and viruses in the air, so only fresh air is coming in. It's an extra investment of approximately $200,000, but we spent the money. It is going to be safe to have conferences at Delfins and I think that's important."
The studios should be completed sometime in April 2021 with the remaining projects in September. Rietveld is proud of the studios that are designed for disabled divers and are fully wheelchair accessible. He notes, "We haven't had any disabled divers yet because of the travel restrictions due to COVID-19, but the studios are adapted towards them. What I understand is that many disabled divers are still mostly independent, so the studios are for that targeted group." Rietveld isn't stopping there. Delfins is cooperating with Fundashon Mariadal, the local hospital, to welcome about 25 doctors and nurses to stay at the resort. "It's not medical tourism in the way I wanted it, but it's a start. We've negotiated with the hospital to use four of our rooms for people recovering from knee operations. People who have been operated on will be transported here to recover with adapted beds and a nurse. The first patient is yet to arrive, but it's in progress."
It's a beneficial solution for everyone because the hospital will have more beds available; and patients will convalesce in a tropical paradise with less mental and financial stress. Delfins and Fundashon Mariadal are even investigating the possibility of flying an electric plane between islands. It would act as an air ambulance and a tour guide for the ABC (Aruba, Bonaire, and Curaçao) islands. If this were to move forward, Bonaire would be one of the first Caribbean islands to offer electric flights.
Medical tourism is one possibility to explore when considering potential new revenue streams. According to Rietveld, "We had a couple of months where the island was closed. That was terrible. I used the opportunity to do a bit more diving; if I came out of the sea, cleaned the gear, and then jumped into the pool, I didn't see anyone. So, if I did the dive, there was a mixed feeling. The dive was wonderful, absolutely gorgeous. You see beautiful creatures, especially when it's quieter, but when you get out, it's terrible to see no guests at the resort. At that point, I acknowledged the importance of having the medical staff here, so I negotiated long-term for them here; and they're still here. We dealt with the tourism situation by finding different revenue. That's the creativity we're using."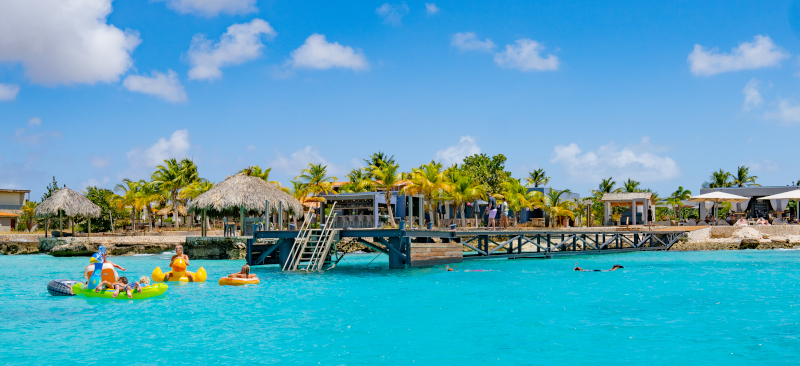 Rietveld's resourcefulness has helped Delfins manage during this challenging time. He admits, "What is frustrating with COVID is that you are powerless. If you are running a business, it's out of your hands." The Government of the Netherlands has allowed the restaurant to remain open, but only for guests. To work within this mandate, Delfins offers locals heavily discounted rooms so they can enjoy the restaurant.
Despite these frustrations, Rietveld acknowledges that the government has been very good towards entrepreneurs. One helpful measure has been NOW – The Temporary Emergency Bridging Measure for Sustained Employment. "It's the support of wages to take care of employees, so they weren't fired," Rietveld says. "We kept most of them. The employees still under the trial period, I sent them home. I just lengthened one or two contracts, so it's been minimal. Of course, we have to a keep 1.5 meters distance and wash hands. We have all the mandated policies in place for social distancing and disinfecting the rooms. As Delfins Beach Resort is part of the hotel and restaurant sectors, we will maintain these measures, so it should be absolutely safe to have guests stay here."
Of course, the guests themselves can't wait to get back to the luxurious relaxation only Delfins can offer. Positive numbers for 2021 show the resort has been able to maintain 60 percent occupancy in January and 65 percent in February. Rietveld reports, "People are booking last minute. In one week, we picked up almost 13 percent of our monthly occupancy. I have never seen that happen in one week. The behavior of our guests is that they now wait until the very last minute before booking and then they come. Fortunately, many have chosen Delfins Beach Resort, so we still had quite a good occupancy in comparison to the rest of the island. Many of the other resorts, entirely dependent on the American market, have just closed."
Top of the agenda moving forward is marketing the resort for conferences and adding a new restaurant. "Offering packaged deals for the conferences will be my first target for the upcoming year," says Rietveld. "We'd really like to have the disabled divers visit and enjoy the rooms we made; we will start marketing that too by, hopefully, end of the year. I'm not anticipating a lot of travel from the United States before then." That isn't all Rietveld is planning. In the next two to three years the goal is to develop the last part of Delfins. He shares, "We're currently working on a concept for a luxurious part of the terrain. I think we will market it differently, but it will still be at the resort. It will offer butler service and potentially cost $700 to $1,000 per night with rooms that are exclusively luxurious, having everything – even a personal chef."
In the meantime, Rietveld will continue thinking creatively to ensure Delfins Beach Resort is the dream destination that, "people want to come to Bonaire and enjoy."
AT A GLANCE
Delfins Beach Resort
What: A family-friendly, luxury beach resort
Where: Kralendijk, Dutch (Netherlands) Bonaire
Website: www.delfinsbeachresort.com