Hermitage Bay Antigua
A quiet escape and a beautiful oasis
Nestled on the leeward side of the Caribbean is the island nation of Antigua and Barbuda. These twin jewels lie at the confluence of the Atlantic and Caribbean, giving rise to gorgeous reef-lined beaches and magnificent rainforests. These qualities make the nation an ideal resort location, drawing millions of visitors annually.
One such resort is Hermitage Bay Antigua, the crown jewel of Antigua's hospitality industry. Located on the island's western shores, just inland of Hermitage Bay beach, the resort boasts sweeping views amidst an incredible, natural environment that guests find hard to forget once they visit for the first time.
Rachel Browne is the General Manager at Hermitage Bay Antigua and describes the secret behind the resort's magnetic effect on guests who keep coming year after year.
"Hermitage Bay Antigua is a thirty-suite standalone boutique hotel located off the beaten path in Antigua," she says. "We are known to be unpretentious, authentic, and organic. It is where anyone trying to get away from the noise of the world can get a spot to reconnect with themselves or with each other.
The resort attracts honeymooning couples due to this secluded, private environment. Still, Browne says the resort is ideal for anybody who wants a special place where they can hear themselves and disconnect from all the distractions of their life.
"People describe the property as sexy and secluded. The whole ethos of the property is that we pay attention to privacy. We don't have manicured landscaping, and everything is left organic to maximize privacy."
"We also pay attention to the fact that people want fantastic views, so there's a balance. While many honeymooners gravitate towards us, we generally attract a clientele that wants to be in a quiet place. They want to hear themselves and reconnect with themselves and each other while in a natural and unpretentious space."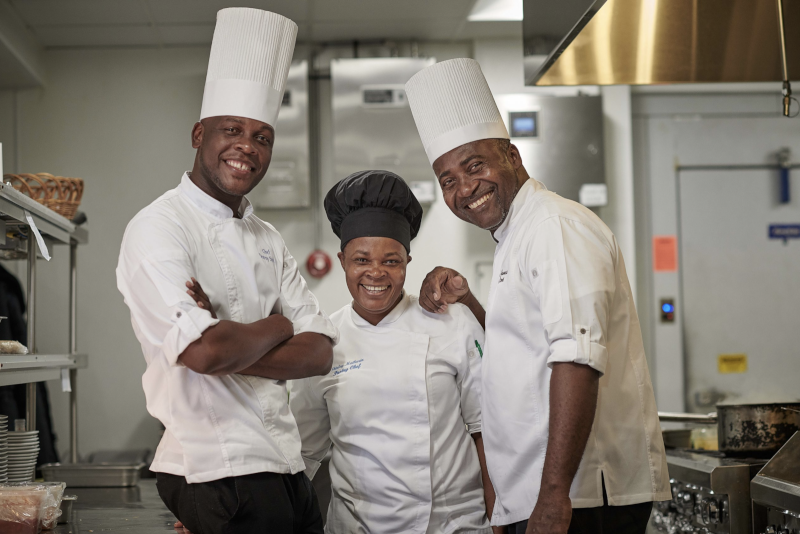 Hermitage Bay opened its doors in 2003 when owner Andy Thesen envisioned developing the bay while retaining the spirit of such a beautiful, unspoiled, peaceful place.
Over the following months, a team started to clear small areas on the hillside overlooking the bay by hand. They used sustainable building materials for construction and built the resort to blend in naturally with the bay.
Hermitage Bay continues to adhere to these principles almost twenty years later, making conscientious efforts to use solar energy technologies, natural detergents and beauty products, and locally grown fruits and vegetables.
Underpinning this focus on tranquility and nature is the staff team at Hermitage Bay, which Browne describes as the heart and soul of the resort.
"They are caring, friendly, efficient, and discreet," she says. "But what makes them special are the sincere smiles, genuine kindnesses, and unique personalities that shine through when interacting with them."
Supporting this corporate culture is a hiring practice focusing more on soft skills than professional ones.
"When we hire, we look for persons who fit our core values. That is more important to us than the skill set because we've long figured out that we can teach people the work, but we can't teach them how to be kind and compassionate. Those are innate qualities that they must have and form the prerequisites we look for when hiring."
To illustrate this point, Browne shares a recent guest experience.
"We had a couple who came every year, and each afternoon they would take a walk around the peninsula. Sadly, the husband passed away, and the wife decided to return by herself after two years. One day while sitting in my office, one of the bartenders came in and asked if I had my sneakers. I asked why and he answered, I think we should take Ms. Young for a walk. " Staff members would do that beautiful walk with her for the seven days she was with us."
"That's just one of the many stories that demonstrate the heart and soul of Hermitage Bay, and we hear it over and over from guests: You have a beautiful beach, your food is fantastic, but we can go to several places around the world and get that. What we get here is that we feel like somebody cares about us. We feel we are family."
When the Covid-19 pandemic hit in early 2020, Antigua, like most countries worldwide, went into lockdown, bringing all tourist travel to a halt. For Hermitage Bay, this was a trying time, but as Browne explains, the resort chose to adjust and adapt to accommodate this new reality.
"Like everybody else, when the pandemic hit, we had our challenges. We had to close for a period. However, we were fortunate enough that we were able to keep most of our staff employed. We did our best to ensure our staff had something to work with regarding livelihood."
"When we subsequently reopened after the pandemic, we did so to heavy demand, even though at the time there were protocols that had to be followed, and it was not as easy as jumping on a plane and getting here. You had to get tested, and all that had to be in place."
Post-pandemic demand at the resort has risen steadily over the last two years as travelers resume their regular holiday cycles.
"This year and last, we have seen much better business, sometimes more than pre-pandemic levels. People are ready to travel because they've been locked away for a while. Hermitage Bay's design makes it the perfect spot to be in a pandemic too."
"We have wide open spaces and standalone buildings, so you're not sharing a wall with anyone else. Our dining room and bar pavilions are open air and not air-conditioned, allowing the nice Caribbean breeze to blow through."
"Not only did we have constant demand immediately, air travel resumed, but we also had many clients who did very long stays because of the type of property we have."
One of the significant decisions the resort made that helped it weather the pandemic was to retain as many staff members as possible. In doing so, the resort reinforced its commitment to its staff and had the human resources required to capitalize on demand when the world reopened.
"The resort owners said we should do everything possible to ensure staff remained employed. This commitment helped us keep up to 95% of our team. Nobody went elsewhere or left for a different industry.
The resort also needed to reassess how it sources supplies. Some adjusting and innovation came in handy, Browne says.
"We order a lot from the US, so we had to pivot a little bit when we reopened. We ordered more things in some instances, being conscious of the lead times to get here."
"Another thing we did was to start making furniture on the island that we would normally buy overseas. We had to pivot and be creative on many different fronts, which went a long way in helping us stay afloat through the pandemic."
Hermitage Bay Antigua also supports local businesses through a beach-based vendor booth where government-accredited vendors can come and sell their wares to guests. The hotel interviews each vendor to ensure that only vendors who meet its standards get a spot in the vendor booths.
Company Outlook
As the global tourism industry rebounds, Browne is bullish about Hermitage Bay Antigua's future.
"We are extremely optimistic. We are seeing business return, and travel and tourism are stronger than ever. We're also using some of the lessons we learned from COVID to make sure we pace ourselves."
"The pandemic has also changed the psychological behavior of our staff and guests. Many are more aware of the challenges in the world and the need to solve them together. For instance, we've had much interest from guests in the Hermitage Bay Caring Foundation, with many asking if they can bring supplies or donations when they visit."
"We have a philosophy here at Hermitage Bay; an African word, Ubuntu, which means I am because of you. It's very encouraging that people are seeing that we need to support each other, and that's one of the things that makes Hermitage Bay such an amazing place to work and visit."
AT A GLANCE
Hermitage Bay Resort Antigua
What: A full amenity, secluded resort offering a local flare
Where: Hermitage Bay beach, Antigua
Website: www.hermitagebay.com

Tropicars Golf & Utility Vehicles – www.tropicars.com
Tropicars Golf and Utility Vehicles is a major distributor of golf cars, utility vehicles and other products used in the golf, resort, hospitality, and power sports industries. As an authorized distributor of E-Z-GO, Cushman, Textron Off-Road, GEM, Garia, and Polaris, Tropicars offers competitive pricing and prompt delivery. Tropicars' team travels extensively throughout our territories to ensure our customers receive personalized attention.