Risk-taking entrepreneur conquers the pizza market in Trinidad.
For anyone who lives, or has grown up, in the United States, going out for some pizza, or having some delivered, is hardly an unusual event. And why should it be? There are over 70,000 pizzerias in the U.S., and the total number of the pizza pies sold each year is about three billion! And 93 percent of Americans eat at least one slice of pizza per month. But until the early 1970s, pizza was virtually unknown in the Caribbean. That is, until Richard Harford founded Mario's Pizzeria and began selling the round, saucy and cheesy delicacy to the folks in his native Trinidad.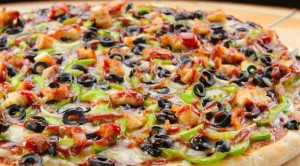 Today, Mario's Pizza is the leading pizza restaurant chain in Trinidad and Tobago, with 20 stores, plus an additional five outlets in Guyana. Mario's Pizza is managed by Richard's three sons, Roger, Randal, and Ryan Harford, all Directors of the family-owned enterprise. The chain controls 55 percent of the local market, out-pacing its competitors, international chains such as Pizza Hut, Domino's, and Papa Johns, as well as Pizza Boys, a local company that opened in 1989.
Roger Harford recounts how his dad wound up being the islands' pizza king: "He had returned to Trinidad from living abroad in Canada. At the same time that he came back, he had a group of friends, also from Trinidad, who had returned from studying in Canada. While at university, their main staple was pizza. So, when they came back to Trinidad, they decided that they wanted to open a pizza restaurant. It was new in Trinidad. Trinidad had never had or tasted pizza. So they bought a used pizza oven and they set up a kitchen in their garage. And they started to make pizzas for friends and family."
Around the same time, an ice cream shop at the Valpark Shopping Plaza, Trinidad's first shopping mall, became available. Harford continues the story: "Then the idea was born to open a restaurant. That is when my dad got involved. Seeing that he had the time, he would be the restaurant manager. He would have financial interest in the restaurant as well as being the operator of the store."
Initially, the restaurant only sold sandwiches, roti, and ice cream, as the partners were not yet familiar with industrial-type oven equipment, but eventually, they got the pizza oven up and running. "Once they got the pizza oven working, after the first months, it became Mario's Pizzeria. They didn't want to use my dad's name. It couldn't be 'Richard's Pizza.' It doesn't sound Italian; it doesn't sound intriguing; it doesn't sound different. Mario's had a certain air to it and was chosen."
The restaurant was an instant hit, both because of the original store's location and the novelty of the new type of fare it offered to the locals. Mario's Pizza was unique in that it used cheddar cheese as its main topping, a taste profile familiar to the local tongue rather than the traditional mozzarella, as well as a proprietary sauce made with eight diverse herbs and spices. According to Harford, responding to the Trinidadian predilection for spicy, bold, and hot flavors, continues to keep Mario's ahead of its competition. "Not being an international franchise, we are able to better cater to local taste," he explains. "We are able to tweak our formula for that purpose whereas our competitors make their pizzas to an international recipe."
After being open for a few years, the economy of Trinidad went south. When the original partners of the restaurant wanted to sell their shares, Harford senior made the decision to go it alone. "My dad took the biggest risk," says Harford, "because when things were not doing well, he decided to buy them out. As the sole owner, he continued to be the restaurant manager for the first restaurant and after two or three years, things started to turn around, and he decided to open a second store. And it was only after he opened his third store that it became a viable venture. Up until then, he ran the operation at a loss."
Mario's opened its 20th store in Trinidad, this past June, and Harford believes that there is room for more. The company would like to open another 10 to 15 outlets on Trinidad, and maybe one or two stores on the smaller island of Tobago. It also plans to franchise regionally throughout the Caribbean. At one time, there were franchise stores in Grenada and St. Vincent, but they closed when the Great Recession depressed tourism on those two islands. Harford would like to re-open them, as well as expand to Jamaica and Barbados. The grand plan is to become a major brand, some day, in both North and South America.
In the early days, Harford senior would go to the local markets every morning at 5:00 AM, to purchase fresh fruits and vegetables. Today, most of the company's raw materials are imported through local distributors who get their products from North America and Asia. The cheddar cheese comes from New Zealand. Mario's stores don't buy individually. "We have a central warehouse, and we also have a central production area, a commissary," explains Harford. "We produce certain items and we truck them out to our stores. Our menu is made up of three main items, pizza being number one. We also sell hamburgers, and we also sell oven-baked sandwiches."
In addition to seeking new locations both on and off Trinidad, Harford also says that the company is planning a major revamping of its menu, and enhancing its locations to keep them up-to-date. A few years ago, the company launched its social media platform in order to explore newer means of connecting with its younger market.
But it's unlikely that Mario's Pizzeria will be fiddling with its unique pizza recipe anytime soon, since its choice of cheese, spices, and variety of toppings have made Mario's the leading pizza restaurant in the country. And someday, perhaps, going out for pizza in the Caribbean may be as normal as it has been in the U.S., for so many years.
________________
AT A GLANCE
WHO: Mario's Pizzeria Limited WHAT: Trinidad's leading pizza restaurant chain WHERE: 20 restaurants on Trinidad, W.I. WEBSITE: www.mymarios.com
Miguel Moses –  A collection of seven retail stores in Trinidad, Miguel Moses has expanded its product offering to furniture, outdoor furniture, lamps, linens, bath, drapery, t-shirts, polos, and safety vests. Providing exceptional service to its customers continues to be the company's priority. – george@miguelmoses.com
Fresh Farms Limited – A cold storage company in Freeport, Trinidad. – vashapatties@hotmail.com
Alstons Marketing Company Limited – www.amcott.info
Elite Limited – pierregonsalves@gmail.com
House of Paper – f.ishmael@caribbeantissue.com
Nutrimix Flour Mills – www.nutrimixgroup.com/nutrimix-flour-mill-division
Holiday Snacks Ltd.  – www.holiday-snacks.com
A De Freitas Marketing – www.artiesmeats.com