Medical Disposables & Supplies Limited
Business Unusual
Business View Caribbean profiles Medical Disposables & Supplies Limited, a distributor of healthcare and consumer products.in Kingston, Jamaica
Medical Disposables & Supplies Limited (MDS) is a Jamaican-based distributor of healthcare and consumer products, with a catalogue that spans pharmaceuticals, vaccines, injectables, hospital supplies, medical disposable items, medical sundries, consumer products, and beauty items. MDS distributes its products to pharmacies, hospitals, doctors' offices, gas stations, gift shops, stores, and other retail outlets.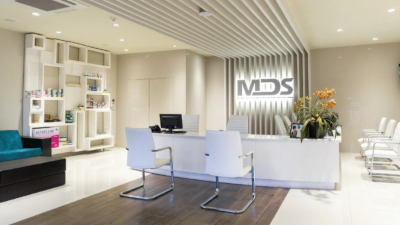 MDS was founded in 2000 by Myrtis Boothe, a registered nurse by profession whose business instincts were honed via an 11-year management career at one of the country's leading healthcare distribution companies where she was instrumental in establishing its Hospital and Medical division. "She ventured out on her own with few resources," says Kurt Boothe, Myrtis' son and the company's General Manager. "But because of my mother's experience in the industry, she knew what areas to target and what areas were manageable. She knew how to navigate."
That knowledge, coupled with faith and perseverance, as well as the vision of creating a company that would not only focus on patients' well-being, but provide unwavering personal attention to those served, and a non-negotiable mandate of never compromising on product quality, turned a one-woman operation, into what is today, a publicly-traded, family-run enterprise with a staff of 53 employees and a net profit of $84.6 million for the 2015 financial year on revenues of $1.2 billion.
When Medical Disposables & Supplies Limited began trading, the company specialized in medical and hospital supplies and disposable items such as surgical masks, gloves, tubes, gauze, and adhesive and other bandages. It later expanded into the distribution of pharmaceuticals and health and personal care items, and other consumer goods. Today, the company is a co-distributor of the GlaxoSmithKline, Dr. Reddy's and Bunny's pharmaceuticals and healthcare lines, and is also a sub-distributor for Cari-Med Ltd., Kirk Distributors, Consumer Brands Limited, and Smith Russell and Company.
In what Kurt Boothe characterizes as a "highly competitive environment," Medical Disposables & Supplies Limited likes to separate itself from the pack however it can. "I can quote our entire mission statement in three words," he says. "Be the best! We compete in every area possible, and the number one area is not necessarily price. We compete on quality across the board; having a quality product and having quality service. Also, we try to look for niches; we don't like to necessarily compete in a space where it's too crowded so we look for a niche. Sometimes we have to carve out a niche; sometimes you have to create your own destiny. We try to be innovative. Our mantra here at MDS is 'Business Unusual.'"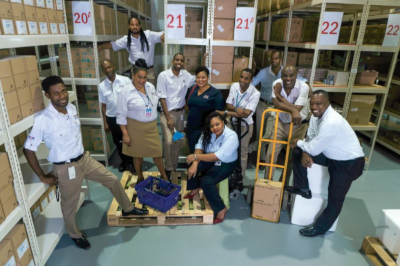 As the company grew over the years, it had to continually expand its warehouse and office space. It started out, literally, in the trunk of Myrtis' car, moved to her house, and finally into a standard office environment. "We were fortunate enough to be in the right place at the right time to get a suitable facility, which, at the time, we thought was too big, but we quickly outgrew that, as well," says Boothe. MDS has just recently moved from the Domes Business Complex in Hagley Park, where it maintained a suite of offices, to a new 27,000 square foot facility, nearby. "We're still completing the build-out," Boothe adds. "We've completed Phase One and are about to embark on Phase Two. This new facility forms a platform where we can be much more efficient and the storage is much better."
In addition to acquiring more space, Boothe explains that that the need for more operating capital prompted the company to list itself on the Junior Market of the Jamaican Stock Exchange in December 2014. "We grew mostly on debt and we wanted to deleverage and expand more through equity," he says. "The Junior Market provided an opportunity. And with the tax incentives, we figured it would be a fantastic opportunity to retool and catapult the company even further."
As MDS continues to grow, Boothe believes that, in a global marketplace, it is going to have to look beyond Jamaica for new markets. But he continues to place the company's highest priority on its employees and its many customers across the island. "Number one on my agenda would be to ensure that our people are well taken care of," he asserts. "Our people are our greatest asset and our greatest resource. And once we're taking care of our people – our MDS family – and our customers, it should automatically reflect that we're taking care of our shareholders. We're in the business of healthcare. Everything we're doing is caring for the end user, which are the patients, and our customers. Without your customers, you're nothing."
And, undoubtedly, Medical Disposables & Supplies Limited will continue to adhere to the ethos that has allowed it to survive and thrive through the years: doing "Business Unusual."
Check out this handpicked feature on CocoLaPalm Resort – Your Piece of Paradise.
WHO: Medical Disposables & Supplies Limited
WHAT: A distributor of healthcare and consumer products
WHERE: Kingston, Jamaica
WEBSITE: www.mdsja.com