Royal Castle remains dedicated to Trinidad & Tobago heritage.
It all started 46 years ago in a small storefront on Frederick Street in Port of Spain.
But it clearly didn't end there.
Instead, the local fast-food restaurant that opened with dine-in and take-out capabilities and a workforce of 12 has evolved into one of the most successful quick-service chains in the Caribbean and one of the largest employers in the twin-island nation of Trinidad & Tobago.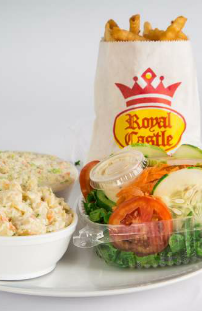 These days, Royal Castle employs more than 300 workers across 36 locations – including nine that are owned and operated by franchisees – and boasts an expanded menu that includes fish, sandwiches, burgers, salads, rotisserie chicken and beverages, all of which are presented in newly upgraded facilities or via drive-thru, home or office delivery.
Twenty-seven of the 36 locations are corporate-owned facilities, while four are franchised across Trinidad & Tobago and five more are franchised in the coastal South American nation of Guyana, about 600 kilometers to the south.
And while ownership has gradually transitioned away from the original family-centric blueprint of 1968, the existing leadership has stayed cognizant of the vital connection to the authentic island flavor.
"We always remained committed to our local culture and our local taste, thus the signature motto, 'Our Culture, Our Taste,'" said Sandy Roopchand, the company's managing director since 2005. "Royal Castle's success over the past 46 years is the fruit of creative vision, foresight, dedicated leadership and hard work.
"From the management team to the maintenance personnel, the company has always found innovative ways to ensure the highest level of operational standards and peak performance by aggressively pursuing and challenging ambitious strategies while consistently improving its product offerings. Royal Castle has been and continues to be recognized as a leader in the quick-service restaurant industry and the champion of the consumer.
"Our marketing strategy is to remind our people that we were born here in Trinidad & Tobago and we have established ourselves to be competitive in terms of the other leading international brands."
The company's spread across Trinidad & Tobago includes locations as far south as Point Fortin and Rio Claro, as far east as Valencia and Sangre Grande and throughout the north, central and east/west corridor. Its main operation for production and warehousing is in the industrial estate in Arima, while administration functions are housed in Chaguanas.
A continuing commitment to local farmers has yielded a corporate mandate that all sauces, seasonings, marinates and recipes are 100 percent locally sourced, and a state-of-the-art ensemble of freezers, chillers and refrigerated trucks ensure materials maintain their freshness throughout the process from production to delivery to arrival. All chicken served in the restaurants is locally produced, while all fries are imported from a world-class international supplier in Canada – with orders and deliveries charted six months in advance alongside projections that are plotted out for an entire year.
Additionally, Royal Castle has a long-standing partnership with a local recycling company that collects and makes use of waste oil as an environmentally friendly bio-fuel, its equipment is certified as energy efficient and the company is looking into partnering with several local farmers for their long-term sustainability.
"Royal Castle has built and maintained strong quality
relationships with suppliers to ensure consumers that all ingredients are of the highest quality and all products are competitively priced," Roopchand said. "All of our products are cooked fresh daily for sale and consumption. Food and health and safety standards are regularly reviewed to ensure highest quality standards are kept and maintained."
Along those lines, the company has also made investments to integrate industry leading machinery from well-known brands into its production operation, with an aim to generate energy savings thanks to high-efficiency heating elements and fast recovery. It has also incorporated technology into everyday office functions, where cutting-edge equipment is aiding with business analysis, inventory control, financial reporting and payroll.
An intention going forward is to fully integrate all restaurant locations to create a centralized hub where information can be made available on a real-time basis, which, Roopchand said, would allow enhanced monitoring and control over the remote locations to increase productivity and quality control, as well as security and data processing.
Additional funds, she said, would be directed toward brand enhancement and other internal improvements as well.
"We are currently investing in refurbishments to existing outlets as well as enhancing and rebuilding the image of the brand," she said. "We are also committed to providing bigger and better warehousing and storage facilities and bigger distribution fleet due to growth and expansion of the company. It is also our aim to bottle and package our famous hot sauce, which is synonymous with our brand."
Further separation from competition will come thanks to sound management principles, which include making the company a preferred destination for would-be employees.
"Under the current management, Royal Castle aims to reestablish its brand, which is already a household name, as a premium choice for employment and career development as well as the No. 1 choice for a quality quick-service dining and take-out restaurant experience," Roopchand said.
"We are in rare company with regards to 100 percent local quick-service companies and capable of generating acceptable levels of turnover sales and profits. This alone speaks to the dedication and magnitude of the management skill and expertise at Royal Castle."
AT A GLANCE
WHO: Royal Castle Trinidad & Tobago Ltd.
WHAT: Quick-service restaurant serving chicken, fish, sandwiches, vegetable burgers, salads, rotisserie chicken and beverages
WHERE: Headquarters in Chaguanas, 36 restaurant locations in Trinidad & Tobago and Guyana
WEBSITE: www.RoyalCastleTT.com