Bay Gardens Resorts
Another busy year in paradise
Business View Caribbean profiles Bay Gardens Resorts, a group of three unique and authentic Caribbean hotels, located in St. Lucia in the Lesser Antilles.
St. Lucia is a small island nation in the Eastern Caribbean. Today, the country, part of the British Commonwealth, is a world-renowned tourist destination, known for its quiet, volcanic beaches, quaint fishing villages, and the majestic Piton Mountains.
Located in St. Lucia's beautiful Rodney Bay Village is Bay Gardens Resorts, a collection of three unique and authentic Caribbean hotels that exude the island's trademark warmth and gracious hospitality: the four-star Bay Gardens Beach Resort & Spa on Reduit Beach, the tranquil Bay Gardens Hotel, and the intimate and romantic Bay Gardens Inn.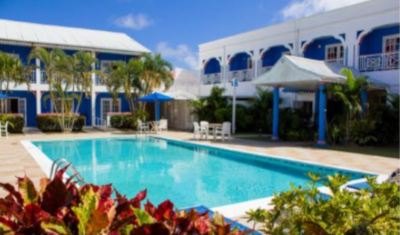 Bay Gardens Resorts began in the early 1990s, when two former school teachers, Joyce and Desmond Destang, consolidated their earnings from a fabric store and several residential and commercial real estate interests, and bought a property in Rodney Bay, on the northern end of the island. At the time, there was not a lot of activity there and only a few hotels. But the couple decided that since tourism to the island was beginning to increase, the timing was right to get into the business. So, in 1994, they founded the original 45-room, Bay Gardens Hotel which was subsequently expanded to its current 87 rooms.
In 2002, the Destangs acquired the property next door – a small establishment called the Palm Tree Hotel – which had gone into receivership. They rechristened their new purchase, the Bay Gardens Inn, and added another 33 rooms to their portfolio. The final addition to the Bay Gardens hotel chain was the addition of the Bay Gardens Resort and Spa, which the Destangs built and opened in 2007, on property they acquired in 1999, on Reduit Beach in the Gros Islet part of the island. With the establishment of this four-star hotel, and its 78 luxury rooms, the Bay Gardens group was complete and now totals 198 rooms along with 4 restaurants, 5 bars and 5 conference rooms.
Sanovnik Destang, the son of Joyce and Desmond, is the Executive Director of Bay Gardens Resorts, having taken over the family business in 2008 – just as the Great Recession was poised to wreak havoc on the tourist industry throughout the Caribbean. For the next few years, the resort lost money. But under Sanovnik's leadership, Bay Gardens ultimately returned to profitability using a combination of innovative online marketing methods and the targeting of specific groups of guests. It also began receiving more and more favorable recognition from travel sites and business groups, and today Bay Gardens is considered one of the premier, locally-owned hotels on St. Lucia.
Never content, though, to sit on its laurels, the Bay Gardens group is constantly updating, innovating, and improving its portfolio of guest services. The last time Business View Magazine spoke with Sanovnik Destang, he related how the Resort was getting ready to open a brand new water feature – Splash Island Water Park St. Lucia – designed and operated by his wife, Julianna Ward-Destang. We recently caught up with Destang to find out more about the water park and everything else that is happening these days at Bay Gardens Resorts.
"The water park opened in August 2015," he says, "and we had four thousand customers in our first month – locals, guests, and visitors from other properties. And it's pushing twenty thousand people since it opened." Destang remarks that the park has made the hotel a property of choice for the family market, while at the same time attracting adult groups who want to utilize the park's unique features for team-building exercises.
"This is not a normal water park," says Destang. "It's an inflatable, floating water park that actually sits on the water. And it's an obstacle course – monkey bars, trampolines, and all kinds of obstacles that you have to get through to complete the course." He remains somewhat surprised that the park is so unique to the Caribbean region. "There are 200 of them around the world," he muses, "but ours is the first one in the Caribbean. These parks are in Europe, they are in Asia, they're all over the place except the Caribbean where there's warm weather all year round."
The water park's success, though, is beginning to attract interest from neighboring locales. "My wife gets inquiries from Barbados, Turks and Caicos, Bahamas, Dominica, Grenada, Trinidad – all from entrepreneurs on different islands who have approached us to get information about the park because it's such an interesting idea," says Destang. "And she's adding a few pieces so it will be a lot larger, and she's also rearranging the configuration to make it even more interesting."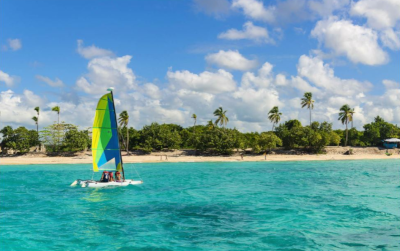 Destang also reports that the Resort is looking to add some additional rooms, perhaps by the fall of this year. "The Beach Resort has 78 rooms and that's where we're looking to do the expansion. The Hotel and Inn have 87 rooms and 33 rooms, respectively, and they're pretty much maxed-out; all of that property is utilized," he explains. "But in terms of additional room stock, the Beach Resort is where we have the potential to add 60 or 70 rooms, which would roughly double the property in size."
The new rooms will be called the Residence Club at Bay Gardens Beach Resort, and according to Destang, they will be more exclusive and offer more amenities. They will also qualify as an approved real estate investment project under St. Lucia's newly-launched Citizen by Investment Program, as the island becomes the fifth Caribbean nation, after Antigua and Barbuda, Dominica, Grenada, and St. Kitts & Nevis, to offer such an option.
Destang believes that the program is particularly attractive to people who are from countries with visa restrictions, such as Russia, China, and parts of the Middle East, "and some Americans," he adds, "perhaps, because of all the tax and other regulations, may want to become a citizen of another country and renounce their U.S. citizenship. That's not as common, but it has happened a few times."
Destang is not unaware of the Program's economic potential. "It's given us another opportunity to diversify our product mix," he says. "We've been selling time shares for many years and have three to four hundred owners, right now. And this allows us to get into another field of investment and another way to raise the capital needed to make this project a reality."
In addition to his duties running Bay Gardens, another hat that Sanovnik wears is the presidency of the St. Lucia Hotel and Tourism Association (SLHTA), the island's largest private sector organization whose members include hotels, restaurants, airlines, banks, tours and attractions, and destination management companies, among others.
He talks about some of the group's recent initiatives: "We have quite a few exciting projects that we're working on, which already have benefitted the industry," he begins. "One of the major ones of late is the Agricultural and Tourism Linkages Program. Agriculture was previously St. Lucia's mainstay which gave way to tourism. And for years, we sort of treated the two as separate and competing priorities, when, in truth, the two can work in harmony."
"The hotel sector is the agricultural sector's most profitable customer," Destang continues. "We pay more, pound for pound, than any other sector – private consumers and the supermarket chains – and we need a lot. And we're still importing a tremendous amount. So, our current project is focused on creating a virtual agricultural clearing house that allows the farmers to know what the hotels need and the hotels to know what the farmers have."
Within the first 24 hours of the clearing house's existence, Destang reports that Bay Gardens was able to free itself from having to import pineapples any more. "Because we were put in touch with a pineapple farmer we didn't even know existed and was producing seven times what we need. So we're already seeing that begin to bear fruit, no pun intended, and we're very happy with the results of that." He believes that the program will benefit the island's entire economy – local farmers will sell more produce and hotels will be better able to source local food that's fresher and organically grown, as well.
Finally, Destang talks about the Resort's Dine-Around Program – yet another service that the hotel offers, both for its own benefit, as well as for its eight restaurant partners. "We're not an all-inclusive property and people often don't want to go all-inclusive in a location like Rodney Bay where there are 40 or 50 dining options within walking distance," he says. "But we have noticed that people are looking for an all-inclusive option more and more; it's a common request because people want certainty in what they pay. We've always had an all-inclusive plan, but it hasn't sold very well. What allowed it to finally take off this year and increase by some 700 percent in terms of volume, was the addition of a Dine-Around Program, whereby people who book all-inclusive are actually able to dine at other restaurants in Rodney Bay, outside of the hotel.
"So, you book seven nights, and you get to dine out three nights. It's really just a different model of all-inclusive, one that is extremely rare. You don't often see hotels willing to share a portion of their all-inclusive revenues with anybody; they want to keep the guests in-house as much as possible. But we pay those restaurants to take the guests on for that night. It offers the guest more variety – there are Indian restaurants, Chinese restaurants, sushi, tapas, steak and seafood, French – all kinds of different cuisine from the eight restaurants that we partner with. And it's working exceedingly well. We're putting tens of thousands of dollars into the hands of these restaurants that have otherwise would not have gotten anything." As a final touch, Destang says that Bay Gardens Resorts offers complementary transport to any of its partner restaurants, upon request.
These synergistic relationships are what Destang would like to see continue in whatever form they might best appear. "It's a different model of tourism," he says, "partnering with other restaurants and local farmers in the case of our agricultural initiative through the SLHTA. It's more of a collaborative approach as opposed to a competitive one where I have to succeed at your expense. It's not necessarily like that. And we've seen that we can have a win-win situation where everybody benefits."
From a new water park, to a new citizenship program, to a new trade association initiative, and on to an innovative guest dining-plan, it's obviously been another busy year at Bay Gardens Resorts, as well as its neighbors and business partners on the island. And with Sanovnik Destang at the Bay Gardens and SLHTA helms, this coming year is likely to be no different.
Check out this handpicked feature on Whitter Village in Jamaica.
AT A GLANCE
WHO: Bay Gardens Resorts
WHAT: A group of three unique and authentic Caribbean hotels
WHERE: St. Lucia in the Lesser Antilles
WEBSITE: www.baygardensresorts.com