Valentines Residences, Resort & Marina
The heartbeat of Harbour Island
Business View Caribbean interviews Dean Spychalla, VP/Managing Director of Valentines Residences Resort & Marina, for our focus on Best of Caribbean Tourism.
Valentines Residences, Resort & Marina – what's not to love? Famous for its pink sand beach, turquoise water, and unmatched hospitality, this exciting luxury destination is, truly, the "Heartbeat of Harbour Island," Bahamas. Valentines shines as an upscale, boutique jewel of the "Out Islands," drawing visitors from around the globe for the pristine, natural beauty and mild climate – a true tourist mecca where romance is alive and blossoming.
Recently, Business View Caribbean spoke with Dean Spychalla, VP and Managing Director of Valentines Residences, Resort & Marina about the property's operations, innovations, and amazing success. The following is an edited transcript of that conversation.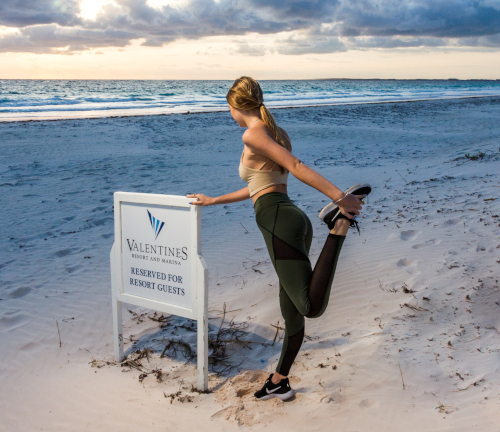 BVC: Congratulations to you, and the resort, on being the recipient of so many accolades. What makes Valentines so special?
Spychalla: "Thank you! We've been recognized by Conde Nast Travellers Readers' Choice Award as a Top Resort in the region for 2016, 2017, 2018 – as for 2019, we're working on it. Caribbean Journal and Caribbean Travel Awards recognized us as the Number One Small Hotel in the Caribbean. That was pretty impressive. In 2017, I was recognized as the Bahamas Hotelier of the Year by the Ministry of Tourism and the Bahamas Hotel & Tourism Association. I received a Cacique Hotelier of the Year for that. The Caribbean Hotel Tourism Association (CHTA), of which I am a Director, just recognized Valentines as the Number One in Sales and Marketing Caribbean 2018 at their annual general meeting in Miami – the Caribbean Hotel Industry Exchange Forum (CHIEF). Those are a few things we've achieved.
"I've come up with a wonderful marketing campaign, called "The Heartbeat of Harbour Island." Of course, it's a play on the word, Valentines. Because we're centrally located on Harbour Island, we're likely the busiest hotel here, people-wise. And we take walk-ins, which a lot of the other hotels don't, so that gives us an advantage. And our marina is located within a few minutes' walking distance of downtown shops. Harbour Island still has its cachet, that's what's unique. There are other upscale resorts on the island, but people can come to stay with us and enjoy dining in six or eight different restaurants, nearby. Not very often do you find a small hotel in the Caribbean where one can do that. I think that's a real draw."
BVC: Valentines has shown great revenue growth, is that being invested back into the resort?
Spychalla: "We are doing well. Our revenue since I started here in 2012 has increased from $3.5 million to about $8.5 million in 2018. And that's not bad for a 41-unit hotel, with 51 boat slips, and two restaurants – the Rooster Tail and the Boathouse. This year, during the off-season, we'll be upgrading the Boathouse to a fine-dining facility. Right now, it's an indoor, air-conditioned restaurant and the menu is the same as the bar and patio lounge, but as of next year, there will be a separate menu and new décor, wine coolers; it'll be kind of fun. Not sure what we're going to call it yet – maybe Cupid's? That would tie in with the Valentines theme.
"As far as the property's concerned, we have fitted out a new state of the art gym, including a Peloton cycle. We have a conference room that's second to none in the Caribbean. The conference table seats 20 with Zoom teleconferencing technology for crystal clear sound. It's very upscale. And with added seats, we can easily accommodate 30 people in the room. We've never gone after groups before, but this year, I've hired a high-powered Groups & Events Manager with fabulous hotel experience, who works for us exclusively in the U.S. She has a lot of connections in the industry and we've already started seeing some small groups. I want to do corporate retreats, small business retreats, activity themed, and maybe some religious retreats, family reunions – that type of thing. We're also having wedding business that we haven't done before – weddings up to 125 persons. So that's a great opportunity."
BVC: What is your target demographic?
Spychalla: "Valentines is a family-friendly resort, generally, with a lot of boaters. So we have different demographics that we have to satisfy. We have to take care of the owner of a 30-million-dollar yacht; we have to take care of their crew; we have to take care of the owners of the sport fish boats – those guys like to drink beer, eat hamburgers, and smoke cigars – so, that's the third demographic.
"And then we have guests who want to stay in the hotel. Some are high net-worth, world travellers and have high expectations; interestingly, it's the younger, professional guests who have the highest expectations, because they work really hard to save money for their vacation, and we have to deliver. The last demographic are the locals that live on the island. There are about 200 private homes on the island owned by ex-patriots. Some of those are rented, but we find a lot of those people visit our restaurants. And we also have our local residents who live here year-round that visit our restaurants. We have a lot of very different needs and we have to be able to keep everybody happy. So, it's a bit of a dance.
"During the high season, we employ about 80 staff members; and about 40 during the four-month non-peak season. There are also private businesses on the property that rent space from us and they employ another 20 staff members. So the campus is responsible for about 100 employees, which makes us the largest employer on the island."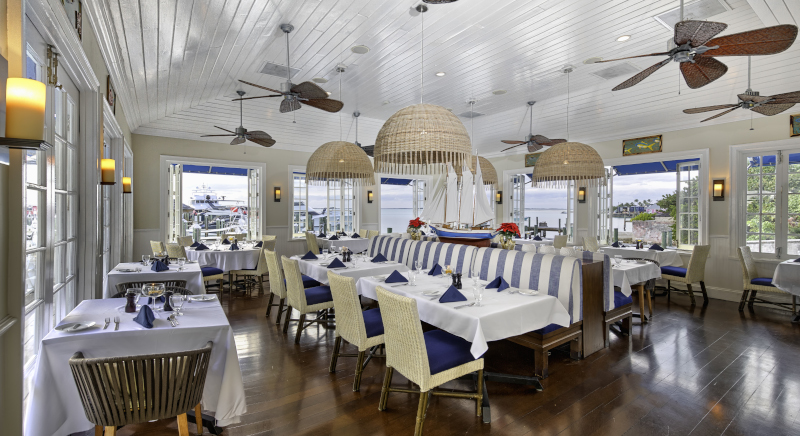 BVC: Are there any recent expansions, or plans to upgrade in the near-term?
Spychalla: "Last year, we incorporated a six-bedroom house into the campus. It was a privately-owned home on a corner of the property and we decided it needed to be part of the resort. So, we brought that in July 2018. It's called Sapodilla House and it's beautiful. (Sapodilla is a delicious Caribbean fruit.) We're also getting ready to do a Property Improvement Plan (PIP) – the resort's in great shape but maybe it's time to go a little more coastal and modern in our room décor. We've already redone the penthouse suite, as well as a concept room, and of course the Sapodilla House is done that way. So, over the next two years, we'll be doing that to the whole resort. We are a condo hotel; we own seven units outright; the others are owned by persons other than us. And so we have to get everyone on board. The condominium association is eager to go ahead with the PIP.
"In 2016, we introduced a two percent levy on dockage fees, which funds the Association of Bahamas Marinas (ABM) and there are several other marinas doing that, as well. I have yet to have a boat owner complain about that two percent once it's explained to them. The ABM's purpose is to effectively foster, enhance, and promote the general welfare, harmony, competitiveness, sustainability, and growth of Bahamas marinas and the related yachting and sportfishing industries. I was one of the Directors who put that together and I'm one of the largest contributors to the organization.
"I was also President of the Bahama Out Islands Promotion Board (BOIPB) for five years, until 2018, and I'm still a Director. I'm also Vice President of the Bahamas Hotel & Tourism Association. I'd like to give Kerry Fountain, Exec VP of Bahamas Out Islands Promotion Board a shout-out. He is a real mover and shaker – indefatigable. He's been instrumental in making all the new marketing trends and ideas available to member properties, of which we take full advantage. I don't know that we would be as successful as we are without the BOIHPB."
BVC: Are green initiatives a priority?
Spychalla: "The Bahamas has outlawed single use plastics – bags, straws, knives and forks, and take-out containers. That ban takes effect in January 2020 and we're well ahead of it. We've already sourced replacement products for those items, to include coffee cups. They are not on the prohibited list, but we have take-out coffee cups available for purchase that are made of compostable materials. We are committed to this. I think it's an absolute necessity that, certainly, the Caribbean Islands and tourism destinations that are on water must take heed. We can't have that stuff going into the ocean."
BVC: What is Valentines' vision for the future?
Spychalla: "We're on a path of continuous improvement. That will never stop. When we reach a bar, we raise it. The plan is to roll up our shirt sleeves and keep moving forward. In the last two years, we've created a magical boardwalk down to the beach and a beautiful, private beachfront area is being developed as part of our resort. A lot of people don't realize that, yes, we're on the harbor but only a short, five-minute walk away and you're on the fabulous pink sand beach."
AT A GLANCE
WHO: Valentines Residences, Resort & Marina
WHAT: A boutique resort and marina located in the Out Islands, Bahamas
WHERE: Dunmore Town, Harbour Island, Bahamas
WEBISTE: www.valentinesresort.com