The Wyndham Reef Resort – The Ultimate Island Vacation Experience
Business View Caribbean profiles The Wyndham Reef Resort , an all-inclusive, timeshare resort. Located on Grand Cayman Island.
The Wyndham Reef Resort is a full-service, all-inclusive, all-waterfront, timeshare resort on the eastern end of Grand Cayman Island. Situated on the "quiet side" of the getaway paradise, far from the bustling crowds of Georgetown and the Seven Mile Beach, Wyndham Reef offers its owners and guests a 1,600 foot stretch of white sand beach, and some of the best snorkeling and scuba diving in the Caribbean.
The resort opened in May 2000, with 60 suites, after its developer took the opportunity to transform a small hotel property into a timeshare operation that would feel more like a home away from home than a traditional hotel. Over the next several years, the resort's growing popularity as "The Ultimate Island Vacation Experience" prompted several expansions – 14 units were added in 2003; 36 more in 2006; and another 42 in 2008. "Since that time, we've expanded to 152 keys and we've got a mixed use of full ownership, quarter-shares, vacation club, and rentals," says Gaetan Babin, Wyndham Reef's Director since 2011. "People who are full owners have the opportunity to rent their units when they're not on the island through our rental pools," he explains, "and we have a dedicated section because we are primarily a vacation ownership resort. Our main area of business is private, vacation ownership."
According to Babin, 90 percent of the resort's members are American. "We are strong in Texas and the eastern seaboard – everything from New York, Boston, Chicago; we're strong in Florida. The other ten percent is divided between Canada and Europe," he says.
Babin was recruited by the resort's owners, who, up until five years ago, were managing and marketing the property. Initially, they worked in tandem with another club in Cancún, Mexico. They began to realize that the differences in resources and culture between Cancún and Cayman were stark enough to warrant the hiring of someone with experience in, and knowledge of, the Grand Cayman tourism marketplace. And since coming on board, Babin has recognized, and then reacted to, what he characterizes a major shift in that market.
"The Baby Boomers, who used to be our number one consumer, have now shifted to the Millennials," he declares. "The Millennials have actually passed Baby Boomers buying timeshare, in the last five years. The majority of our members are Baby Boomers, but they're already sold," he asserts. "So, it's a question of just servicing them and giving them value. But in order to grow, we need to attract new consumers. And, in order to do that, we've had to adapt very delicately, but, at the same time, in a very determined way."
Babin explains that, formerly, consumers would often buy because of brand loyalty, by what they'd done in the past, by what they could afford, and even by what their parents did. "Today's consumer is not like that at all," he claims. "They're smart, they're educated, and they've got to see unquestionable value. Today's consumers want to know the good, the bad, and the ugly, and they want to make their decisions based on facts. They expect 'authenticity.' That's a word that's easily said, but not easily applied in business. And people, today, don't like to be 'sold' as much as they like to be able to purchase if they choose to. So, a true, real, honest relationship between the consumer and your sales and marketing has got to be unquestionably authentic. You need a much more professional, educated, strong person in sales, as opposed to the slick timeshare person that we've all heard about. And if the consumer feel you're being truly authentic, they're not afraid to ask the right questions. And we do better, now, by following that important doctrine of talking to consumers very differently than in the past."
Babin also realizes that the new generation of young professionals is web-savvy. "So your website has got to be new, it's got to be modern, it's got to be attractive," he says, matter-of-factly. These days, marketing also has to be more precise and more scientific. "You have to know who your target market is and you have to be able to approach them, not only in demographics, but you have to market based on psychographics, which is lifestyle," he insists. "If we have a resort where we do a lot of scuba diving, a lot of water activity, we don't promote that at a library where people like to sit and read; we promote it at dive shows and sports shows."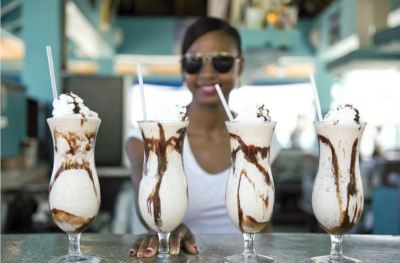 Of course, now that the resort is a Wyndham property, brand recognition has not completely disappeared as a marketing advantage, especially when it comes to rentals. "Wyndham has over 47 million loyalty members. And they're the world's largest hotel chain," Babin relates. "There are people who recognize the brand. And all the OTAs – Online Travel Agents, like Expedia, Travelocity, and so forth – they will recognize the name and they will click into our program." In addition, Babin says that the resort has high ratings from RCI and Interval International, the two largest timeshare exchange companies. "So, we're in a pretty good position," he adds.
Most importantly, Babin believes that the Wyndham Reef offers its members three essential values: Security, flexibility, and simplicity. "Having a guaranteed place that is their home; the flexibility of being able to exchange and trade their times and having us help them in their rentals; and the simplicity of our working for them without them feeling that they're on their own," he explains. "So, part of our mission is to provide a very secure, flexible, and simple product to use. And we live by that mission statement."
Finally, Babin gives due credit to the 100 employees of the Wyndham Reef Resort, who continue to provide its members and guests with "The Ultimate Island Vacation Experience." "We're in the people business," he says, "so it's not just the product and the consumer. You've got to have the right team. And we are at a stage, now, after five years, that we've got a phenomenal team at the resort – from management, to operations supervisors, front end staff, back of house, front of the house, sales and marketing. I'm actually at a stage now where I can just focus on members, which is great, because everything else is running. But you can't do that until you have the right team and we've got a phenomenal, phenomenal team at the Resort to offer our guests a true 'Cayman Kind' experience during their stay."
AT A GLANCE
WHO: The Wyndham Reef Resort
WHAT: An all-inclusive, timeshare resort
WHERE: Grand Cayman Island
WEBSITE: www.wyndhamcayman.com
RCI – Resort Condominiums International (RCI) was founded in 1974, by Jon and Christel DeHaan. Today, the company remains the leader in vacation exchange, offering the world's largest vacation exchange network and providing unrivaled products and services to enhance the vacation ownership experience. Through three core exchange programs, RCI Weeks, RCI Points and The Registry Collection, RCI helps its members take the vacations of their dreams and explore the world through approximately 4,300 affiliated resorts in more than 100 countries. Members can also enjoy other great deals on rental opportunities, cruises, and transportation as well as a host of other travel and lifestyle benefits through the RCI Platinum membership tier. – www.rci.com