The Flowers Group
Building Cayman since 1946
Business View Caribbean interviews Frank and Dara Flowers, Directors of The Flowers Group, for our series on Best Construction Practices in the Cayman Islands.
The Flowers Group is one of the oldest Caymanian owned and operated businesses. Founded in 1946 by Clarence "CL" Flowers, the company has diversified over six decades into a myriad of businesses primarily run by Clarence's three sons, Frank, Richard, and Clarence Bradley. Today, the Flowers Group embodies everything from concrete block manufacture, to polystyrene products, bulk and bottled water, aviation security and baggage handling, and real estate developments such as Cricket Square. It's a proud testament to CL's tenacious work ethic and simple philosophy: to be successful you have to foresee a need and supply it before anyone else; and you have to be the best.
At its very core, the Flowers Group is a good-hearted company with integrity in its DNA. When other block companies went out of business, instead of hiking up prices, they lowered them, always putting the customers and the Caymans first. While CL Flowers is no longer with us, his spirit lives on as the family business legacy continues to thrive and diversify. Sharing the Flowers family passion and drive is Dara Flowers – Clarence's granddaughter and a third generation Director of the company. Mentored by her father, Frank, Dara is up to speed on the ins and outs of all of its corporate divisions: Flowers Properties; Air Agencies; Flowers Bottled Water; Orchid Development; Flowers Air Dispatch Services (FADS); Flowers Aviation Security Services; and Flowers Block & Foam.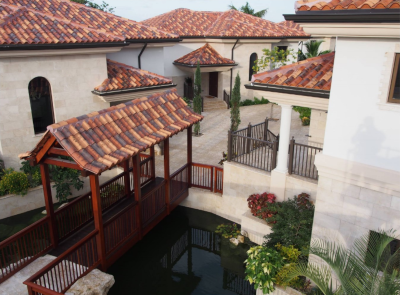 Dara reflects, "My grandfather, Clarence Flowers came from humble beginnings. He moved to the Caymans from Jamaica at the age of 13 and worked in various kinds of jobs. Later, after serving in World War II, he came back and decided to invest in a truck. That small trucking business evolved into helping with cargo handling at Cayman Airport. At that point, aviation was starting to take off and we had sea planes landing in the North Sound. Grandfather would pick up the passengers and their baggage and truck goods from the outer districts. That was the beginning of our current business FADS
(Flowers Air Dispatch Services)."
At the same time, Clarence had fallen in love with "Miss Jen" – Jen Hinds. He wanted to impress her by building the best house he could, but most of the traditional houses were wood, thatch, waddle and daub, and they just wouldn't stand up in strong winds and hurricanes – not good enough for his bride-to-be. When he discovered the government had a small block plant where they produced material to build the post office – the strongest building on the island – Clarence thought that would work well for residential construction. So, he proceeded to build a house for his beloved, one block at a time, using a hand-press machine. His days were spent at the trucking company, and early mornings and late nights building blocks. It took years to finish the home but, in the end, Jen loved it. And people realized it was a good, strong idea. So, he went into production commercially, and the concrete block side of the business was born.
Frank Flowers recalls, "Our water business started back in the early 1950s, because there was no drinking water readily available here and people had to catch water in small cisterns when it rolled off the roof and store it. The Governor's Harbour was meant to pioneer tourism here on Seven Mile Beach. But they couldn't get it started because of the water issue. At that time, they were building the airport and nearby there was a fresh water pool. My Dad told Governor's Harbour they needed two cisterns – one for the slopping and showering. And he had a 500 gallon tank he could use to truck potable water in for drinking. The water business kept expanding and, in the early '70s, Dad helped found the Cayman Water Company. They were responsible for the piping at Seven Mile Beach, and later on the government brought pipes from town. In 1974, Flowers Bottled Water was formed, and my brother, Richard, runs that division."
With growing tourism in Grand Cayman, there came a need for airport security. Dara notes, "Several international airline carriers were using the airport, so we were loading and offloading bags – all part of my grandfather's legacy. In the '80s and '90s, we started updating the concrete block making side, and expanded to a larger, purpose-built site – the most modern plant in the world for its time. In 1995, we went into a very interesting product area called insulated concrete foam (ICF) blocks and opened a foam manufacturing facility. That also tied into our building division, offering people a different product range option for their construction."
During that time, Clarence and his sons were quietly acquiring land in central George Town. Their first building, constructed in the late '80s, later became the Cricket Square Development, which now has several office complexes. The largest commercial office space in the Cayman Islands, "The Sixth," is currently being built. It's a beautiful, modern, energy efficient building constructed from ICF, and is expected to open in August 2018. Cricket Square is a product of Orchid Development, also a Flowers company, run by Clarence Junior.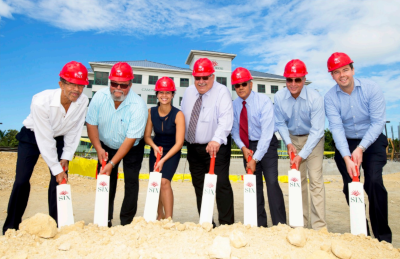 Last year, The Flowers Group acquired another company, Air Agencies, which does full passenger and ground handling services and private charters. In total, the Group has 200 employees in its various divisions. As manufacturers and retailers for the construction industry, they manufacture everything locally, using locally sourced materials if available, and sell their products without distributors.
"We service people from every aspect of life," says Dara. "Whether it's on a plane at the airport, building your first home, or a multi-million dollar development, even the water you drink, we feel a social responsibility to our island and our customers. It's a small island but we do have competition in every sector. The best way to combat that is to provide the best service you can, be customer focused, and have reasonable pricing. If you don't have consistent good service and good pricing, reputation only takes you so far. Every single day, you have to work hard and earn that." Frank adds, "Complacency is the biggest downfall. Taking your customers for granted – you never do that."
The annual Flowers Sea Swim celebrates its 26th year this summer.  Dara explains, "My father was an injured marathon runner and he was looking to get into a different sport. He swam his first Sea Swim, fell in love, and decided he wanted to put one on. Originally, the Sea Swim just donated to Cayman swimming programs but, after Hurricane Ivan hit Grand Cayman so badly in 2004, we thought we needed to make it a more community-focused charity effort. That year, the Sea Swim money helped cover a year's living expenses for three hurricane-ravaged families with the "Live Free for a Year" campaign. Every year since, the Flowers Sea Swim has given back through wonderful local charities, including Big Brothers, Big Sisters, Habitat for Humanity, and Feed Our Future.
"This year we are pleased to partner with the Cayman Islands Crisis Center. Our goal is to raise money for them. In addition, all the products that Flowers makes, we will donate free towards them constructing a purpose-built facility, because there are a lot of abused women, children, and men in our community that need support. So, we're excited to be a part of that initiative."
The Flowers Group are members of the Chamber of Commerce, the Cayman Islands Tourism Association, the Aircraft Handling Association, and the National Concrete Masonry Association, and they value every single customer – whether you're buying one single block or tons for a huge development. On the manufacturing side, the focus is on recycling, reducing carbon emissions, increased efficiency in production, and figuring out how to be greener. Last year's rebranding of the company was a fun exercise, especially changing 20-year-old logos. They also implemented a new website that's more user-friendly and interactive for the customer, with the divisions separated to easily identify different product lines.
Five years down the road, Dara acknowledges, "We are definitely looking at major expansion opportunities; continuing the succession planning so we remain viable and stable in the future; and increasing efficiencies so we can pass those on to our customers. We're always looking for talent, and we want to make sure our team feels valued. If a company's going to get bigger, you need to have good systems in place to manage your talent and your team.
"It's a blessing and a challenge with a family-run business because it's a very personal level of responsibility. I know everybody's story, and their family, and every day you get up and feel you're working not only for yourself and your business, but for your team, as well. We never want to lose sight of that. We have an open door policy – people can come by and speak to us. We really try to make them feel part of this family. It's a little like home."
Check out this handpicked feature on Arch and Godfrey in the the Cayman Islands.
AT A GLANCE
WHO: The Flowers Group
WHAT: A legacy of family-owned construction businesses
WHERE: Grand Cayman, Cayman Islands
WEBSITE: www.flowersgroup.com

Fox Blocks – www.foxblocks.com
Fox Blocks back up our products, support service and delivery that builders, contractors and designers expect. In 2006 after 20 years of producing all brands of ICFs, Airlite Plastics introduced the Fox Blocks ICF brand to the market with the latest design for energy efficient, resilient and durable construction products.