The Curaçao Hospitality and Tourism Association
For a different Dutch Caribbean
Business View Magazine interviews Miles Mercera, President of CHATA, as part of our focus on best practices in Caribbean tourism.
The Curaçao Hospitality and Tourism Association was originally founded in 1967 as the Curaçao Hotel Association by a group of hotel owners who saw the need to develop an organization that could represent their needs and agendas. At the time, there was no official tourism board on the island and only about 500 hotel rooms. In 1982, the Association's bylaws were amended to allow the participation of non-hotel tourism partners, and its name was changed to the Curaçao Hotel and Tourism Association. In 1998, the name was changed, again, to the Curaçao Hospitality and Tourism Association (CHATA), now representing the entire hospitality and tourism industry in Curaçao.
"It started off as a vehicle to represent the interests of the private sector, and throughout the years, we have been adding several activities next to our core business, which remains advocacy and lobbying on several fronts with the government and stakeholders," says CHATA's President, Miles Mercera. "Today, there are over 4,000 rooms within the Association; over 220 members; and a room capacity on the island of about 7,500, of which the majority that we represent are the larger properties and boutique hotels."
The Association's membership includes not only hotels and apartments, but also airlines, car rentals, restaurants, tour operators and destination managers, attractions, the airport, the ports authority and ports services, industry and trade developers, advertising and publishing companies, banks, insurance firms, training and consultancy entities, resort developers, dive operators, shops, and other tourism related businesses. Its mission is to "deliver a visible, leading, and effective marketing contribution towards a vibrant and sustainable Curaçao tourism, hospitality product."
Mercera became the President of CHATA in January 2017, and under his tenure, the Association has gone through a major restructuring. "We did an overhaul of our bylaws," he begins. "We changed the structure in terms of representation on our Board. Because there is a growing demand for more hotels on the island, we have changed the structure to give more members and more types of members more voting rights. Instead of the large businesses that traditionally built on the island, we've seen growth in the past two years of a lot of small, boutique companies being built – a small restaurant, a small dive shop. We've granted them a special fee to join the Association, but also special voting rights so they can also have a voice within their smaller membership category."
In addition, Mercera says that the Association has become "more vibrant, more outgoing, and more outspoken. Also, we have added many marketing and product activities to bring more value to the membership," he adds. "By organizing more activities, you are more visible and sharing industry news and insights and doing more analysis and research has triggered more interest. We have developed partnerships, especially with the media community, to share the tourism message. Over the past three-and-a-half years, we have invested heavily in our online presence – social media and our website – talking about different things of interest to the tourism industry."
"The Association is also in partnership with the Tourism Board, that is responsible for the destination marketing," Mercera continues. "Whenever there is the opportunity for the Association to tag along or to join a trade show or conference where the Association can represent its members, where we see a value connected to it, that's where the Association also participates. Overall, we try to visit at least one major conference or trade show within each country of focus, per year."
Historically, the majority of visitors to Curaçao have come from the Netherlands. "This has to do with our natural ties to Holland," Mercera explains. "For a Dutch traveler, it's basically a second home; it's the same language, and it's easy for them to visit here. You have flights three times a day direct from Amsterdam to Curaçao, which makes it very convenient to visit the island. In the past, the second largest market used to be Venezuela, but due to the economic situation in Venezuela, we have seen a strong decline in the past two years. The U.S. is now the second largest, following the Dutch market. And we have other markets: Germany, Colombia, Brazil, and Canada, which is growing steadily."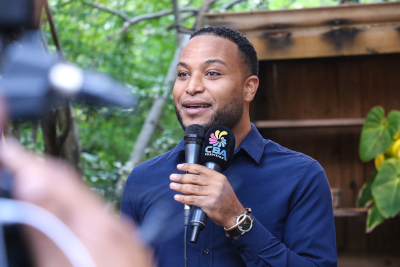 Mercera admits that even though tourism contributes nearly 18 percent to the island's total economy, there are still many challenges facing the industry. "We understand that for a first-time Caribbean traveler, Curaçao is not a top-of-mind destination, so it's a challenge to educate and inform the international consumer into why Curaçao should be on their list.
Another challenge is convincing the foreign investment community to develop projects on the island. "We are seeing a trend, especially in the high season, where we are running out of rooms to sell," he remarks. "So, for us to be able to grow the tourism industry to the numbers that we hope to, we need to build additional room capacity on the island." In order to attract those investors, Mercera believes that the country needs to make it easier for investments to take place by creating the right kind of incentives that will make property development more attractive.
A third challenge concerns human capital development. "Because of the growing demand, we need more people to work," he states. "But there is a lack of school programs for the future workforce, and it's a challenge to find adequate educational systems where tourism is being taught. We need to grow our local base of talent into passionate tourism professionals in different fields – not only within the operational side of the tourism industry, but also on the strategic side."
Still, Mercera believes that the industry has enormous opportunities for growth. "We only get about 60,000 Americans per year," he reports. "That's what another Caribbean destination would get in two or three weeks. So, there is still an opportunity to position the island and create the Curaçao brand. The island has it all – beaches, diving, culture. It's mostly boutique -oriented, with a lot of smaller scale properties. It's really an island of its own in terms of its offerings and images."
In fact, recognizing the emerging opportunities, in 2014, the Minister of Economic Development and the Curaçao Tourism Board commissioned the Dick Pope Sr. Institute for Tourism Studies (DPITS) at the Rosen College of Hospitality Management at the University of Central Florida to develop a Strategic Tourism Master Plan 2015-2020. The purpose of the Plan is to design a blueprint that guides and directs Curaçao to convert itself to one of the premiere Caribbean destinations by 2020.
The Plan contains a value proposition anchored in the notion: "Curaçao: a Different Dutch Caribbean." This proposition offers tourists a "new" destination brand – still maintaining the Caribbean's traditional SSS (sun, sand, and sea) seasoning, while promoting the island's safety, stability, organizational prowess, and, finally, its character as a destination finely spiced with a unique blend of eclectic cultures. "Curaçao: a Different Dutch Caribbean" aims to provide the impetus to generate nearly 4000 jobs, germinate two percent real annual economic growth in the first two years, and close the RevPAR (Revenue per available room) gap between Curaçao and the Caribbean region from the existing 35 percent to less than 10 percent by 2020.
And Mercera, for one, is on board. "We can remain traditional, or we can try to be ahead of the game and identify opportunities where Curaçao can be a leader in the Caribbean in terms of the types of offerings for the new type of traveler that is looking for the experiences that Curaçao is known for," he declares. "So, we have to remain focused and stay true to the core business of the Association, while also remaining relevant."
Check out this handpicked feature on the Belize Tourism Industry Association.
AT A GLANCE
WHO: The Curaçao Hospitality and Tourism Association
WHAT: A trade association representing the Curaçao tourist industry
WHERE: Willemstad, Curaçao
WEBSITE: www.chata.org