How many companies does it take to change a light bulb?.
According to Jim Reid, the Founder and Chairman of Caribbean LED Lighting Inc. in Barbados, the Caribbean region has some of the highest electricity costs in the world – largely due to most of the islands' dependence on expensive and imported fossil fuels. At Caribbean LED Lighting, he and his team of engineers, production workers, marketers, and technical support people are on a mission to bring those costs down – way down, if at all possible.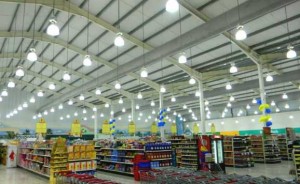 In 2011, Reid chose Barbados to launch his company because he realized that the region had a dire need for technologies that would help reduce its consumption of hydrocarbons for the generation of electricity. "Electricity is generated through oil," Reid explains, "and of course, we all know what happens with oil. It goes up and down, but generally trends upwards. LED technology is one of the fastest and most effective ways to reduce consumption. Energy savings on LED can be up to 90 percent of energy consumed. We had the technology. We were looking for a market for it. And that's why we came to the Caribbean."
LED – Light-Emitting Diode Lights – are energy savers. Traditional light bulbs generate a lot of heat while they're generating light. That heat is useless in terms of the bulb's main function, which is to provide illumination, but it still uses up a great deal of electrical energy, nonetheless. In contrast, LED lighting runs at room temperature. More important, LED lights have a much longer life span. Most LED products have a minimum 50,000+ hours rating, which means they could last for over 10 years depending on usage. Caribbean LED Lighting produces a wide variety of leading edge, LED lighting products – bulbs, tubes, flood lights, high bay ceiling fixtures, flat panels, and wall packs – as well as other energy saving products and services.
Starting with only two workers, Caribbean LED Lighting now has 40 employees, and continues to recruit talented people. "The business is growing very fast," says Reid. "We've seen double-digit compound growth since we started. We've got an 8000 square-foot factory and we've just taken on another 4000 square feet, next door. We've just opened up a new production line for new products, so we're adding products to our portfolio on a fairly regular basis. We have some really exciting products under development and some state-of-the-art LED lighting technology products that we're developing and just about going into production."
Today, Caribbean LED Lighting provides its lighting solutions throughout Barbados as well as to countries across the Caribbean and Latin America, and as far as the United Kingdom and Canada. It has distributors on St. Thomas, St. Lucia, Trinidad, St. Kitts, the Turks & Caicos, Puerto Rico, and Suriname. "Our main market is the Caribbean region and Central America, particularly the 14 countries of CARICOM. We've also exported to the U.S. and we have plans to open up a manufacturing facility, later this year, in Canada to serve the North American market."
The company has both commercial and residential customers. "Our initial customers were business customers – large footprint customers with large premises and large electricity bills," says Reid. "So, we started off with the big guys and then we attracted the small business-size enterprises, and then the residential side. People working in those large companies saw the benefits of LED lighting in terms of improved lighting and when the managers talked about the money they'd saved, they wanted it in their homes, too.
Reid gives some examples of how his company's products are designed to be retrofitted into existing fixtures as well as to be much more energy-efficient: "We can replace a four-foot fluorescent tube, which consumes about 42 watts of electricity, with an 18-watt LED tube – that's been one of our biggest sellers. An A19 light bulb replaces a 60-watt incandescent lamp with a six or seven-watt LED lamp. Halogen lamps – replacing 50-watt halogens with 5-watt LEDs – that's where you get a lot of the 90 percent energy savings." Caribbean LED Lighting also offers financing for companies that wish to purchase its products. "And in every single case," says Reid, "the savings have been greater than the cost of financing, so it's been a cash-flow positive option for customers.
Reid believes that his company stands a better chance of gaining and retaining those customers than the competition. "The competition we face, predominantly, is from lesser quality products imported directly from China. In some cases, we don't know how to rate them and quality warranties are dubious. So we compete on quality and we compete on warranty – we offer up to a five-year warranty. And then, with a four-year track record, we can measure warranties that are being requested and it's very, very low; so we know our quality's right. We're building a brand and people feel comfortable with a brand they know and trust. Our cornerstone is starting off with the highest-quality products at the best possible price. In any market, you'll always get competition and you can always find a cheaper product, but we doubt you can find a better product."
As the four-year old company grows and matures, so does its innovative technologies, Reid elaborates: "We're developing a renewable energy division. We've pioneered the use and application of hybrid street lights, where you have a wind turbine with solar panels driving the street light and we found with that, there was excess energy, excess electricity which we were dumping into the ground. So, then we rigged up electric gates and closed-circuit TV cameras to run off that, and we still had excess energy. Then we developed base-charging units where students could re-charge their mobile devices for free. We actually installed this at the University of West Indies in Barbados and in Trinidad. That was patented and it's the first of its kind in the world. And now we're taking that technology off of the street light and putting it on buildings. We're offering an off-grid, renewable, energy solution – a hybrid solution of wind turbine and solar panels."
Reid's ambitions for creating a sustainable energy future for the islands are grand: "We want to work with the Barbados government, and other country's governments, towards a hundred percent renewable situation. Barbados can go a hundred percent renewable through wind, solar, biomass, and waste energy, but the key to it is reducing consumption to make those technologies viable and affordable, quickly." He explains how the savings on energy are possible: "Japan, following the Fukushima nuclear disaster, shut down all their nuclear electricity generating plants and went back to oil and coal. The cost of energy went through the roof. So, the government said 'We've got to do something.' So they came up with a plan – they installed 73 million LED lights. They saved $8.4 billion USD in two years by doing that. So that's a model that can be easily replicated across the Caribbean and the quickest way to reduce your energy consumption is through lighting."
Will Reid's goals meet with success? "It's not a tough sell; people buy into it conceptually," he explains. "The issue is, most of the governments in the Caribbean are broke; they're financially stressed. The payback period is fairly short, but it's just getting that initial investment. So we're working with some finance houses to help out – organizations such as the Caribbean Development Bank, the Inter-American Development Bank, and the European Union are being instrumental in making grants to facilitate energy efficiency and renewable energy. So these entities have a major part to play in moving the economies forward in the Caribbean. And if they do become energy-independent, the whole business model and sustainability model of the islands changes overnight."
With Caribbean LED Lighting helping to lead the way, the region's switch to an affordable and sustainable energy future is entirely possible. And if Caribbean LED Lighting's vision becomes reality, it will finally answer the question that, when all is said and done, it only takes one company to change a light bulb.
________________
AT A GLANCE
WHO: Caribbean LED Lighting Inc.
WHAT: Manufacturer of LED (Light Emitting Diode)lighting products. WHERE: St Michael, Barbados
WEBSITE: www.Caribbeanledlighting.com