Diamonds International
The Caribbean's Number-One Fine Jewelry Retailer
Business View Caribbean profiles Diamonds International, an international jewelry manufacturer and retailer. Headquarters in New York, NY.
Diamonds International is a privately-owned, international jewelry manufacturer and retailer. It was founded by Morris and Albert Gad, the children of David Gad, an Israeli immigrant to the U.S., who had built a successful diamond trade business some years before. The two brothers, and partners, Wendy and Abe Tarapani, began their company as a wholesaler to jewelers in the Caribbean. They opened their first store on St. Thomas, in the U.S. Virgin Islands, in 1987.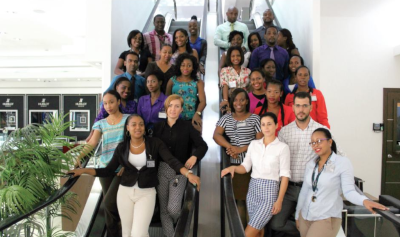 Over the next several years, the company expanded all across the Caribbean and as far as Skagway, Alaska. Today, Diamonds International has over 3,500 employees at 130 stores throughout the Caribbean, Mexico, and the United States under its corporate label, which also includes Tanzanite International, DI Watch & Design, and Tequileria International. The company sells diamonds, tanzanite, high-end watches, semi-precious stones, and fine jewelry of all kinds: rings, earrings, bracelets, necklaces, pendants, and accessories. It bills itself as "the largest duty-free jeweler in the world."
Guy Regev is the Managing Director of Diamonds International in Jamaica, one of four outlets on the island. Regev's first two stores opened in 2011 at the newly renovated Royal Caribbean cruise port facility and during 2012 and 2014 he opened 2 more outlets in Ocho Rios. He explains the Diamonds International business model: "The concept behind the company in Jamaica, and in general, is we put our stores in the cruise ship ports where all the big cruise lines are docking. When the passengers disembark they come into our stores. We do business with hotels, and sometimes with locals, but the idea behind the company, and 99 percent of our business, is coming from the cruise ships. We are always the number one recommendation for diamonds and jewelry on all of the cruise lines. "
Regev also touts Diamonds International's other advantages with regard to the competition: "We are always the biggest, as far as square footage. We always have the best locations within the ports and the most beautiful stores. We have the best brands, the biggest variety of diamonds and jewelry, and we carry the biggest and most famous watch brands. And if somebody asks me to buy a loose diamond, I can show him over 350 options. The magnitude of the business is crazy."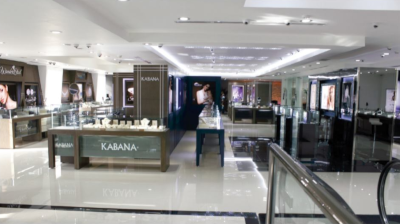 Diamonds International is also one of only about 87 worldwide "Sightholders" of the De Beers Group, which sources and sells 35 percent of the world's diamonds. "When you're a Sightholder," says Regev, "you have the opportunity of buying your diamonds straight from De Beers. This is a huge benefit because when you buy straight from the source, there are no middlemen." In order to become a Sightholder, which is really a preferred customer, a company must commit to buying a certain amount of diamonds every year and obey certain other policies and guidelines set forth by De Beers, including the implementation of best business, social, and environmental practices. In addition, Diamonds International must abide by the Clean Diamond Trade Act, and be in compliance with all laws and regulations that ensure that its diamonds are 100 percent conflict free.
According to Regev, Diamonds International's plan for the foreseeable future is simply to open more stores under its corporate label, whenever a good opportunity arises. Regev believes Jamaica to be an island steeped in potential for growth and he hopes to expand on the island soon.
David Gad's children, Morris and Albert, the founders of Diamonds International, have fulfilled their father's legacy by building a thriving jewelry empire that he helped enable with his seed money, connections, and guidance. And perhaps most important was his inspiring directive to them: "Believe," he said. "Only you can hold yourself back."
Check out this handpicked feature on The Bonaire International Airport.
AT A GLANCE
WHO: Diamonds International
WHAT: An international jewelry manufacturer and retailer
WHERE: Headquarters in New York, NY
WEBSITE: www.diamondsinternational.com