Exceeding customer expectations has this Caribbean company flying high on success
It all started in 1954, with a small catering business at the Crane Hotel in Barbados, seven miles from the airport. Fast forward to 2015. Goddard Catering (Barbados) is now a key part of the Catering Division of Goddard Enterprises Limited – a group boasting four major divisions operating in 30 countries.
The Goddard Catering Group is a leading provider of airline, industrial, and event catering, and operates airport terminal concessions and restaurants in the Caribbean and Latin America. Its catering arm, GCG Events, specializes in major sporting events and corporate functions. The Group is also the primary supplier of catering for corporate jets in the Caribbean. It employs over 3500 people – more than 50 percent of the total Goddard Enterprises workforce.
Goddard Catering Group (Barbados) currently services all major airlines, including British Airways, Virgin Atlantic Airways, Thomson Airways, TUIfly, Condor, Thomas Cook, Air Berlin, VARIG, USAir, and Delta Airlines.
General Manager, Cary W. Tulloch, oversees Goddard Catering Barbados operations, which are run from a modern and fully HACCP compliant facility that meets or exceeds local and international standards. Financial Controller, Kay Leacock, joins Tulloch in sharing insights on past and present successes, along with future goals of this outstanding company.
Right Place, Right Time
"Our catering operation in Barbados began because the market opened up and we were there to capitalize on the opportunity that presented itself," Leacock explains. "Because it was not previously done by anyone, and we had the resources available, we could do it. We now have about 200 people working for this entity."
Coordination of companies that fall under the Goddard Catering Division take place at the Head Office in Florida, overseen by Mr. Stewart Massiah, the Divisional General Manager for the Catering Division of Goddard Enterprises Limited. Barbados has its own central office with operations housed in one primary facility. Leacock notes, "We also have four terminal concession outlets located at the actual airport. Three inside the airport in the departure lounge are for travellers, only. And we have one on the land side, which is available to everyone."
Revenue for the Goddard Catering Barbados sector comes from three areas:
1. Airline catering
2. Terminal concessions
3. Event catering to local functions
The overall earning split reveals that airline catering brings in over 90 percent of total revenue – a statistic that highlights the lucrative nature of this niche market, as well as the achievements of a well-managed company.
Tulloch stresses that quality control is of supreme importance. "We have partnerships with both our local and overseas suppliers to ensure that our customers get the best quality at the best price, consistently. We also audit and work with our suppliers to ensure that their operations and product are up to the stringent standards of the industry."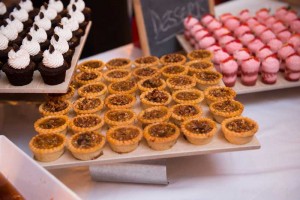 Since there are competing food caterers in the events and terminal concessions sectors, how does the company differentiate itself in the marketplace? Tulloch says, "Our event catering business is marketed through various avenues: ads in popular magazines and catalogues, on our website and social media, e-mail blasts, and targeting of specific clients through direct approaches. Our delivery vans are liveried in our colors, logo, and contact information. We also had a large, high-end function late last year to showcase what we can do."
What sets the company apart from the rest is its capacity to cater large functions. Tulloch points out, "We not only have the resources of an Executive Chef at our company, but we can draw on the creativity and expertise of all the chefs throughout our 23 locations in the Caribbean and Latin America. We are also able to send our staff to the major food shows and event catering conferences to keep us on the cutting edge of the industry."
Going for the Green
Green initiatives are a driving force in the company's expansion and remodelling efforts. They are currently upgrading their main facility by installing a solar photovoltaic system that will cover approximately 30 percent of the electricity demand. Other eco-wise solutions include a switch to LED lighting, and recycling of cardboard boxes, oil, plastic, and pallets.
Why such a high priority on going green? Leacock says the reasons are two-fold: "First is the cost factor – cost savings we are looking to gain, especially from the LED and photovoltaic systems. Secondly, it is important to our customers. And that makes it even more important to us, because they want to be sure the company they are dealing with is environmentally-friendly."
On the horizon…
The goal for the future is to have Goddard Catering Barbados expand – doubling in size or more. Tulloch is stoked with anticipation, as he says, "In the next five years, we plan to continue to meet and exceed our customers' expectations on the airline catering side, while becoming the number one event catering company in the country. We are also looking at any opportunities to expand into related businesses."
High aspirations and expectations have served this company well for 60 years. With that kind of wisdom and vision, there's nowhere to go but up.
________________
AT A GLANCE
WHO: Goddard Catering Group (Barbados) Limited: A Division of Goddard Enterprises Limited WHAT: Leading provider of high quality catering services for airlines, terminal concessions, and special events in Barbados WHERE: Catering Division Head Office in Cooper City, Florida
Regional Office located in Barbados
WEBSITE: www.goddard-catering.com
www.gcg-events.com