Puerto Seco Beach: A Guardsman Hospitality Property
More than just a beach
Business View Caribbean interviews Laura Heron, GM Guardsman Hospitality, & Rory Baugh, GM Puerto Seco Beach, for our focus on the Best Attractions of Jamaica.
Not your grandmother's beach! Revitalized Puerto Seco Beach sits on 10 acres of beautifully landscaped property and boasts a long stretch of pristine white sand on Jamaica's picture-perfect north coast. Unlike the Puerto Seco from years ago, the newly renovated development has been executed by Guardsman Hospitality, a subsidiary of the Guardsman Group of Companies, to provide an exquisitely appointed beach attraction with a myriad of activities on sea and land. Their well-trained and experienced team of professionals cater to individual tastes for every age and budget, promising world-class service and a must-go experience for one and all.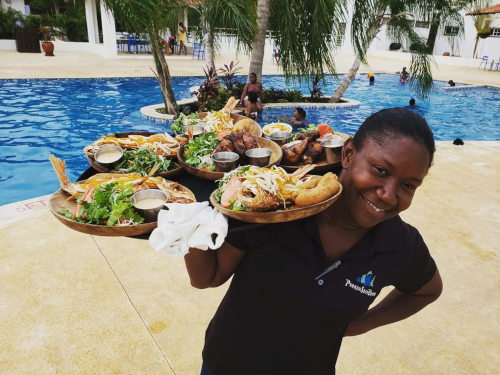 Laura Heron, General Manager Guardsman Hospitality, explains, "While the core business of the Guardsman Group is security services, the Chairman of the company had an interest in veering off into the hospitality industry. And, really, that comes from his personality – he likes to entertain, he likes beautiful things, he likes to build and create. So, in 2014, he reached out to me to join the company to establish this arm of their group. He also had a love of training animals and, as a result, he became the benefactor for the national zoo of Jamaica. He actually took it over around 2011, and since that time has transformed it into the beautiful Hope Zoo Jamaica."
Heron's first project as part of the team was the redevelopment of an existing attraction at Ocho Rios into Konoko Falls and Gardens. The iconic property was extensively renovated and marketed, and last year, took the award for the Jamaica Tourism Best Attraction for 2018/19. Visitor numbers have almost doubled each year since 2014, which might account for the significant amount of applause in feedback on TripAdvisor.
Development of Puerto Seco Beach began in 2016. Once a renowned public facility owned by the Jamaican Bauxite interests, the 10-acre property (buildings and a thousand feet of beach) had deteriorated over the years. So, Guardsman Hospitality saw it as a major opportunity to develop a beach attraction from scratch. The project started in January 2016, and was completed in March 2018. Among the new inclusions were food and beverage facilities, state-of-the-art washrooms, a comprehensive water sports facility, an aqua park that floats on the ocean, and Dolphin Cove will soon be part of the ocean offering, as well.
Heron acknowledges, "It's a lot more than a beach – we installed a 150-ft.-long swimming pool and provided what, I believe, are upscale amenities, not only for the general public, but we also reached out to the international market through cruise lines and smaller hotels and villas that do not have beach facilities. So far, we've been tremendously successful in our marketing. In fact, during the summer – even before our grand opening – we were enjoying an average of 500 people per day. There is a cover charge to come in, which we've kept affordable, just to cover basic maintenance of the property; all of our other amenities are an upsell. That's to attract a wider cross-section of patronage. Along with our higher-end restaurants, there is our Jerk Shack that is a little more affordable. We've tried to reach out to as many clients as we can, because the market is so varied in Jamaica and internationally. For cruise ship passengers, we do packages that will appeal to all."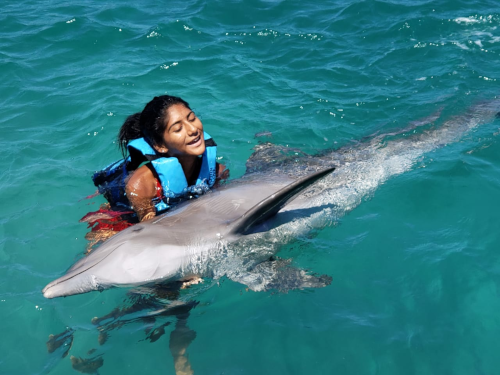 Guardsman Hospitality has contracts with some of the major cruise lines that sell attraction packages for Puerto Seco – some include food; some include the aqua park; some include water sports like kayaking, scuba diving, and snorkelling – tailor-made packages to suit different needs. Many tour companies and some hotels also sell the packages. Small hotels and villas with clientele coming throughout the year are offered an annual membership that allows their guests to go to Puerto Seco during their stay. The Airbnb market is growing fast in Jamaica and they also participate in the membership program. It's a great add-on for owners to market their properties.
Guardsman Hospitality has just under 100 employees at Puerto Seco and about 60 at Konoko Falls. The company is also has a good community partner. According to Heron, "We have an annual charity event called the Guardsman Games. Part of it this year will be at Puerto Seco, and possibly some at Konoko, because those two destinations have challenging activities, like climbing the Falls at Konoko. And at Puerto Seco Beach, the aqua park has a challenge course, where you have to be quite fit to participate.  In 2019, we have many activities on our schedule for community development. The first project we have is to put in fencing and bleacher stands at the community soccer field. It's a very nice playing field and this will make it more comfortable for events. As part of our outreach, we also provide complimentary entry passes to about 500 people, annually, to come and experience Puerto Seco. Usually, we do that through the political directors, island-wide. They distribute to children and adults in their communities who they feel would benefit the most."
Total spend on the Puerto Seco Beach facility was about $6.5 million U.S. and, although a few people believe it should be free, Heron admits, "It takes money to maintain the site to the very high standards we have set. So, charging an entry fee to a facility of this quality with the exceptional service we offer is not an unreasonable request. The truth is, the public has not been resistant. In fact, during holidays and weekends, we are overcome with numbers. And we do offer a preferential rate to the surrounding community and they're quite happy with that. We built that into the business model when we started the development. The last six months have been a learning period for us. The site is the first of its kind in Jamaica and now that we have seen the flaws, we're fixing them one by one. But there can be no denying that we have done everything here to a very high standard in terms of product and we want to make sure we can deliver that, consistently."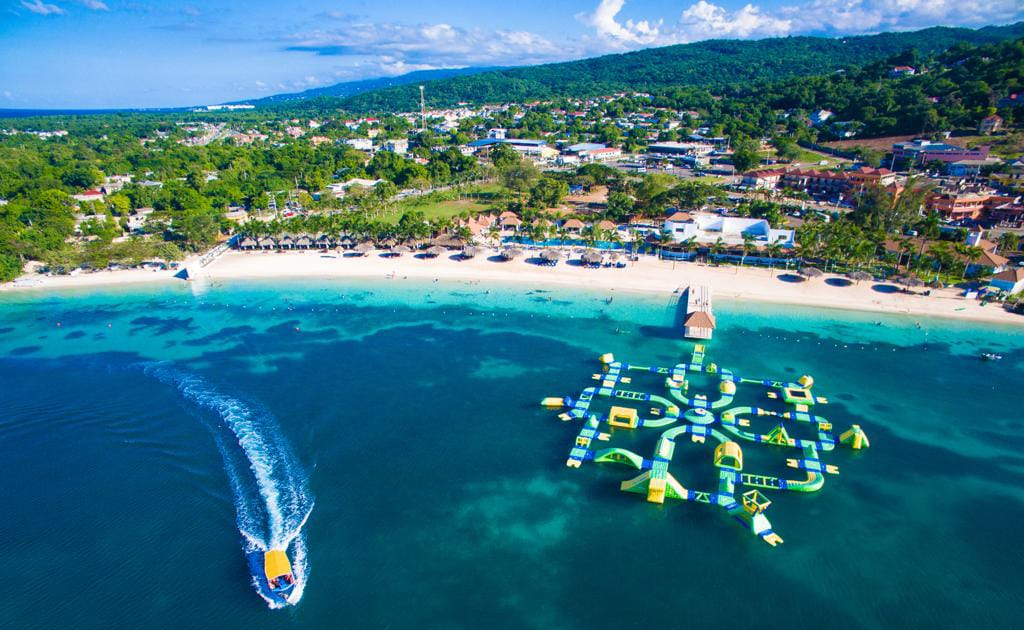 The latest phase of development is now in progress – a 7,000-sq.-ft., air conditioned conferencing area to facilitate corporate groups that are looking for a special location outside of a hotel. This space will be surrounded by windows looking out to the ocean – a spectacular panoramic view. So many companies are already requesting to book the space that the development team is under pressure to complete it as quickly as possible in 2019. A non-related second project in the works involves building out a splash pad area for young children. That will be done this year, as well. A very competent inhouse team of builders and artisans tackles all the developments that Guardsman Group undertakes.
Rory Baugh, General Manager of Puerto Seco Beach, chimes in with his insights: "I'm just very happy to be part of the team. Generally, the property is doing quite well. I started here in November 2017, and have seen it through all the phases of construction to where it is now – simply a phenomenal product. I don't believe there is anything else like it in Jamaica or the Caribbean. With the additions we're making to the property, it will be even more spectacular. We're looking forward to welcoming everyone to Puerto Seco – and Konoko Falls, and the Hope Zoo in Kingston. We want to expand the Guardsman Hospitality brand; we have really good people on our team and we'll take it even higher by acquiring more properties around the island and transforming them into world-class facilities. In fact, we have two other locations we're looking to develop in 2019."  Exciting times ahead!
AT A GLANCE
Who: Puerto Seco Beach: A Guardsman Hospitality Property
What: Beach attraction with upscale amenities
Where: Discovery Bay, Jamaica