Multifarious company keeps its clients supplied and serviced
Arel Limited is a Kingston-based, engineering and contracting firm that provides electrical, mechanical, and electronic engineering services throughout Jamaica. It was formed from three different companies that have operated as one since 1981. The Group provides construction-related supply/install systems and after-sales service on air conditioning, electrical, and medical equipment systems, as well as elevators and generators.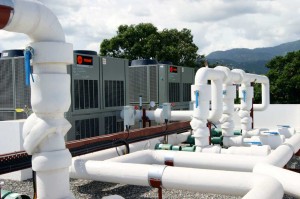 The original Arel Limited was founded in 1968 as a mechanical contractor, providing air-conditioning systems with an emphasis on larger applications. Its customers include hospitals, airports, hotels, office buildings, and factories. Its customised solutions include: packaged AC units, chillers, cooling towers, split systems, and air handlers. Arel is an authorized distributor for Trane systems.
Cranbrook Electrical Limited was founded in 1967. The company carries out major electrical installations, particularly in newly constructed office buildings and hotels, with an emphasis on installing and maintaining elevators, escalators, moving walks, and building management systems.
LHS Communications Limited began in 1972, and is the electronics arm of the group. It installs medical X-ray systems in hospitals, and broadcast studio equipment and large conference systems for its non-medical customers. Today, Arel Limited is the authorized distributor for GE Healthcare, Cobalt Medical, and Konica Minolta medical equipment and products, including X-ray, ultrasound, mammography, CT, MRI, PET, nuclear medicine, PACS, and patient monitoring and anesthesia machines. In addition to covering all of Jamaica, Arel also supplies the Cayman Islands with medical electronic equipment and related services.
The merger of these three companies has allowed Arel Limited to undertake projects that can take advantage of, and capitalize on, the combined skills of the company's 85 engineers, technicians, and supervisors. For example, in the installation of medical x-ray equipment, the company can design and install the power supply required, carry out mechanical support structure installation, provide air-conditioning if required, and, finally, supply and install the equipment.
In other areas, the availability of complimentary trades from within the company has enhanced Arel's ability to undertake the installation of systems that have elements of more than one main trade: electrical plus mechanical and/or electronic. The diversity of skills has allowed the company to embrace new developments, in particular, the introduction of modern control systems in air-conditioning and elevator equipment.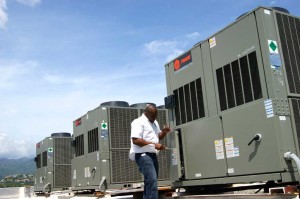 Arel's customers vary by the business they are in. A typical medical client is a government hospital radiology department or a stand-alone, private, medical diagnostic imaging center. For its air conditioning, electrical, and elevator businesses, the typical client is a medium-to-large, private commercial building owner, a property company, or a large bank or insurance company.
In certain of Arel's businesses, the competition is intense. In order to continue to hold onto its market share, the company must maintain its high standards. It does this by continuing to embrace innovation and technological change, training its workforce in new methods, and refusing to hire sub contractors to support its customers.
In fact, Arel's commitment to taking care of its clients is its number one priority. According to Laurence Stewart, Arel's Chairman of the Board of Directors: "If we supply it, we will keep it in service!"
AT A GLANCE
WHO: Arel Limited
WHAT: An engineering and contracting firm that provides electrical, mechanical, and electronic engineering services throughout Jamaica
WHERE: Kingston, Jamaica
WEBSITE: www.arelltd.com