Half Moon Resort
Where the heart is
Business View Caribbean interviews Guy Steuart III, Chairman of Half Moon Resort, for our focus on the Strength and Growth of Jamaica.
The moon, in all its captivating phases, has inspired passion in poets, lovers, and dreamers since the beginning of time. Such is the enchantment of Half Moon – an iconic resort on Jamaica's northern coast with a storied legacy spanning more than six decades. What started in 1954 as a 35-acre cottage beach colony, with a quarter mile of crescent-shaped sandy shoreline, today encompasses 400 acres and close to two miles of alluring beachfront alignment. Returning guests and first-timers, alike, agree that Half Moon is that one-of-a-kind destination "where the heart is."
Guy Steuart, Senior VP of Steuart Investment Company, is a proud, third-generation member of his family's business. A key (and favorite) focus of Guy's portfolio in the company is his role as Chairman at Half Moon. He readily admits, "I'm a passionate fellow about this resort. It dates back to 1954, when my grandfather was one of 17 people that formed the consortium that started Half Moon. Over 65 years of operation, our family bought out most of the other shareholders and we now hold the majority of shares."
The resort location was once used as stevedoring operations for the sugar cane plantation on which Half Moon was built. Over time, through opportunity and entrepreneurialism, the owners bought adjacent land bringing the total property to 400 acres. The initial offering of 17 cottages and 30 rooms has also grown to include traditional hotel rooms, cottages, and villas. All development has been carefully designed, low-rise, low-density – suggestive of the quality, value, and aspirational elegance that Half Moon seeks to provide to guests and staff. The resort is now 210 keys, plus 32 villas that each operate as one key, though some are five, six, or seven bedrooms. Every villa has a pool, as well as a maid, cook, and butler.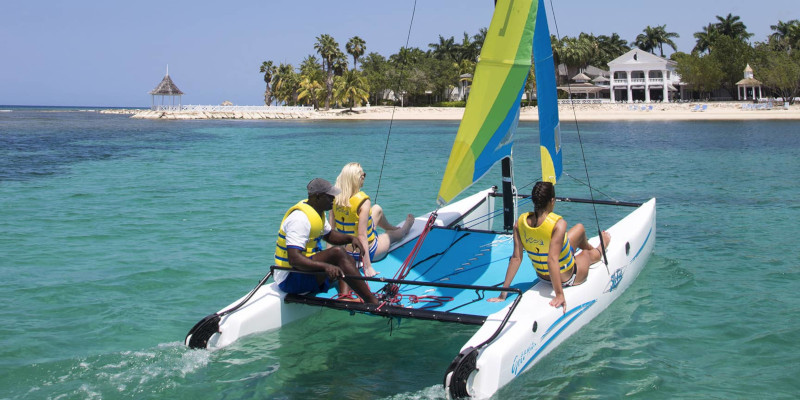 The majority of guests (80 percent) hail from the U.S. and Canada, while the balance come mostly from the Jamaican and Caribbean market, the U.K., and Europe. Steuart notes, "We have a staff of about 850 that work in a professional capacity and only a handful are not Jamaican. We are a big employer here. It's very much a source of pride and joy for us, though my family is not of the island, we've certainly been a part of it for all of my 60 years."
Competition among resorts on the popular north shore of Jamaica is strong, but Steuart attests that Half Moon has a distinct advantage. "We are a European Plan hotel, not all-inclusive. We run the other way from that business model because it is someone else's and not what we try to do. We are an elegant, aspirational, casual, sincere, authentic Jamaican resort. I like to tell people that we tickle the emotional quotient and we scratch the itch of the intellectual curiosity of our travelers. We are not a food court on the beach. I view the Half Moon and its position in the industry as this: Jamaica is our host country and we are a roadside inn. A very fine roadside inn – a whole beach resort – but we also provide memories, and accommodations where people can visit and learn about the culture, the geopolitical significance of the Caribbean, and the history and beauty of Jamaica. Above all, it's to help build bridges and expand the experiences of our travelers in a way that hopefully keeps them coming again and again. We do have a high return guest loyalty profile as a consequence."
The Half Moon experience isn't scripted; it makes a point to hire those with spirit, and attitude, and character. When necessary, skills are taught. "We try to hire professionals who embody those characteristics," says Steuart, "and we take care of them and give them the tools and resources and professional opportunities because we want them to work for us. And if we're doing our jobs right, I don't have to worry about how our guests are being looked after because I know the unscripted answers and responses from our staff will be sincere. We encourage them to just be their outgoing, welcoming selves."
Looking to the near-term future, the Half Moon East Cove development is well on its way.  Several years ago, a master plan was created for the resort and since then there has been remarkable growth, eastward. Steuart acknowledges: "What once sat on 35 acres, serviced by central facilities within that acreage, was then being called upon to provide and extend services on almost two miles of beachfront. We knew that a lot of the infrastructure needed to be replaced. So, we finished the back of the house complex in October, 2017. A central energy plant was installed, new administrative offices, dining pavilion for staff, central kitchen, central laundry, backup power and water systems, new generator, stormwater containment facility – it was a significant investment."
Having successfully opened that part of the complex, sights were set on guest station product, which are in the throes of completion now. Finished results will include a fabulous new primary entrance into the resort. And the beautiful Great House on the beach will have nine bedrooms upstairs and a welcoming new reception concierge on the lobby level, appointed with high-end Jamaican fabrics and finishes. It will be a non-air-conditioned space with louvered blinds, allowing the trade winds from the hills behind to flow through the lobby.
Another treat awaiting guests in the lobby area will be Lester's Bar, featuring the best rums from Jamaica, the Caribbean, and Central America. Staff is being trained in molecular mixology to create specialty, infused-rum drinks. The resort is also opening an infinity-edged, salt water pool on the beach, along with several new food and beverage outlets. In addition to the 57 new rooms being built, plans are in the works to bring back an experience that Steuart had as a child of five, when he first set foot on the property.
The memory brings out the poet in him, as he recalls, "I was able to walk that quarter-mile crescent beach and around the corner and down along the coast until I came to the next property, without going in the water or tip-toeing around lots. You can't do that now, so, our plan is to restore a broad, 'beachcombable', walkable expanse with an esplanade on the brow – just a beautiful, gently-graded beach where people can lounge, or stroll at night and look at the constellations. We've done that, it's not quite finished but close. And it's going to be incredibly elegant, transformative, and demonstrate just how fortunate we are, as stewards of this land, to be able to see the mountain behind us and the sea in front of us, and to understand the balance between the vastness of the mountains and the calming fluidity of the oceans. From that palette, we paint experiences for people."
Resort ownership in the Caribbean is not a responsibility normally taken on by Steuart Investment Company, which primarily handles real estate investment and development business out of Washington, DC. According to Steuart, "Half Moon was very much an accidental enterprise. It's a very interesting, dynamic business. It gets in your blood. The hospitality industry, the destination (in this case), the people I get to work with and help in their lives with the jobs we're offering. It's a very big property to manage – a little city, frankly. It requires a lot of time and attention, and as a family-owned business you have to be here. I am onsite, on average, seven to ten days per month, but I also participate in weekly sales calls and strategy sessions, so it's a very active part of my professional life, now."
Speaking candidly to the future of Half Moon, Steuart states, "I see independence and continuum of development and growth in the resort, so that we are expanding and leading the market and, hopefully, exceeding expectations along the way. Already one of Jamaica's best resorts, we want to be considered in the same conversation as the finest beach resorts in the Caribbean and when we're done with this new development, I'm very confident we will be. I'm the third generation of my family associated with this resort. We're passionate about the property and the people working for us. We have high loyalty return guests – we need more. Because it's very difficult for us, as an independent hotel, to have our voice and our story heard above this din of marketing stimuli that's out there for the competition; whether it's down the street or around the globe. We're all in the travel business vying for the consumer's attention."
And as for the best attributes, Steuart promises the temptations are many. "When you come to Half Moon, there's unlimited luxury through the generosity of space you get to enjoy. There is ample beach, you're never racing for a seaside lounge chair. We have wonderful, loyal staff who will remember you from your last visit – they look after guests as if they're family. What differentiates us is the passionate leadership and our wonderful positioning 10 minutes from Sangster International Airport. We're an easy trip from major cities all over North America, and when you arrive, we'll transform your world. It's hard to articulate, but once you're here, immersed in the sea breeze, listening to the tree frogs, and you taste our food, and listen to our people… we've got you."
AT A GLANCE
Who: Half Moon Resort
What: Family-owned, luxury beach resort
Where: North coast near Montego Bay, Jamaica
Website: www.halfmoon.com / www.steuart.com