Stationery & Office Supplies – A family-oriented company
Business View Caribbean profiles Stationery & Office Supplies Ltd., a A seller and distributor of stationery items and office furniture in Kingston, Jamaica
"It all started with simple rubber stamps – from there it just grew and grew and grew," says Stephen Todd, Sales and Marketing Manager for Stationery & Office Supplies Limited (SOS) of Kingston Jamaica. The family-run company was founded in 1965 by David McDaniel and partners Richard Hing and George Hew, working out of a small, one-thousand-square-foot office space. Within a few years, Hing and Hew sold out to McDaniel and his wife, Marjorie, and the company moved on to larger facilities.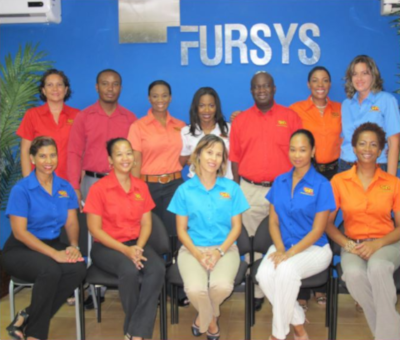 As it grew in size, Stationery & Office Supplies also grew in the number and kinds of products it provided. Today, the company's 85 employees operate out of a 30,000 square foot, combination office, warehouse, and showroom in Kingston, as well as a branch outlet in Montego Bay. It is a major reseller of local and imported stationery items and office furniture, and the sole Jamaican distributor for Fursys Systems Furniture, Boss Office Products, Smart Office Furniture, Hi-Top Case Goods, Torch Furniture, Image Furniture, Gardex Fire Resistant Cabinets and Safes. In addition, SOS is also in the business of repairing, reupholstering, and refurbishing old and used office furniture and cabinetry.
According to Todd, SOS serves everyone "from the smallest school child walking in through our front door to buy a pencil and some paper to the largest corporate customer in Jamaica." Throughout the years, SOS has done business with government agencies, schools, architects, interior designers, hospitals, and private organizations. "The majority of our business, though, comes from corporate Jamaica as well as the government," Todd says. In addition to its domestic customers, SOS has also supplied furniture office systems in the Turks and Caicos Islands, Haiti, Anguilla, St. Kitts, Barbados, St. Vincent, Guyana, and Miami, Florida. The company's products are imported from China, Korea, Panama, the United States, and Mexico.
Todd says that even though SOS has been one of the leaders in the industry over the past 50 years, it still endeavors to stay ahead of the competition. "We look at competition as motivation," he says. "It keeps us on our toes and motivates us to do better. We have always been known for our customer service. That's where everything comes from – your customers. Without them, you have no business. I think that this has definitely separated us from our competition. We also carry a large inventory of products. You can walk into our office and buy a hundred work stations at one time and we will have them delivered the within 48 hours. This has been one of our biggest advantages to date – stock and availability. Our pricing is also extremely competitive."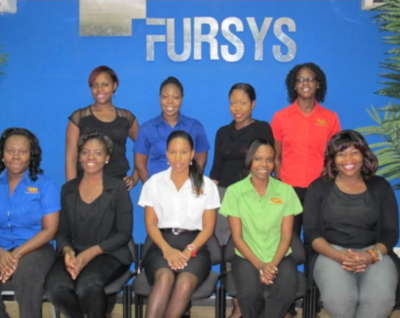 In addition, SOS strives to stay current. "We're constantly changing," says Todd. "We're always modernizing our products and keeping up with cutting edge technology in the office furniture industry. At the present time we're into the shredding business, we do a large volume of industrial shredding for companies. We started about a year and half ago, and it has just kept growing." All of the shredded products are exported and sent to various mills abroad where the shredded paper is recycled. The service also includes the destruction of tapes, and CDs. "Our intention, by the end of this year, or the beginning of next year, is to go into mobile shredding," Todd adds. "As of right now, they either deliver to us or we pick up and shred on our site. It's a new thing for Jamaica and we're trying to push it. We see a need for it."
Todd says that SOS is also working toward making itself an online company. "Right now, Jamaica is not an online society. We're shop online for products sold in America, but we do not purchase online through our own Jamaican companies," he explains. "We're hoping that we will be the first in our industry for online purchasing, where you go online and you can buy a chair, a desk, or stationery items, and they will be delivered to you just like an Amazon package is delivered to you when you order it. Right now, no one in our industry does that. So, we're trying to be the first. This is the future."
For SOS, the future also means going solar and decreasing its dependence on fossil fuels. In December 2014, the company installed a 70kw solar (photovoltaic) system on the premises. It includes 292, 255-watt solar panels mounted on the roof and 9, 7000-watt inverters installed in a secure location. The system has resulted in an 80 percent reduction of Jamaica Power Service (JPS) power, and a significant decrease in the company's operating costs.
Just as SOS is dedicated to preserving the environment, it is likewise dedicated to the greater Jamaican community. For many years the company has supported various charitable events and donated stationery items and furniture supplies to various schools and organizations. In 2014, the company "adopted" the Jackson Basic School in Jonestown, and led a project to repaint the school building and repair and refurbish the classroom furniture.
As SOS continues to grow and expand, it still remains a family-oriented company. David and Marjorie's children have come on board, over the years, to join the management team and help the firm adapt to the latest technologies while incorporating more modern sales and marketing techniques. "This is the epitome of what a family business is," asserts Todd, who is also part of the McDaniel family, having married daughter, Kerri. "How it started, how it grew, how it increased, as each son or daughter came into the company. Taking the vision of the founders and increasing the company, expanding into different fields. Everything that we have done is family-oriented."
AT A GLANCE
WHO: Stationery & Office Supplies Ltd.
WHAT:  A seller and distributor of stationery items and office furniture
WHERE: Kingston, Jamaica
WEBSITE: www.sosjm.com