The Bahamas Mortgage Corporation
For home ownership
Business View Caribbean interviews representatives of the Bahamas Mortgage Corporation as part of our focus on best business practices in the Caribbean.
The Bahamas Mortgage Corporation (BMC) was established in 1983 by an Act of Parliament and, today, is a department of the Ministry of Environment and Housing. Its primary functions were: to stimulate, encourage, and promote the ownership of homes by low to moderate income earners by making available to them the necessary financing for the construction of a new home, the purchase of a new or existing home, the rehabilitation or enlargement of an existing home, or the purchase of vacant land intended for use in the construction of a new home; and to encourage the construction industry to develop housing for the Corporation's clients by providing financing for housing units and projects.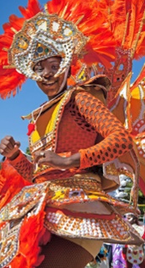 Over the years, BMC has initiated hundreds of mortgages and financed tens of millions of dollars in housing products. And it has also evolved as an organization, penetrating new markets and advancing new housing initiatives. "The intent was to fill a void," says Nikita Curtis, BMC's Marketing Director. "It was for low- to-moderate-income workers who would have had difficulty in obtaining mortgages through commercial banks; individuals with jobs in tourism and other non-conventional industries where these persons would have a challenge in securing a home. However, in recent years, our market expanded into the middle class persons who still can go to commercial banks. We've gone from low income to moderate income and we are providing homes and mortgages in that class."
Curtis concedes that, in the middle class market, BMC is now competing against the commercial banks, credit unions, and any other companies that provide mortgages. But he believes that BMC has its advantages. "What separates us from the rest include the unique product that we offer to our clients in terms of funding and fees, and a technical service that you cannot get from the others," he proffers. "If a person has to finance the purchase of a house, we send our technical team to do our own assessment of that particular unit, prior to the client having to deal with that. We walk the client through the process, not only from a financial standpoint, but from a technical standpoint."
In another example of BMC's evolution over the years, Director of Operations, Terrance Hanna relates that the agency has recently begun developing its own properties and then selling the finished units, rather than just waiting to finance projects. "So, we have launched an initiative to begin our own construction," he says. "And we're finding various ways to become more efficient in terms of green houses, green initiatives. Rather than just filling a customer request, we're looking to improve the models and types of buildings."
Curtis adds that BMC is also coming on stream with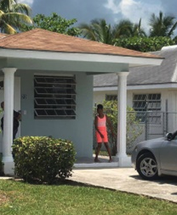 multi-family and detached units – housing products that are not the norm in the Bahamas. "In New Providence, where the majority of our citizenry lives, there is a limited amount of land," he states. "So, the corporation is making that adjustment where we are talking about multi-family units within one space and not necessarily a single family unit on one piece of property."
BMC is also moving into the redevelopment of urban areas, and has recently completed a pilot housing project: The Queens Park Urban Redevelopment Project. "We acquired land in Queens Park and redeveloped that urban area with five homes using non-conventional building systems and focusing on green housing," Curtis reports. "In addition, we've taken climate change into consideration. We live in a hurricane belt but, historically, we have not built to facilitate that. While some builders have impact resistant windows and build foundations above sea level, we have not been consistent in doing that. But it doesn't make sense to put a client in a new house or new unit and then not prepare for that. Energy is an issue, too, so we try to make the houses energy efficient, where they are properly sealed. We are working in partnership with developers throughout the Bahamas to make this more of a reality."
Today, BMC has 50 employees over three locations: its head office in New Providence, a branch on Grand Bahama, and a sub-office on Abaco. "And we anticipate, in the next five or ten years, our presence will be seen in some of the other islands of the Bahamas," Curtis avers. For now, BMC services all the other islands from its New Providence headquarters – which, he reports, is about to get a makeover: "The corporation is in the process of redeveloping a historical site on New Providence for a new office for us. And, as opposed to taking a new piece of land and building a brand new building, we have acquired an historical site, are restoring it, and at the same time, doing the necessary extensions to make it more up to code. It will give us the ability to further expand our products."
Even as BMC continues to evolve, Curtis insists that the government-owned entity is still staying true to its original functions. "The Bahamas Mortgage Corporation is striving to meet our mandate, our mission, and our vision as it relates to home ownership for Bahamians," he declares. "But, we are an ever-changing organization; we adjust with the changing times and move forward. We'll continue to grow and improve our standards as an organization, while seeking to improve the products and services that we provide to our clients. We're not going away."
Check out this handpicked feature on Milo Butler and Sons Ltd. – Bahamas.
AT A GLANCE
WHO: The Bahamas Mortgage Corporation
WHAT: A department in the Ministry of Environment and Housing
WHERE: New Providence, the Bahamas
WEBSITE: www.bmcbahamas.com

BAF Financial & Insurance (Bahamas) Ltd. – BAF Financial & Insurance (Bahamas) Ltd. is a Bahamian-owned, full service financial services company that has adapted to the changing needs of its clients, since 1920. The company offers a full line of A+ Rated financial services and products including life insurance, health insurance, mortgages, and investments backed by years of experience and a knowledgeable, professional staff utilizing state-of-the-art technology to enhance its services. – www.bahamas.mybafsolutions.com

J. S. Johnson & Company, Ltd. – J.S. Johnson & Company, Ltd. is the oldest and largest general insurance agency in the Bahamas, having entered the field in 1919. With a Head Office in Nassau, and branches in New Providence, Marsh Harbour, Abaco, Freeport, Grand Bahama, and Georgetown, the company's staff of over 160 licensed insurance brokers and agents provides personal, commercial, marine, aviation, life, and health insurances for its clients. Today, J.S. Johnson is the principal agent for Insurance Company of The Bahamas Ltd., and also places business with Island Heritage Insurance Company Ltd. and Lloyds of London. In addition, its Life, Health & Employee Benefits Department represents the majority of locally licensed life & health insurers. – www.jsjohnson.com