Sky Mall
Competence and Convenience
Business View Caribbean interviews representatives from Sky Mall as part of our focus on best practices in Barbadian businesses.
"We were challenging the market to be the premier choice of shopping locations in Barbados," says Everick Eastmond, Managing Director of Sky Mall, the retail shopping center in Haggatt Hall, St. Michael. "And we are not resting on our laurels. We are still aggressively marketing the location. The intensive marketing plans that we have put in place and have executed have gotten us where we are today."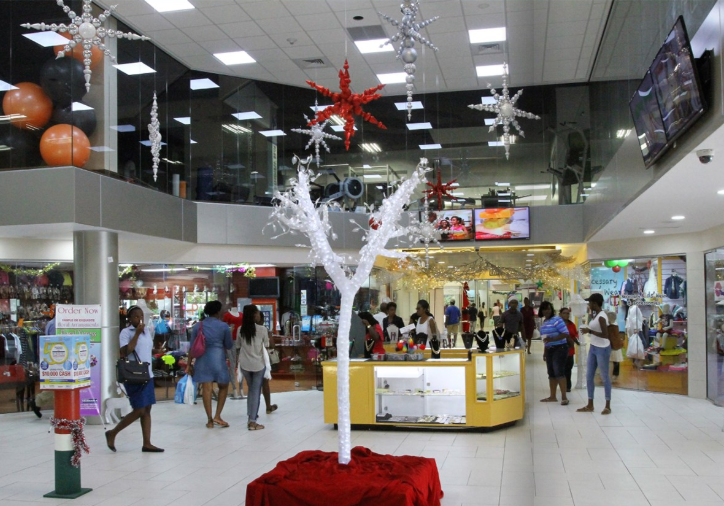 Sky Mall in Barbados is operated by Williams Industries Inc., a diversified Caribbean corporation with headquarters situated at Cane Garden, St. Thomas in Barbados. It controls 13 wholly owned and 17 joint venture companies – in Barbados, Saint Lucia and other Caribbean islands – that do business in manufacturing, electrical engineering, supply to the construction industry, waste recycling, water desalination, well drilling, real estate development, building and equipment rental, sewage treatment, alternative energy, cellular communication, and tourism.
Williams Industries took over the bankrupt Mall Internationale in 2012 and rejuvenated it to make it a true one-stop experience for Barbadian shoppers. Ralph "Bizzy" Williams, company Chairman, says, "It's a place where people can shop conveniently and buy what they want. It also provides a place for entrepreneurs to try out their business at a reasonable cost. It has a pretty expansive food court; it has a gym; it has a doctor's office. And it has some of the best-equipped business meeting facilities in Barbados."
Another unique characteristic of Sky Mall is that it is primarily powered by solar-generated electricity. "I changed the name to Sky Mall with the objective to raise as much power as we were allowed to generate, from the roof," Williams explains. "The government limited me to 150 kilowatts per system, but the roof can hold 400 kilowatts. So, now we are upgrading to 400 kilowatts. My long-term objective is to have the entire mall powered by the sun – 100 percent."
Eastmond reports that, today, Sky Mall is completely filled with tenants, including Payless (offering fashion, jewelry and accessories, and footwear), Courts (home furnishings and accessories), Brydens Stationery (school and office supplies) and Upbeat (men's and women's apparel). Also, on Sky Mall's southern side, are Little Pleasures Dessert Parlour, Burger King, and other food court restaurants, in addition to government and commercial offices.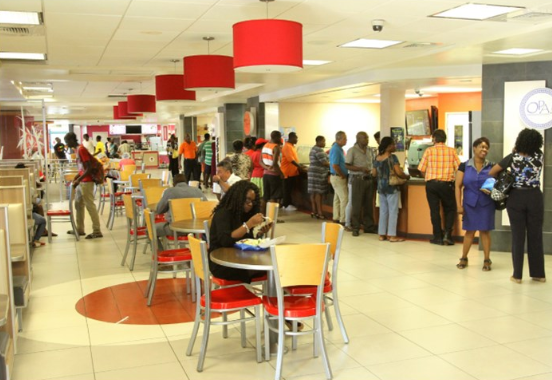 Massy Stores & Pharmacy opened a new outlet in 2014. The Massy store occupies 33,000 square feet – including 20,000 square feet of retail space – in a completely refurbished and re-designed space that is also home to smaller retail outlets in front of the entry to the supermarket. "Massy has invested a lot of money in terms of the aesthetics and the product offering and the whole ambience of the supermarket," Eastmond says. "It's a state-of-the-art, well laid-out supermarket. The mall extension cost us about $4 million and I'm sure it cost the supermarket well over $7 million dollars in new equipment, new electrics, and new air conditioning."
Eastmond says that the supermarket accounts for 2,000 to 2,500 transactions per day; 3,500 to 4,500 people a day eat at one of Sky Mall's six restaurants; and its Scotia Bank location is the busiest one in the entire Caribbean. The growing success of Sky Mall has triggered plans for expansion. "An expansion will give us about 15,000 square feet of retail space, plus another 5,000 for a larger hardware store," he says. "It's going to have a boutique cinema, a large conference room – both about 4,000 square feet – 24,000 square feet of office space, and the availability of nearly 200 more parking spaces."
"We have quite a few people knocking on our doors to get their brands into our very active location," Eastmond adds. "We have to crunch the numbers and determine the temperature of the economic environment, making sure that the demand is there and that we can turn inquiries into true tenants. But, it is in the pipeline. It will depend on the financial situation at a point in time."
Meanwhile, in addition to Williams' plan to generate all of its electrical power from photovoltaics, Eastmond says that Sky Mall is implementing other green initiatives. "One area that we are going to be developing intentionally over the next year or two is trying to convert people from the use of plastic and foam to paper products. And last year, we got together with some of our associated companies and bought about 8,000 reusable shopping bags that we gave to some community organizations as well as to our shopping public. So that is something that we will delve into in the next few months."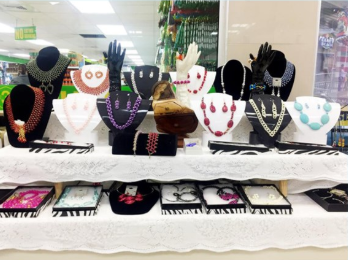 Most important to both Eastmond and Williams is that Sky Mall continues to succeed in offering its customers a pleasant and convenient shopping experience. "When people come, we want to make sure it's an atmosphere that is comfortable; that it meets the satisfaction of its clientele, not just with products, but also with service. And that when they come, they can feel safe and secure."
Williams adds that the mall's success is really attributable to its managers and staff. "I am very lucky to be able to attract very competent people, who put a lot of effort into getting it done," he declares.
Check out this handpicked article where tourism officials express concern about intra-regional travel.
AT A GLANCE
WHO: Sky Mall
WHAT: A shopping mall with retail, grocery, and offices
WHERE: Bridgetown, Barbados
WEBSITE: www.skymall.bb
C.O. Williams Construction Ltd. – A market leader in the Caribbean construction industry, C.O. Williams Construction Limited is a 50-year-old, Barbadian-born company that also has offices in St. Lucia. The company builds and renovates roads, private and public bridges, tennis courts, warehouses, and sea defense. It also provide rental of heavy equipment, site development for housing schemes, and trucking services. – www.cow.bb
TLC Distributors – toilsept@gmail.com